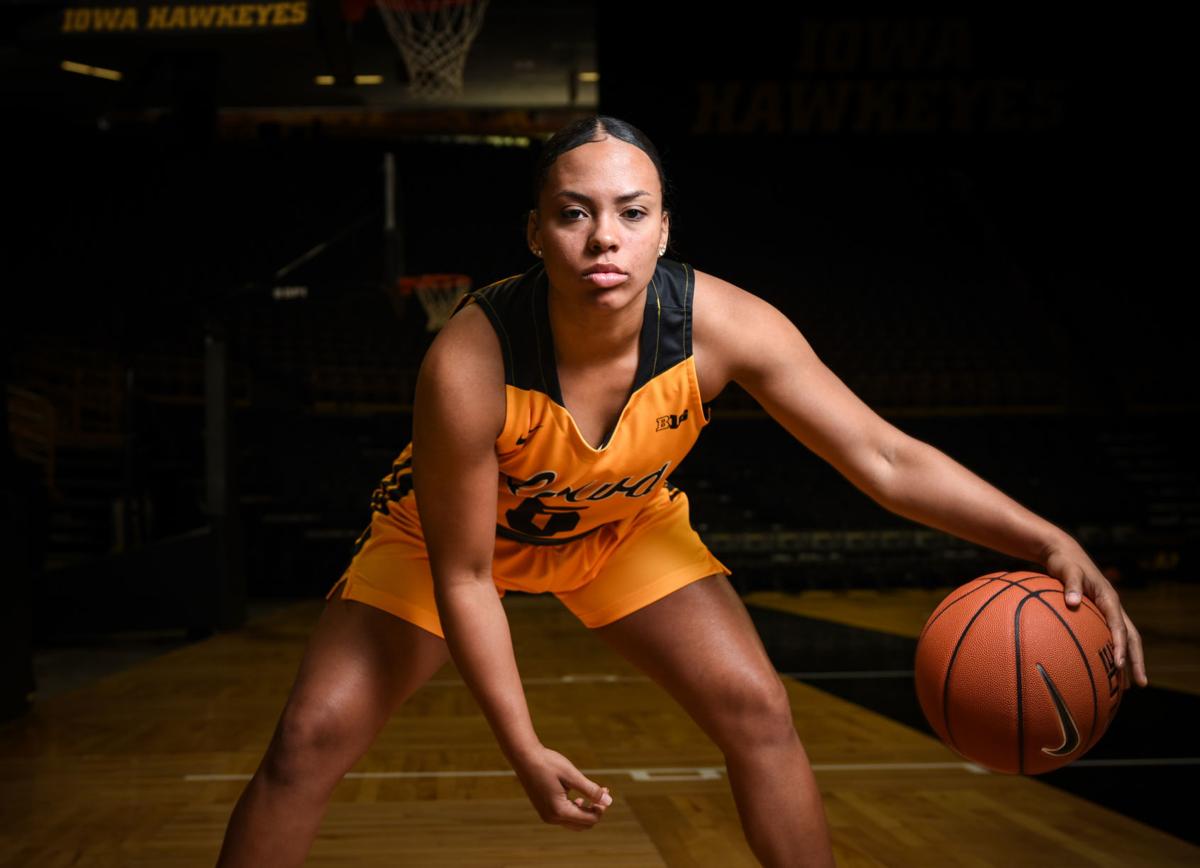 IOWA CITY — A second — and sometimes third — chance wasn't enough for 17th-ranked Maryland on Thursday night.
Resilient Iowa overcame 38 offensive rebounds and a 19-point deficit in second-chance points to earn a 66-61 victory over the Big Ten women's basketball preseason favorites in front of a crowd of 6,689 at Carver-Hawkeye Arena.
"It's a good thing this wasn't gymnastics because we aren't going to get many style points for this one. A win is a win," Iowa coach Lisa Bluder said after the Hawkeyes extended their home win streak to 29 games with their first win of the season over a ranked opponent.
The victory didn't come easily.
Iowa started quickly, opening a 14-point lead midway through the second quarter, but Maryland used a 20-3 run to take a 42-41 lead on a lay-in by Kaila Charles with 5 minutes, 59 seconds to go in the third quarter.
In a physical battle, the Hawkeyes never trailed by more than three points and regained a 52-47 lead on a 3-pointer by Makenzie Meyer to open the fourth quarter but the Terrapins fought back again.
Baskets by Stephanie Jones tied the game at 52-52 and then at 54-54 before Alexis Sevillian stepped up for the Hawkeyes.
The junior buried a 3-point basket with 3:05 left in the game to give Iowa a 57-54 lead and then extended the margin to 59-54, hitting a step-back jumper with 1:38 remaining.
"I feel like I've been struggling with my confidence all year, but today, I felt good and my teammates gave that to me, believed in me," Sevillian said.
Bluder said the shots set the tone for a strong finish by Iowa.
"They were baskets we needed and she knocked them down," Bluder said. "I felt like as a team we played well in the final 3 1/2 minutes, scored 12 points, went 7-of-8 at the line and did the things we had to do to win the game. (Sevillian's) baskets, they made us feel more comfortable."
Sevillian, who finished with 15 points, strung together five points midway through the second quarter as well after Iowa opened the game with a 9-of-11 start from the field.
Her 3-pointer with 6:14 to go in the half extended an Iowa lead to 38-24.
"It looked for a while like it was going to be an offensive shootout, but then the defenses took over for both teams," Bluder said.
Sevillian's basket from behind the arc also proved to be the Hawkeyes' final field goal for the next 8:18, a drought that allowed the Terrapins to regain the lead midway through the third quarter.
"I felt Iowa came out and played really well," Maryland coach Brenda Frese said. "They threw the first punch, but our defense, it kept us in the game on a night when the shots weren't falling. I felt like in the third quarter, we really fought and that made a difference. The 59 rebounds, 38 offensive rebounds and the 12 steals we had in the second half were all big for us and Kaila Charles played like the all-American she is."
The Terrapins (11-4, 2-2 Big Ten) shot just 31% for the game, but Charles led Maryland with 23 points and 18 rebounds including 13 on the offensive end.
Kathleen Doyle and Meyer led the Hawkeyes, finishing with 21 and 20 points respectively, but with Czinano dealing with foul trouble Iowa (12-3, 3-1) needed and got a big game in a number of ways from Amanda Ollinger, who scored just three points but had nine rebounds, eight blocks and four steals.
"That was huge for us and something we really needed," Bluder said. "This was a game where we needed everybody and I'm really proud of the resiliency we showed against a top-20 team. This was a great win for us."
Iowa doesn't get much of a chance to enjoy it. The Hawkeyes host 12th-ranked Indiana at 4 p.m. on Sunday.