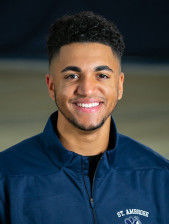 Consistent contributors throughout their St. Ambrose careers, seniors John Kerr and Michael Williams enjoyed a typical day at the office in their final regular-season home game Wednesday.
Kerr scored 28 points and grabbed nine rebounds and Williams had 16 points to go with seven boards as the Fighting Bees led from start to finish in an 86-76 Chicagoland Collegiate Athletic Conference men's basketball win over Roosevelt at Lee Lohman Arena.
"They've been good players who have both gotten better as seniors with the work they've put into their game,'' St. Ambrose coach Ray Shovlain said. "With everything going on, they've forced on getting better and it continues to show.''
Kerr hit 10 of the 13 shots he took and Williams hit five of his 10 as part of a 57.4% shooting performance for the Fighting Bees, who moved into a share of second place in the CCAC with the victory with only a game at Governors State on Saturday remaining in the regular season.
"It was for the most part just a good, all-around effort, the type of game you would hope to see from a team late in the season,'' Shovlain said. "We did a decent job defensively and played good team ball.''
St. Ambrose never trailed after senior Kyle Rohr took a feed from Kerr and knocked down a 3-point basket to give the Fighting Bees the game's first points.
The long ball also allowed St. Ambrose to create some separation on its way to a 40-32 halftime lead.
Dylan Kaczmarek, Ben Schols and Kerr combined to hit four 3-pointers in a span of 2 minutes, 20 seconds to grow a 12-9 lead for the Bees into a 21-9 advantage with 11:27 remaining in the half.
Roosevelt, the start of its season delayed until this month because of campus regulations because of the COVID-19 pandemic, came no closer than five points the rest of the way.
That came in the final minute of first half when a Matt Myers lay-up cut the St. Ambrose lead to 37-32 but a three-point play by Williams extended the Bees' lead to eight at the break.
A 3-pointer by Kerr and a Patrick Torrey basket in the opening minutes of the second half quickly extended the margin to double digits and a run of 11 straight points by Kerr sent St. Ambrose (13-5, 8-3 CCAC) on its way to a 68-48 advantage with 8:45 to play.
Schols added to the Bees' hot hand from the field, hitting all three shots he took from behind the arc and five of the six attempts he had in the game on his way to a 15-point effort.
Lucas Jordan led the Lakers (2-4, 2-4) with 20 points, coming off the bench to hit 7-of-11 shots.
St. Ambrose honored its eight seniors prior to the Fighting Bees' final regular-season home game and acknowledged a pair of recent milestones.
Kerr received a ceremonial basketball for becoming the 14th St. Ambrose player to score 1,500 career points and Williams was presented a ball for becoming the 51st player in the program's history to score 1,000 career points.