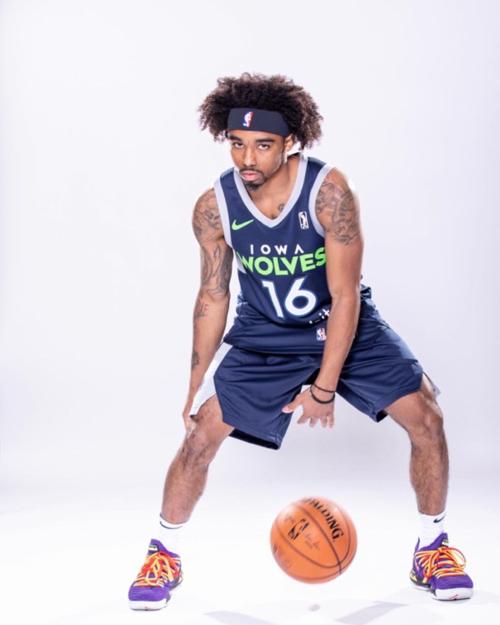 A frustrating summer turned into a very exciting fall for Rock Island graduate CJ Carr.
Following a great season last winter in Germany, Carr fully believed he would get a job somewhere overseas.
He averaged 27 points, four rebounds and four assists for his team. Nothing ever came over the summer, and he returned to the Quad-Cities to work as hard as he could with hopes of something popping up.
Carr was named to the roster of the G-League's Iowa Wolves.
"I really thought I earned a job in Europe, but it just didn't work out that way," Carr said. "Then, I finally got this opportunity. I signed up to go to a local tryout for Iowa, but I was not actually going to even go at first. I finally decided to go, and there were a lot of players there who were trying to hang on to their dream.
"The front office and coaches were impressed with how I played and asked me to come back. I really wasn't sure what to expect when I got there for camp. I just knew I needed to go in and play my game. I believed in myself and I think they believed in me after a couple of days."
Carr understands the G-League and how much movement there is in the league. Having been a late-day tryout player, he also realizes he sits on the ledge.
You have free articles remaining.
"I don't feel at ease because I know how this league works and at any point something can happen and I am not there any more," the 5-foot-8 guard said. "I will not be complacent, and I will take it day-by-day and play my hardest."
The smallest player in the G-League, by three inches, understands he will have to battle to get playing time.
"We are really guard heavy, and I know I will be coming in off the bench," Carr said. "I'll fight to show what I can do when we practice. I want to be that spark plug going in off the bench. The coaches have told me they are bringing me in to make shots."
He'll be surrounded by some well-known players for the Minnesota Timberwolves affiliate.
Rookie Lindell Wigginton, who played at Iowa State last year, Ohio State grad Keita Bates-Diop, former LSU standout Naz Reid, Duke's Trevon Duval and Kansas State guard Barry Brown are all part of the roster.
"Competing against those guys makes everyone better," Carr said.
Carr also has the chance to see some other former QC Elite players. Rock Island grad Tyler Hall has made the Westchester Knicks team and Bettendorf and Iowa grad Nicholas Baer is with the Raptors 905.
"That would be cool if I could play against Tyler and Nicholas," Carr said. "We all worked together with Jordan Delp this summer. I sure hope people have started to realize we have some great players in the Quad-Cities. Basketball is on the rise for the men and women in the Q-C.
"I know my sister (Chrislyn Carr) is about to have a really big year at Texas Tech. She will thrive under the pressure. And Brea (Beal, at South Carolina) is going to be great."