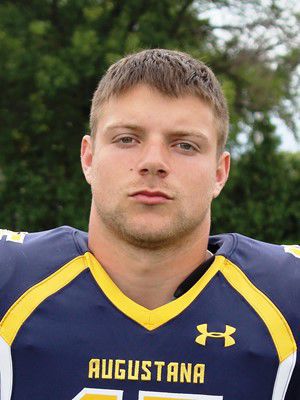 The Augustana football team had little trouble checking off one of its goals for the 2019 season on Saturday.
With a 34-6 CCIW victory over Carroll at Lindberg Stadium, the Vikings turned the tables on what had been a bad trend the last few years by winning its fifth and final home game of the season. Coming into the campaign, the Vikings had not won at home since the 2015 season.
With the favorable home schedule against opponents with a combined 15-29 record, the Vikings took care of home business, outscoring those foes 241-36.
"We didn't win since Week 2 of our freshman year against Carroll," said senior running Bobby Jarosz of the home losing streak that carried into this season. "That stuck with us. That's one thing that drove us; how the heck do we not win at home in three years? It's terrible for the community. It's terrible for the fans that are coming to see us at home and we're getting blown out or losing.
"I think it's great for recruiting when we have all the recruits over here and they see us dominate at home. We're super-excited."
"Making this our home, our territory again feels good," said senior linebacker Luke Sawicki, who finished with a game-high 13 tackles.
You have free articles remaining.
The Vikings (5-4, 4-4 CCIW) made the victory look pretty simple, too, against the Pioneers (2-7, 1-7). Augie had a game plan of running the ball and carried that out perfectly, finishing the contest with 377 yards on the ground on just 44 carries (an 8.6-yards per carry clip).
It was the first game this season in which the Vikings — who finished with 529 yards offense in 59 plays — eclipsed the 300-yard rushing mark, topping its previous season high of 244 in another home victory against Millikin.
"We thought we had to establish the line of scrimmage and dominate them and impose our will upon them, show them that we were the better team out there," senior offensive tackle Chaz Williams said. "I believe that's what we ended up doing today."
On senior day, it was fitting that Jarosz led the ground attack behind an all-senior line.
Jarosz, still on his quest for a 1,000-yard rushing season, finished with 184 yards in 22 carries, including a long of 43 yards. He scored twice, including the first TD of the day that gave the Vikings the lead for good with 5:12 left in the first quarter in what turned out to be Augie's only first-quarter possession.
"The holes I was given, I was taking one cut and I was gone," said Jarosz, who has 902 rushing yards this season heading into next week's finale at Carthage. "That happened on three or four runs. I think it certainly was our o-line's best game in terms of the running."
In addition to Jarosz's big day, Alek Jacobs added 108 yards on just nine carries, senior reserve QB Jacob Wehr rushed four times for 45 yards in late action, quarterback Zach Fuller added 26 yards and senior RB Antonio Cannon had 17 yards in four rushes.
"The wealth was spread in that run game," coach Steve Bell with a smile.