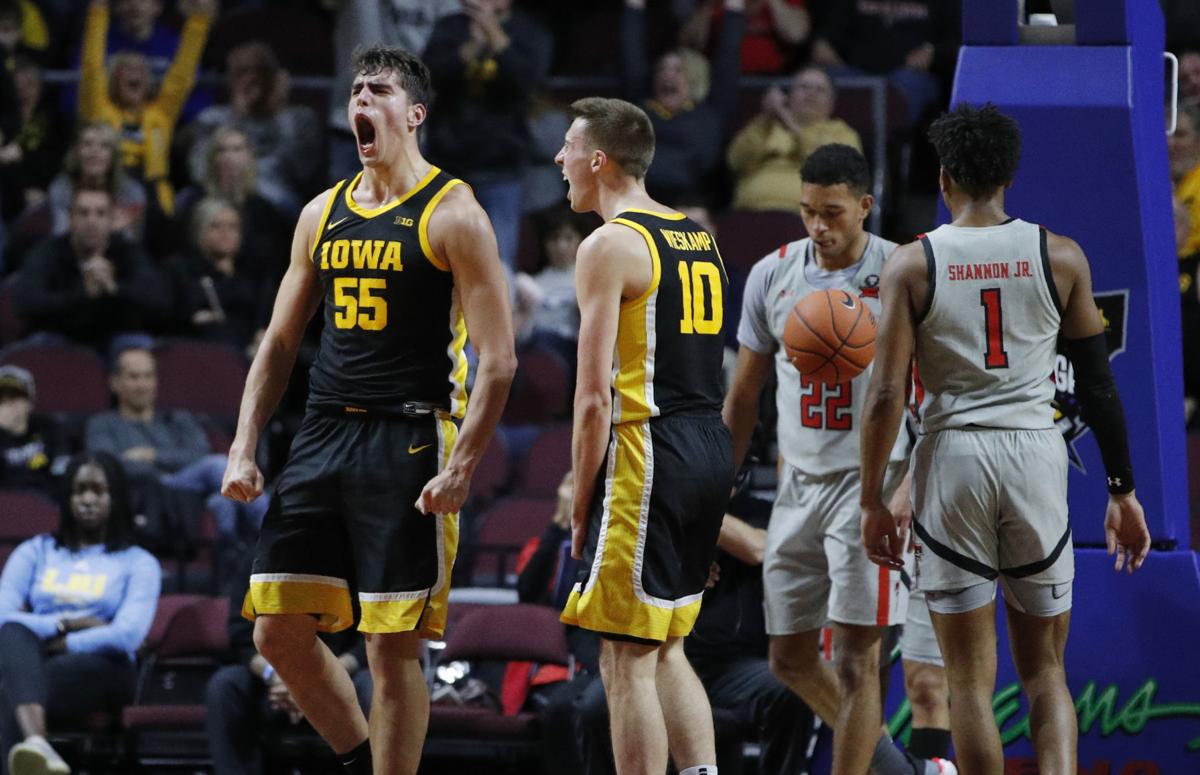 LAS VEGAS — If there was any question about the toughness and grit of the Iowa basketball team this season, the Hawkeyes answered it Thursday night. And then some.
Jordan Bohannon returned to action after missing a game with a sore hip, Luka Garza turned in another strong performance despite having his face bloodied twice and CJ Fredrick drilled a game-changing 3-point field goal to help the Hawkeyes grind out a 72-61 victory over 12th-ranked Texas Tech in the semifinals of the Las Vegas Invitational at Orleans Arena.
Bohannon, who is still recovering from hip surgery last May and who did not play in the Hawkeyes' previous game against Cal Poly, led the way with 20 points and six assists in his first start of the season.
Garza added 17 points and 12 rebounds, Joe Wieskamp tossed in 16 points and Fredrick contributed 10 points, half of them coming in the final minute-and-a-half.
"To beat a team the caliber of Texas Tech, you've got to have a toughness about you ... '' Iowa coach Fran McCaffery said in a postgame television interview. "There's no substitute for heart and character.''
The victory puts the Hawkeyes (5-1) in the championship game of the tournament Friday at 7 p.m. against the winner of a later game between Creighton and San Diego State.
Texas Tech, which finished second in last season's NCAA tournament, shot just 32.8 percent from the field against an active Iowa defense. However, the game still was not decided until the final minutes.
The Red Raiders (5-1) chopped the Iowa lead down to two points, 61-59, on a pair of free throws by freshman Terrence Shannon Jr. with a minute, 56 seconds to go.
Bohannon shot an airball at the other end but Cordell Pemsl saved the loose ball inbounds to Fredrick, who drilled a 3-pointer from the left wing as the shot clock expired.
"That was a big rebound by Cordell,'' Fredrick said in a postgame radio interview. "If he doesn't get that rebound, I don't get that shot.''
You have free articles remaining.
T.J. Holyfield missed a layup at the other end and Fredrick rebounded, was fouled and added two free throws with 1:07 remaining. Bohannon finished things off by making six straight foul shots in the final minute.
Bohannon still has not decided if he will play the full season as he bounces back from the surgery but McCaffery inserted him into the starting lineup Thursday with forward Jack Nunge sidelined by a season-ending knee injury.
The senior ended up making 4 of 9 3-point attempts and all eight of his free throw attempts while playing 33 minutes.
"When he's on the court, everybody else settles down,'' McCaffery said. "When things get sticky like they did in the second half, he just settles everyone else down.''
Garza recorded his fourth double-double in six games despite twice taking elbows to the face in the physical contest. After the first one, he played with gauze stuffed up his nose. Then he took an elbow to the lip from Tech's Chris Clarke with 8:01 remaining and crashed to the floor with blood all over his face.
He only missed about two minutes of action before returning to the court.
"I knew this was going to be a physical game,'' Garza said. "I went in there and got four stitches and just tried to come back out with as much energy as I could. I got a little rest in there.''
The Hawkeyes seized control of the game from the outset, taking a 19-10 lead and opening the margin to as much as 36-21 later in the first half. It was 36-26 at halftime.
The Red Raiders, led by Clarke, continually made runs at the Hawkeyes in the second half but never took the lead.
When they got to within 52-50, Garza countered with a 3-point play. Bohannon delivered a big 3-pointer with 2:49 to go and then Fredrick delivered the final crushing blow.
"I'm so proud of this team,'' Fredrick said. "We've been locked in since the Cal Poly game … And then to go out and fight and execute the game plan, I couldn't be more proud of my teammates.''
Clarke, a graduate transfer from Virginia Tech, led Texas Tech with 11 points and 10 rebounds. Freshman Jahmi'us Ramset, who was averaging 19.4 points per game coming in, scored just seven points on 3-for-11 shooting and sat out the last 10 minutes with a leg injury.