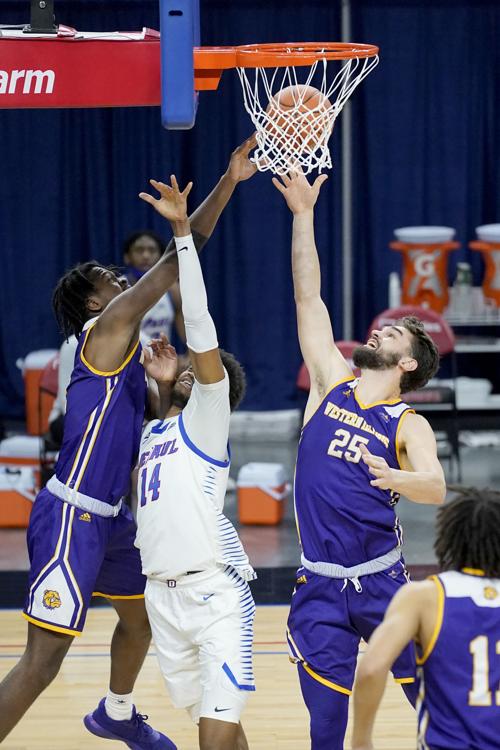 As Will Carius prepares for his second season of basketball at the Division I level, Western Illinois University coach Rob Jeter expects the senior forward to be both patient and productive.
After playing at the NCAA Division II and Division III levels, the sharp-shooting Carius joined the Leathernecks last season and adjusted quickly to what it took to compete in the Summit League.
The former Pleasant Valley High School standout led Western Illinois in scoring at 14.7 points per game and finished second on the team in steals and blocks during a 7-15 season, earning second-team All-Summit League recognition in addition to being named to the conference's all-newcomer team.
After transferring from Monmouth College, Carius had the type of season as a graduate transfer that he can build on after opting to take advantage of an additional year of eligibility the NCAA offered to all players because of the COVID-19 situation.
"We want Will to learn from last season and to become more patient,'' Jeter said during a video conference last week. "He had some good scoring nights for us, but there's a lot of film out there now and people know what he can do. He'll have to adjust to that and part of that is having more patience.''
Jeter expects the 6-foot-7 Carius to continue to provide Western Illinois with quality leadership and to continue to work to grow his overall game.
"For him to come in from Division III, I know he was anxious to show what he was about and see if he could fit in at another level and he's done that,'' Jeter said.
With a deeper roster that includes Northwestern State transfer and former Wapello prep Trenton Massner, Jeter expects the Leathernecks to have additional offensive options.
"He'll have some more help this year and that should benefit Will, too, giving him a chance to get better looks,'' Jeter said.
Massner, a 6-2 guard who earned second-team All-Southland Conference honors at Northwestern State during the 2020-21 season, is among "help'' Jeter was referencing.
"Trenton has shown that he is more than capable of playing at this level and he's going to be a great complement to other guys,'' Jeter said. "He's a great addition to the team.''
Jeter is preparing for his second season as the coach of the Summit League program, learning during the first season that the league is more physical than maybe he anticipated and believing the Leathernecks are now more prepared to compete.
"We're a lot more comfortable now with who we are and where we need to get to,'' said Jeter, whose team visits Iowa on Dec. 29.