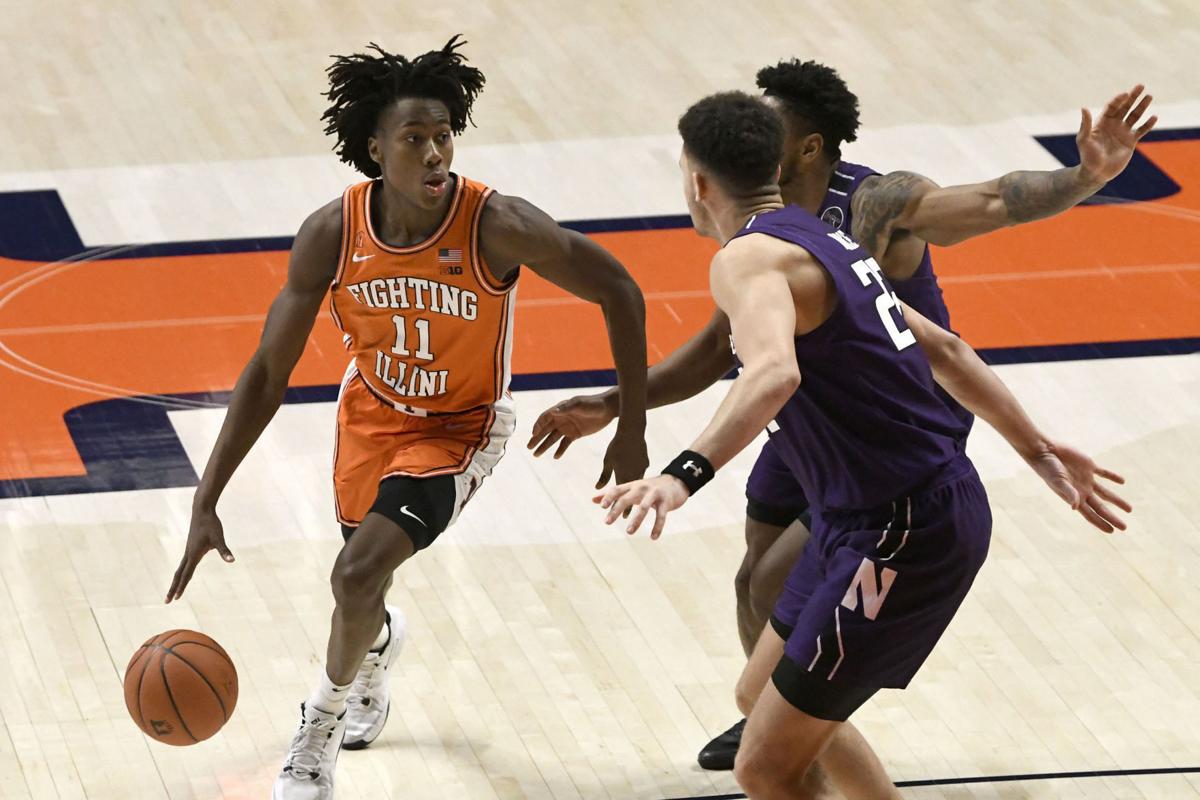 Whether it is Marvel or DC, each has its own set of stars to add to the debate: Who is the best superhero of all-time? Could it be Thor, Hulk, Captain Marvel, Superman or Wonder Woman?
While that is a tough question, what is becoming very clear to Illini Nation is that junior All-American guard Ayo Dosunmu is making a case for the title of the best player to ever suit up in Champaign.
During my years, I have watched the greats: Deon Thomas, Nick Anderson, Eddie Johnson, Dee Brown, Kiwane Garrie, Kendall Gill, Kenny Battle, Bruce Douglas, Deron Williams, Frank Williams, Brian Cook and Efrem Winters, to name a few.
All had great college careers at Illinois. The list includes a couple of All-Americans, NBA lottery picks and even a gold medalist.
Having watched all those stars play, none of them literally carried a team the way Dosunmu has. Battle was electric, Anderson was said by many to be the best Illini ever, and Deron Williams has had an amazing career.
But none of them took over game after game the way Dosunmu has. Teams know what he is going to do; teams use gimmicks to slow him down; opposing coaches scream to their teams do not let him get it back, but he finds a way.
Down by six points on the road recently at Nebraska, Illinois was done; one of the worst losses in school history seemed inevitable.
But Dosunmu put the big "S" on his cape plus used Thor's hammer. He took over and showed who the strongest college player on the planet is.
Last year, in late game situations, when it appeared Illinois was going to lose, Dosunmu somehow willed Illinois to victory over Michigan, Michigan State, Wisconsin, Northwestern, Penn State and Iowa.
Now add Nebraska to that list; Dosunmu scored 15 consecutive points at one point during the game.
"At one point late in the game we were down five points; I said to myself, it's time to lock in, trust in my instincts," he said. "All the work I put in, I told myself, after I hit that pull-up jump shot, I knew it was time to will my team to victory."
That "Mamba Mentality," made famous by Kobe Bryant, is what Dosunmu has lived by. It is about obsession. It is about prioritizing your professional goals over having a normal, balanced life. It is about playing without fear, mastering your craft, and wanting not only to win but to dominate.
It's normal to have legends have special nights, it's to be expected to have them win a game for you, but none I can ever remember doing what Dosunmu has done for Illinois.
He followed his heroics against Nebraska by hitting two clutch 3s to ice the Illini's win over Northwestern after scoring just two points in the first half.
"I'm a winner and I look for the win at the end of the day," Dosunmu said. "My closing instincts just took over. Some nights I don't have to score 30 for us to win."
Iowa's Luka Garza is having a special season, but no one can come close to being the type of closer and winner Dosunmu has. He's the Big Ten's best player, and until someone can will their team to victories night in and night out, he should be the national player of the year.
Numbers don't lie: Dosunmu is the only player in the NCAA over the last 11 years to average at least 20 points, 6 rebounds and 5 assists per game while at the same time keeping his team in the Top 20 in the polls all season long.