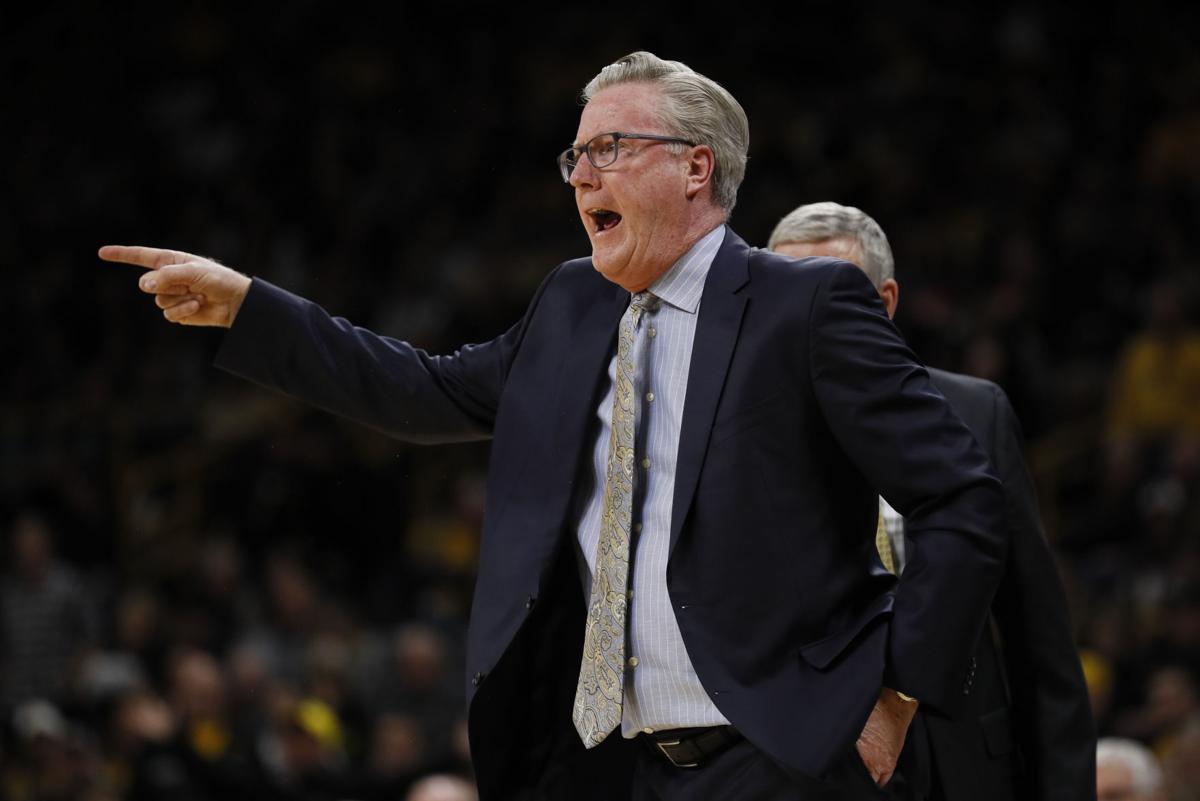 The University of Iowa men's basketball team already was being labeled as a preseason top 10 team.
The Hawkeyes return the odds-on preseason national player of the year and a record-setting guard, and have one of their deepest, most experienced teams ever.
But now, in what shapes up as a crazy season overflowing with uncertainties, it seems even more likely that this could be a special season in Iowa City.
With potential adversity lurking around every corner, you want guys on your team who have had to roll with the punches before. And there aren't many teams that have absorbed more punches and gotten back up than the current Hawkeyes.
"I like the idea that we have a veteran club," Iowa coach Fran McCaffery said as he prepared for Wednesday's start of preseason practice. "When facing the adversity we're all going to face, experience would be the ultimate thing that you want."
The other thing McCaffery would like to have, he said, is depth. As we have seen in other sports at other levels, COVID-19 can rise up at any moment to remove a key player from the lineup or possibly take multiple players out of action for weeks at a time.
"So now you're dealing with a situation where maybe it's better to be the deepest team," McCaffery said. "Maybe the best ability is availability."
Few teams around the country are as blessed with both things: Experience and depth.
The Hawkeyes basically have seven returning starters. Luka Garza, Joe Wieskamp, CJ Fredrick, Connor McCaffery and Joe Toussaint started together for most of last season. Jack Nunge started the first five games before being felled by a knee injury. Jordan Bohannon had started 96 consecutive games going into last season before he, too, underwent major surgery after only 10 games.
Bohannon said he is now in the best shape of his life. Nunge's recovery has gone well, and he's close to being completely cleared. Fredrick is fully recovered from mid-summer foot surgery.
The totals for those seven stalwarts: 439 career games, 362 starts.
And if you want to total up the collateral adversity the group has encountered, it's a pretty substantial list.
Bohannon has undergone surgery on both hips over the past 18 months after playing through leg and foot ailments in his first three seasons.
Garza had a 9-pound tumor removed from his belly on the eve of his sophomore season but barely missed any playing time. In one game during his remarkable junior season, he had four stitches sewed into his lip in the midst of a game without pain medication, then went back out and led his team to victory.
Patrick McCaffery, who figures to be the eighth guy in the rotation, overcame cancer as an eighth-grader.
Nunge, Fredrick and Connor McCaffery all have taken redshirt years and faced their share of physical hurdles.
Even the five incoming freshmen on the roster figure to be more mature and grounded than your normal newbies. Two of them already are 20 years old and another one turns 20 in December.
This doesn't seem like a bunch that is going to be flustered by whatever pandemic-related wrinkles get tossed into their path.
"Maybe they're better equipped to handle what, in a normal year, would be an incredible amount of distractions," McCaffery said of his players.
"You really have to be locked in as a group, you have to be locked in individually, you have to be incredibly professional. There can't be any selfishness on the part of any coach or player and there has to be an incredible amount of team unity to accomplish a goal that we all say we want to accomplish."
You could argue that experience might be less of a factor at times in this unpredictable season. Games could be played with very few or no fans so the players may not have 15,000 angry fans screaming in their ears on the road.
But the hunch is that McCaffery is right, that the more seasoned players you have, the better off you're going to be.
The 11th-year coach said he's also not worried about the exceedingly high expectations for this team.
It's possible that the specter of the pandemic and its effects might take the focus off the fact that many feel this team can contend for a national championship, but he said that doesn't really matter.
"I still think the players are aware of the expectations," McCaffery said. "I don't think that will change. I think when you look at expectations from the outside, I look at what does our team expect from themselves? What do they expect from themselves individually and collectively? And that won't change."
Be the first to know
Get local news delivered to your inbox!