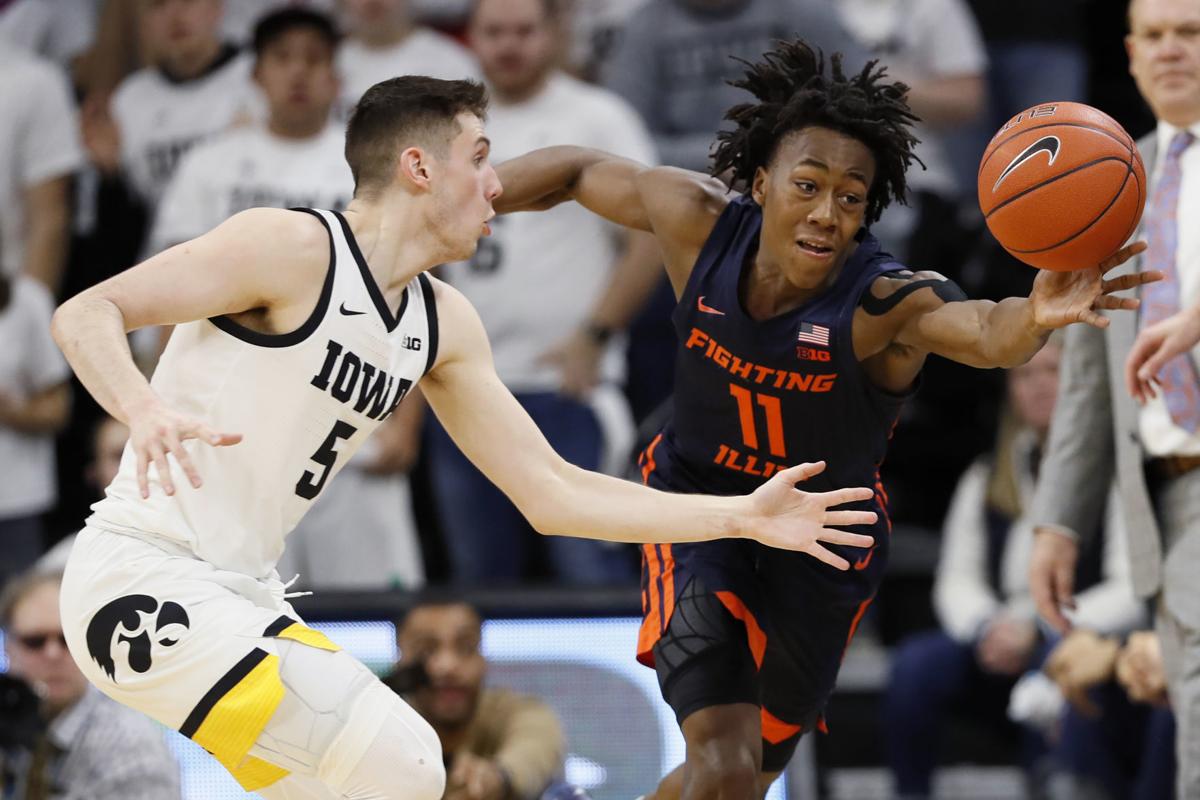 After-thoughts from Iowa's 72-65 victory over Illinois:
--There may have been more cleanly played games in the Big Ten this season but it's doubtful that many have included more intensity than this one. We may have set an unofficial Big Ten record for bodies on the floor.
--The game ended with both sides barking at one another and Iowa coach Fran McCaffery quickly aborting the postgame handshake line when Illinois assistant coaches Ron Coleman and Jamall Walker got in his face. They apparently were upset because the Hawkeyes' Joe Wieskamp closed things out with a resounding dunk with 10 seconds to go. Wieskamp apologized after game, saying he didn't know Illinois had decided not to foul and further prolong the game. No apology was necessary. Iowa was ahead by just eight (70-62) when he got a run-out opportunity following an Illinois miss. Wieskamp did exactly what he was supposed to do.
--After Wieskamp's dunk, Ayo Dosunmu made a meaningless 3-pointer and Illinois then called timeout with 4.1 seconds remaining, presumably to set up for a game-tying 7-point play. Following the timeout, the Illini pressed aggressively in the backcourt even though the game was clearly decided and appeared to intentionally foul both Connor McCaffery and CJ Fredrick. The official in the area, Mike Eades, swallowed his whistle and the game ended. In postgame interviews, Connor McCaffery was more upset with Eades than with the Illini, feeling that if he had called a foul, perhaps things wouldn't have been quite so combustible after the game. Maybe. But probably not. Connor said Eades did something similar in a game against Iowa State last season.
You have free articles remaining.
--Eades' actions — or lack thereof — were consistent with the performance of the officiating crew in the entire game. There were several dubious foul calls and no-calls even before the first TV timeout. There was a play later in the first half in which Illinois threw the ball away and the officials ruled it went off of Iowa's Luka Garza even though he was nowhere near touching the ball. Early in the second half, Giorgi Bezhanishvili threw an elbow at Fredrick, then flopped onto the floor with Fredrick being called for a foul on one of the most blatant flops of the season. It seemed as though they got every block-charge call wrong. They didn't get much of anything right.
--We've seen several games this season in which Dosunmu simply took over late in the game and we kept waiting for it to happen Sunday. It never did. Dosunmu generally deferred to reserve guard Andres Feliz, who made some tremendous plays down the stretch but didn't get much help.
--There was an anxious moment in the first half when Fredrick hobbled off the court and had to go to the locker room. The redshirt freshman missed 2½ games with a stress reaction in his left foot a few weeks ago and Fran McCaffery implied that it could be an ongoing problem. Fortunately, Fredrick returned to the game within a minute or two. He said as he was making some cuts on the court, something didn't feel right, but he apparently just needed to adjust the orthotics he has been wearing since the injury.
--To many of us, Fredrick (18 points) was the player of the game even though Iowa center Luka Garza again put up big numbers. Illinois coach Brad Underwood certainly seemed to concur with that opinion in his postgame news conference when he mentioned Fredrick and all the big plays he made. "It's going to be a pain in the ass to see him for the next four years,'' Underwood added.
--Garza made a career-high four 3-point field goals and also set a career high with nine 3-point attempts. He said some of it was because Illinois center Kofi Cockburn likes to hang back in the lane rather than coming out to defend the perimeter. Garza never had attempted more than five 3s in a game but McCaffery had no problem with it. "He can shoot 18 if he wants,'' the coach said.