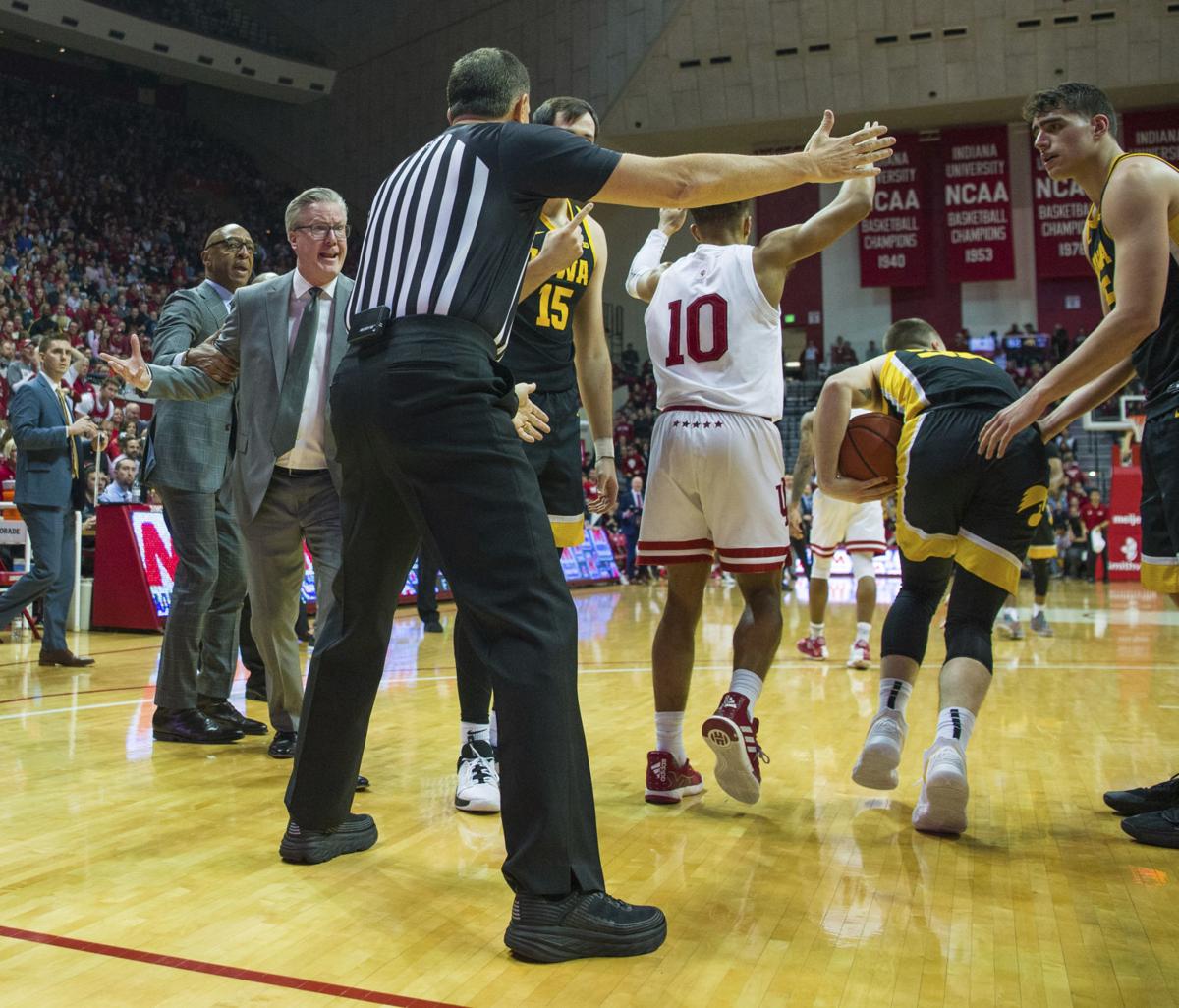 After-thoughts from Iowa's 89-77 loss to Indiana:
--With Indiana shooting much better from the perimeter than it normally does and jumping to a big early lead, this felt an awful lot like the other game the Hawkeyes played in the state of Indiana this season — a 104-68 loss to Purdue last week. At least they hung tough and kept fighting in the second half of this one. It's not a good omen, though. They will need to play at least one more game in Indiana this season. The Big Ten tournament is in Indianapolis.
--Devonte Green is Indiana's only major 3-point shooting threat and he's one of the streakiest shooters in the Big Ten so it really wasn't a good idea to give him several open looks at the basket early in the game. Green hit his first 3-point attempt with 14 minutes, 51 seconds remaining in the first half to give Indiana the lead and immediately got a jolt of confidence. He made another one with 14:17 to go, another with 12:44 to go and a fourth with 12:15 remaining. He made one more later in the half and two more in the final four minutes of the game to finish with 27 points.
--Don't be surprised if redshirt freshman CJ Fredrick misses most, if not all, of the rest of the regular season after spraining his ankle with 5:24 remaining in the first half. Iowa had just turned the ball over and Fredrick appeared to twist the ankle as he turned to race back down the court. The good news is it's his right ankle and not the same foot in which he had a stress reaction earlier in the season. But a severe sprain — he was unable to put any weight on it as he left the court — could easily sideline him for three or four weeks. The Iowa offense isn't quite the same without his perimeter shooting abilities to complement the scoring of Luka Garza and Joe Wieskamp.
You have free articles remaining.
--Speaking of Garza, the basketball world is running out of superlatives to describe his point-producing skills. After he tossed in 38 points in this game, Indiana coach Archie Miller said he doesn't see any way Garza isn't the national player of the year. At this point, it's hard to argue otherwise.
--Wieskamp pretty much matched his season average with 16 points but he didn't really have a great night. He fired in a 3-pointer 92 seconds into the game, then went more than 26 minutes of game time before scoring again. He never made another 3 and even missed three free throws, which is highly unusual for him.
--Indiana did a very good job of running the Hawkeyes off the 3-point line. They ended up attempting only 14 shots from behind the arc — a season low — and made only four of them. Aside from that early 3 by Wieskamp, the only other Iowa player who made any all night was Garza.
--As it turns out, it wasn't a good game for Cordell Pemsl to miss due to a suspension. Unlike most teams, Indiana plays two bigs at all times and without Pemsl, Iowa only has three other players 6-7 or taller on the roster – Garza, Ryan Kriener and Riley Till. And Kriener and Till each had four fouls by the early stages of the second half.
--Bakari Evelyn scored nine points in the game, his second highest total in 25 games in an Iowa uniform. He didn't make a perimeter shot and committed four turnovers, but he was very effective driving the ball to the basket and he seemed to do a better job defensively against Green that some of his teammates. He could possibly get his first career start Sunday when the Hawkeyes play at Minnesota. It appears either he or Kriener will need to step into the lineup in place of Fredrick.