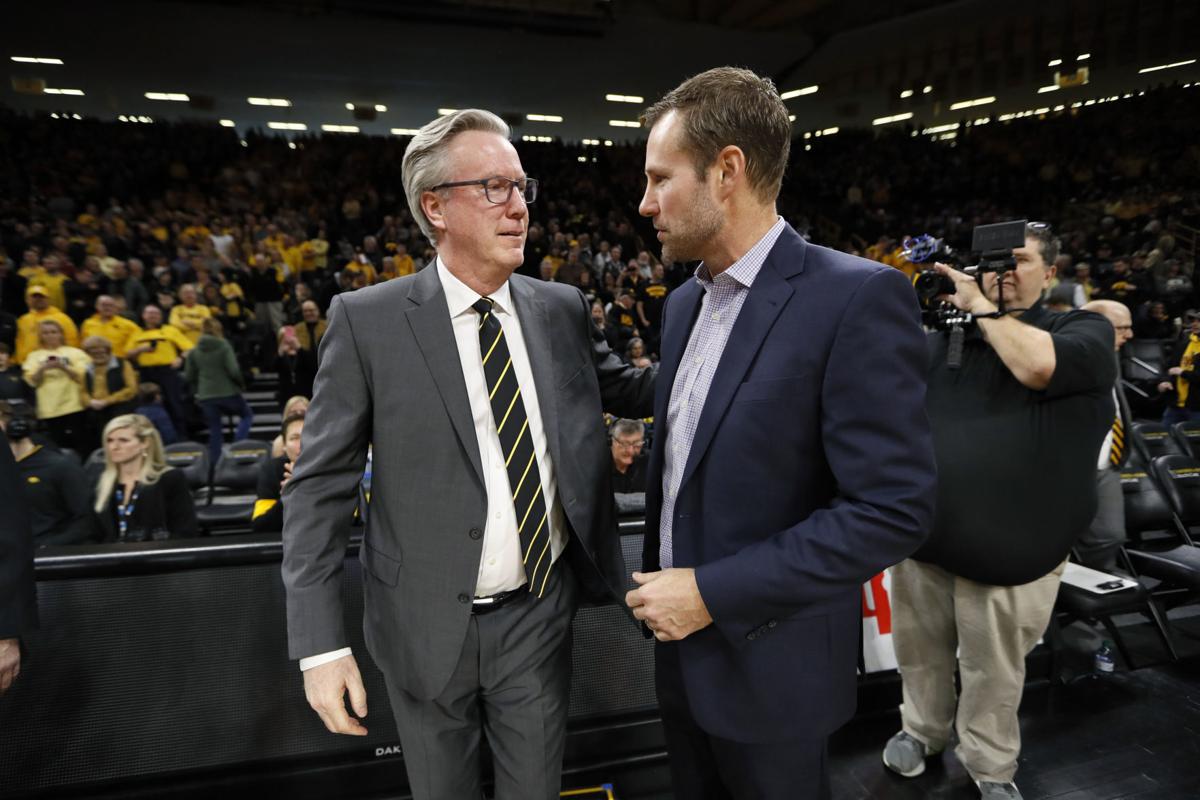 After-thoughts from Iowa's 96-72 victory over Nebraska:
--Iowa outscored Nebraska 31-10 to open the second half and a big part of that was Joe Wieskamp, who scored 20 points in the first 8 minutes, 5 seconds of the half on a wide variety of shots. He finished with a career-high 30 points, seven rebounds, three assists, two steals and one blocked shot, but it really was probably only his second best game of the season, especially considering the caliber of the opposition. He had 26 points, 11 rebounds and four steals in a victory over Big Ten leader Maryland a few weeks ago.
--Prior to Saturday, an Iowa player had been plus-30 or better in the plus/minus statistic only three times all season. On Saturday, four different players did it, led by Wieskamp at plus-35. Luka Garza was plus-33 and CJ Fredrick and Joe Toussaint both were plus-32 with the fifth starter, Connor McCaffery, not too far back at plus-27. McCaffery has the Hawkeyes' season high with a plus-40 in a December victory over Kennesaw State. Wieskamp was plus-30 in that game. McCaffery also was plus-32 against Minnesota.
--McCaffery, who had three of Iowa's four 3-pointers in an earlier loss to Nebraska, shot with a great deal of confidence Saturday and drilled a pair of 3s during an early 13-0 run that helped the Hawkeyes jump to a 15-2 lead. He added another perimeter shot later in the half in which he had a foot on the 3-point line and finished with eight points. McCaffery has not scored in double figures since a Dec. 12 win over Iowa State but it was encouraging to see him provide a little scoring after going two weeks without a field goal in January.
You have free articles remaining.
--It's hard to remember ever seeing a team go through an 8-minute stretch without scoring in the first half and still managing to score 96 points. The Hawkeyes did it, though. They missed 11 consecutive shots and committed three of their eight turnovers in that stretch but still managed to come out of it with a 4-point lead.
--Iowa's players were seen bursting out in laughter during the under-12 timeout in the second half. Head coach Fran McCaffery was drawing up a familiar inbounds play to be used following the timeout and he apparently drew it up incorrectly. "Everyone was giving each other crap, like that's not the play but we understand what you're saying,'' Wieskamp said. It didn't really matter as Wieskamp got a 3-point play for the last of his 30 points off whatever it was that Fran drew up.
--Nebraska coach Fred Hoiberg, who played and coached at Iowa State, was asked what it was like to be back in Iowa City. "Really fun,'' Hoiberg deadpanned. "It was great fun.'' He did admit that he got emotional when the saw photo of the late Chris Street in the hallway leading to the locker rooms. Hoiberg was a star at Ames High School when Street was playing at Indianola and they got to be good friends. They played together on some all-star teams and Hoiberg slept over at Street's house several times. Hoiberg said he got a chance to talk to Mike Street, Chris' father, prior to the game.
--The Iowa bench, which hasn't provided much point production lately, contributed 24 points Saturday but all of them came in the last 10 minutes, 11 seconds, long after the game was decided. Sophomore walk-on Austin Ash drilled back-to-back 3-pointers just 30 seconds apart and fellow walk-on Nicholas Hobbs scored his first points of the season.
--Despite the lopsided outcome Saturday and a current eight-game losing streak, Nebraska has some hope for the future. The Cornhuskers have as much quickness on the perimeter as any team in the Big Ten and they're capable of creating havoc defensively at times. They lack size, rebounding and perimeter shooting but if they can fill some of those voids, they could be much more competitive in seasons to come.
--Jordan Bohannon, just seven weeks removed from hip surgery, was out shooting 3-pointers on the court prior to the game and was hitting more than he was missing. He obviously won't be playing any more until next season but it was encouraging to see him out working on things so soon after his latest operation.