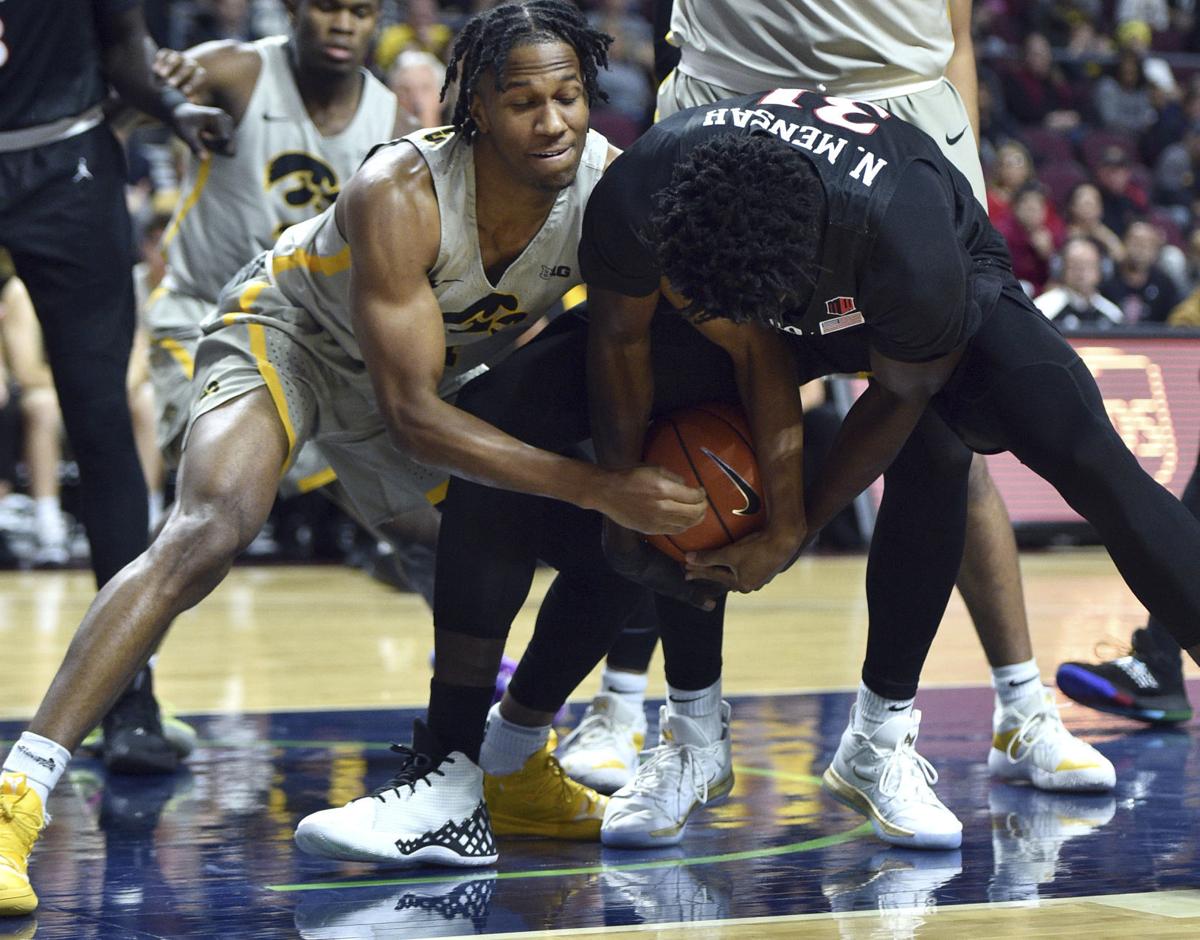 After-thoughts from Iowa's 83-73 loss to San Diego State:
--I'm not sure they would admit it, but the Hawkeyes appeared to run out of gas in Friday's game. San Diego State cruised to an easy 31-point win in the semifinals of the tournament Thursday night while Iowa fought an absolute war with Texas Tech. It showed. The Hawkeyes seemed to be running on fumes after building a 41-32 halftime lead, especially their big stars. Luka Garza took a physical beating Thursday, Joe Wieskamp reportedly was sick this week and Jordan Bohannon was trying to play on back-to-back days on a sore hip. Those three combined to score 17 points after collaborating for 53 against Tech.
--Friday's game, like the Texas Tech game the previous night, got fairly chippy at times. There were two flagrant fouls, a double technical in the final minute and a handful of other things that perhaps could have been considered flagrant. At one point, Iowa's Bakari Evelyn clearly shoved away a San Diego State defender. There even was a point in the second half when it looked as though the two head coaches were on the verge of a confrontation.
You have free articles remaining.
--Connor McCaffery is looking to score a little more often rather than just being a facilitator -- or at least he was Friday -- and he looked good doing it. The 6-foot-5 guard made 5 of 7 shots from the field and scored 15 points. He has a bit of an unorthodox, old-school offensive style but it works for him.
--CJ Fredrick continues to impress at both ends of the court. He was one of the few Iowa regulars who didn't look tired Friday as he led the team with 16 points and five assists. He scored nine straight points for the Hawkeyes at one point in the second half when no one else on the team was doing anything offensively.
--Iowa's bench, which didn't make big statistical contributions Thursday, was on the court for the Hawkeyes' best stretch of Friday's game, when they went on a 24-4 first-half scoring run by forcing bunches of turnovers. It showed in the final plus-minus stats. While all five Iowa starters had minus numbers, Evelyn was plus-11, Ryan Kriener and Cordell Pemsl plus-9 and Joe Toussaint plus-6.
--Eveyln made considerably more contributions than he has in past games. He played 17 minutes, played good defense, got a big steal that led to a Toussaint layup and hit only the second 3-pointer of his brief Iowa career.
--Toussaint continued to show a very nice free throw stroke as he went 9 for 9 at the foul line on his way to 13 points. He is shooting 81.5 percent at the stripe for the season. Unfortunately, he was 2 for 11 from the field and is now shooting 34.9 percent there.