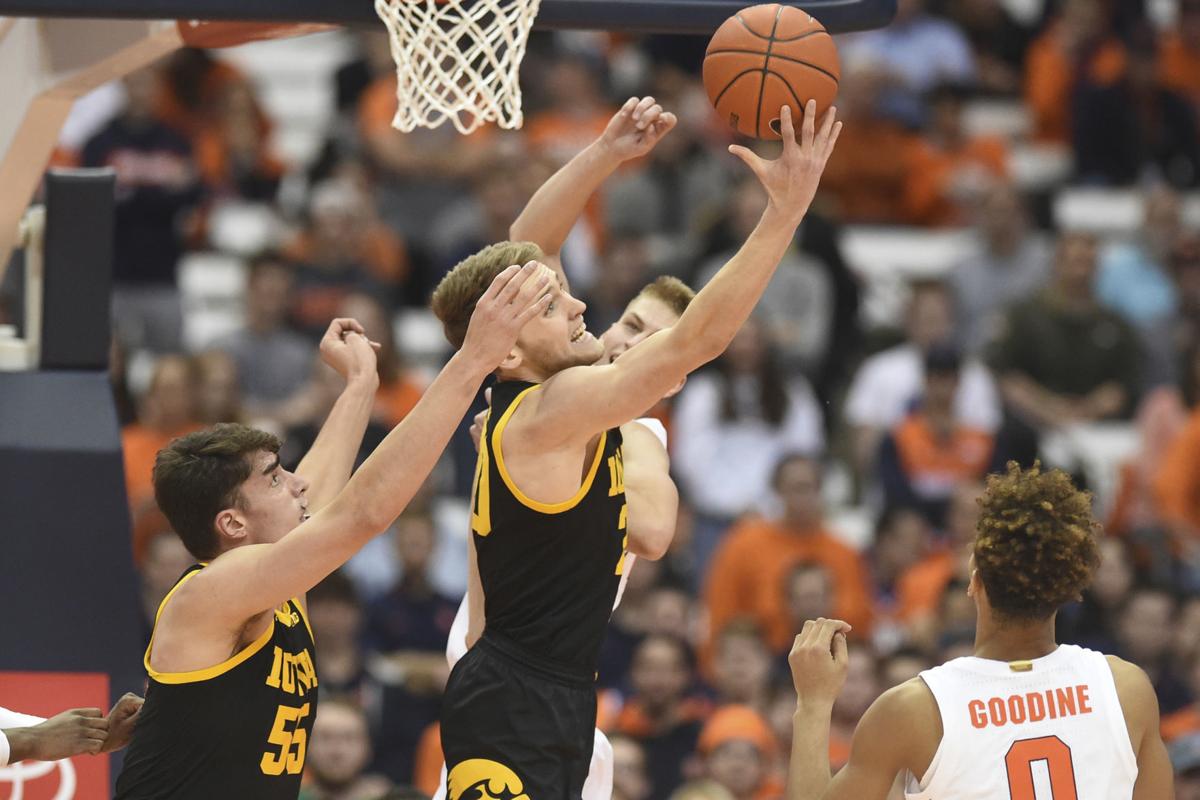 After-thoughts from Iowa's 68-54 victory over Syracuse:
--This would have been an impressive victory for Iowa if it came at home with the Hawkeyes at full strength. Considering they found out shortly before the game that one of their best, most consistent players was going to be sidelined by injury along with one of their three primary post players in a game played in front of 20,000 hostile fans, it was a very positive development. The good news is that it doesn't sound as though CJ Fredrick and Cordell Pemsl will be out for very long. The better news is that this team seemingly has the confidence and character to overcome almost anything.
--With the shortage of depth, Luka Garza and Connor McCaffery set career highs for minutes played and Joe Wieskamp and Jordan Bohannon set season highs. That quartet played a combined 145 minutes (exactly, to the second) and committed only six fouls in that time. Wieskamp played 36 minutes, 26 seconds without once being call for a personal.
You have free articles remaining.
--A lot of college basketball players would simply stop looking at the basket after missing their first six 3-point attempts. Iowa has had a few who stopped after missing one or two. Bohannon kept firing after his 0-for-6 start and eventually made 5 of 13 from behind the arc. Ironically, the 3 he finally hit to end his drought was highly contested. Probably the toughest shot he took all night.
--The short bench made for some odd lineup combinations at times. During one stretch in the middle of the second half, the Hawkeyes had four point guards (Bohannon, McCaffery, Bakari Evelyn and Joe Toussaint) on the court with Ryan Kriener. McCaffery was playing power forward with the 6-foot-2 Evelyn at small forward.
--Iowa coach Fran McCaffery, who never met a hyperbole he didn't like, said on his postgame radio interview that junior forward Riley Till was "spectacular'' in Tuesday's win. Maybe not spectacular, but definitely solid. The former walk-on stepped up to play 10 minutes off the bench and did some very good things. During his first stint on the court, he tapped a rebound to Garza for an easy basket, then fed Evelyn for a 3-pointer the next time down the court.
--Evelyn also had a big role in the win, playing a season-high 18 minutes and providing some solid defense. He was on the court for most of the final stretch when the Hawkeyes closed out the victory and finished a plus-11.
--With games like this, you kind of wonder how much longer 75-year-old Jim Boeheim will continue to coach. Syracuse is off to its worst start (4-4) in 51 years, which happens to be how long Boeheim has been a member of the school's coaching staff. There appears to be some talent there, but the execution at the offensive end of the court is simply awful. It's easy to see how the Orange scored only 34 points in their season-opening loss to Virginia.