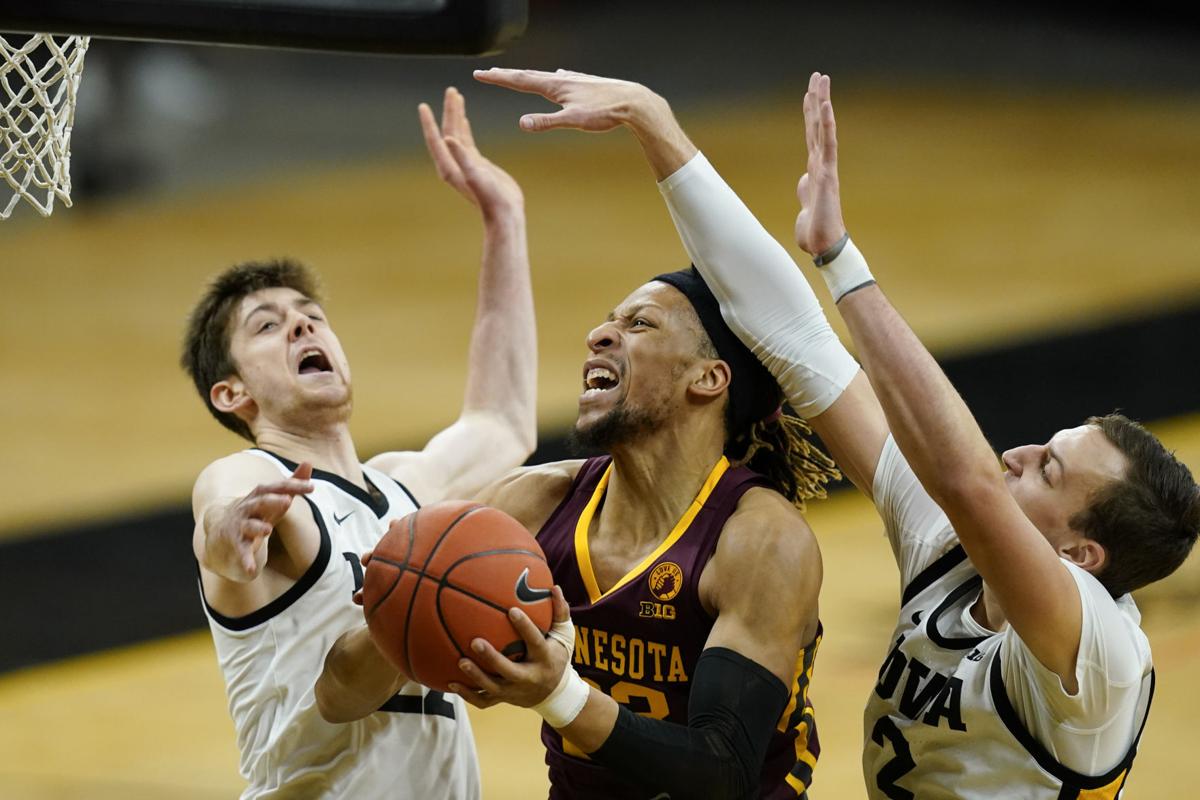 After-thoughts from Iowa's 86-71 victory over Minnesota:
--Jordan's Bohannon's 14 assists Sunday not only were a career high but it was the most assists by an Iowa player in 32 years and tied for the third highest total in Hawkeyes history. Cal Wulfsberg set the record with 16 against Ohio State in 1976, B.J. Armstrong had 15 against Minnesota in 1989 and Ronnie Lester had 14 against Northwestern in 1978. It's not known how many turnovers any of those players had in those games but it's unlikely they didn't have any, as Bohannon did Sunday. It also was Bohannon's seventh career game with 10 or more assists, which is a school record. Wulfsberg had six.
--We've grown accustomed to seeing Luka Garza outmuscle opponents to score around the basket. In this game, we saw him frequently outrun opposing big men to get into position for easy baskets on the other end, often following a pass from Bohannon. One Iowa player indicated he thought Minnesota center Liam Robbins was worn out at the end of the game from chasing Garza up and down the floor. That may have contributed to Robbins missing a couple of free throws with 4 minutes, 26 seconds remaining.
--The Hawkeyes did not miss a shot during a 22-4 scoring run that helped them open an 18-point lead in the second half but the binge was just as much a product of defense as offense. They held Minnesota to just one field goal in the first eight minutes of the half.
--The Hawkeyes did an especially good job defensively on Minnesota guard Marcus Carr, who came in as the Big Ten's third leading scorer. Carr, who scored 30 points in an earlier 102-95 overtime victory over Iowa, was held scoreless until 4:31 remained in the first half and finished with 13 points. He was 5 for 19 from the field and perhaps most significantly did not attempt a free throw in the game. Carr had made more free throws than any player in the Big Ten entering the game.
--There are certain players who just seem to play better against certain teams and it would seem Minnesota's Brandon Johnson is one who love facing Iowa. He made eight 3-point field goals and scored 26 points in the earlier meeting — he has only three other 3s all season — and added 12 points and a team-leading eight rebounds Sunday.
--As Garza pointed out in postgame comments, Jack Nunge made several big plays in the final minutes to help hold off Minnesota's final charge. The Hawkeyes allowed a few too many offensive rebounds during the course of the game but Nunge put a stop to that down the stretch by getting four defensive rebounds in the final four minutes.
--While Joe Wieskamp snapped out of his recent shooting slump in a big way, tossing in 20 points, CJ Fredrick continued to struggle for the Hawkeyes. He made just 1 of 4 shots from the field and scored only two points for the second consecutive game. Fredrick now has 11 points and 3 rebounds in the past three games.