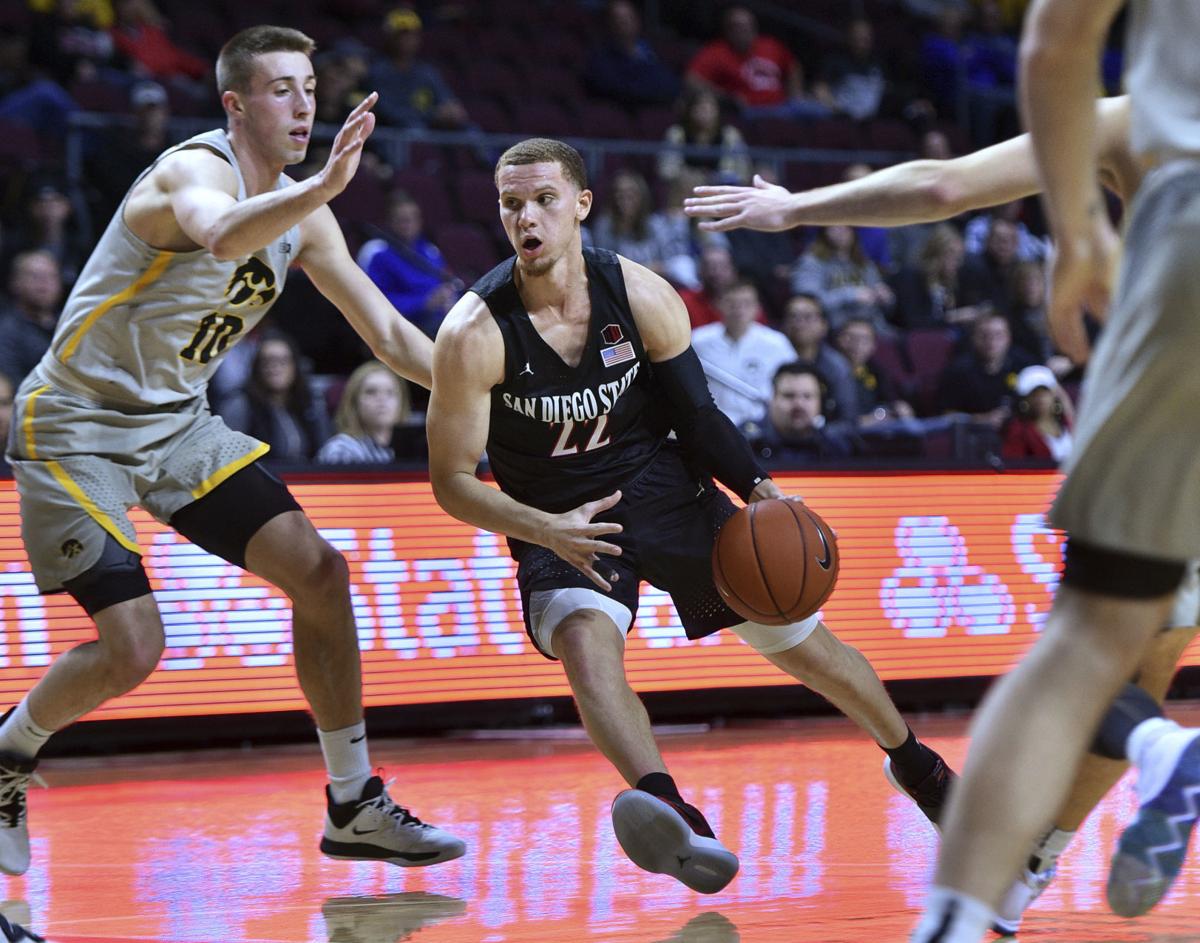 LAS VEGAS — The Iowa basketball team contained Malachi Flynn for a half.
But it was only a matter of time before the San Diego State point guard got rolling. And once he started, the Hawkeyes never found a way to stop him.
Flynn scored all 28 of his points in the second half as San Diego State bounced back from a halftime deficit to claim an 83-73 victory over the Hawkeyes on Friday night in the championship game of the Continental Tire Las Vegas Invitational at Orleans Arena.
Flynn, who had 21 points Thursday in a rout of Creighton, was named the tournament's most valuable player.
But there was more to the Aztecs' victory than just the scoring of their junior guard.
They also managed to shut down the key components of the Iowa attack. Jordan Bohannon, Luka Garza and Joe Wieskamp combined for 53 points in a 72-61 victory over 12th-ranked Texas Tech in Thursday's semifinals, but none of those players scored in double figures Friday.
Garza, hampered by first-half foul trouble, finished with a season lows of nine points and eight rebounds. Wieskamp made just 2 of 10 shots from the field while scoring five points and Bohannon scored his only three points of the game with less than three minutes remaining.
CJ Fredrick led Iowa (5-2) with 16 points with Connor McCaffery adding 15 and Joe Toussaint a career-best 13.
The Hawkeyes held the upper hand for most of the first half, thanks largely to the defensive efforts of their second unit.
You have free articles remaining.
They put together a 24-4 scoring run by forcing nine turnovers and only allowing the Aztecs eight shot attempts over a span of nearly 11 minutes. Garza, Wieskamp and Bohannon were on the bench for most of that stretch as Toussaint, Ryan Kriener and others stifled San Diego State.
The Hawkeyes' lead peaked at 37-21 before the Aztecs heated up in the final three minutes of the half to slice the deficit to 41-32.
Flynn and his teammates took over the game in the second half, grabbing the lead less than five minutes into the half. The Hawkeyes appeared to tire down the stretch after playing a very physical, hard-fought game the night before.
They still were hanging close at 63-61 after Toussaint made two free throws with 7 minutes, 49 seconds remaining, but they then missed seven straight shots, most of them from close range. Flynn kept rolling from there to score 15 of the Aztecs' final 20 points to finish off the Hawkeyes.
San Diego State (8-0) outscored Iowa 51-32 in the final 20 minutes.
In postgame television interviews, Flynn said he just committed himself to being more aggressive in the second half and San Diego State coach Brian Dutcher said he spoke to his team at halftime about a dozen first-half turnovers.
"That's not in our nature, especially against a zone,'' Dutcher said. "I thought we were careless against the press. We used two timeouts in the first half to try to get some things corrected.
"We came in at halftime and told them 'Just show us what we see in practice.' We're a good team, we're capable of playing much better, and we did in the second half.''
Yanni Wetzell and Jordan Schakel each added 14 points for the Aztecs. Schakel kept them alive through their first-half struggles by going 4 for 4 from 3-point range.
Those two both made the all-tournament team along with Flynn, Garza and Fredrick.