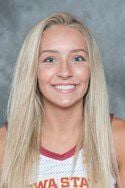 IOWA CITY — It wasn't an easy decision, but Kylie Feuerbach is more convinced than ever that she made the right call.
A 24-game starter for the Iowa State women's basketball team last season as a freshman, Feuerbach now feels at home after making a move to Iowa where she will be reunited in the backcourt with AAU teammate Caitlin Clark.
"I feel like I fit really well with this team," Feuerbach said following a practice last week. "The team has been really welcoming and I love the winning attitude and the competitiveness on this team. Obviously, we are still in the summer, but it's extremely competitive everywhere no matter what we are doing."
The 6-foot guard from Sycamore, Ill., had committed to ISU as a sophomore in high school, following both of her parents to a school where her grandfather had also played basketball.
"I have a lot of respect for the program at Iowa State. I loved my teammates there, but it just wasn't the best fit for me," Feuerbach said.
She realized that while playing in all 28 games for an Iowa State team that reached the second round of the NCAA tourney last season.
Part of a strong freshman class with the Cyclones, Feuerbach averaged 5.5 points and 3.1 rebounds per game but felt the need to make a move and entered the transfer portal following the season.
That ultimately led her to Iowa, where Feuerbach now works toward fitting into a backcourt rotation that includes returning starters Kate Martin and Gabbie Marshall and reserve Tomi Taiwo in addition to Clark.
Feuerbach said the decision was a difficult one but found coaches receptive to her joining the program, and she welcomed the chance to take the court again with Clark, who earned consensus All-American honors last season as an Iowa freshman.
The pair previously teamed up on a national championship team with the All-Iowa Attack AAU program.
"I played with her for two years," Clark said. "She's an amazing kid, an amazing person and I think she made a great decision to come here. She wants to win, and that's what we want to do."
Clark describes Feuerbach as a true team player, saying she is "willing to do whatever she needs to do for the team. She's super athletic."
Feuerbach is anxious to put that to work for Iowa following a move that took some serious thought before she decided to become a Hawkeye.
"There were a lot of deep conversations with my parents. There's a lot of things that went into it. The location is good, about two hours closer to home," Feuerbach said.
"The coaching is great and they really welcomed me as well. Iowa plays a really up-tempo style and loves to attack. Everything about it, it has been like the perfect fit."
Clark believes that Feuerbach will provide productive depth for an Iowa program that returns all five starters from a 20-10 team which reached the Sweet 16 of the NCAA tourney last season.
"She's going to be another person who can come in and defend really well, is athletic, can shoot, drive and create things for our offense," Clark said.
Feuerbach is seeing how she fits during Iowa's initial summer workouts.
"The transition has been really good," she said. "We do some scrimmages as a team and it's really good for me as a newcomer to get a feel for how everyone plays and how everyone fits on the team. I can see where I fit and I feel good about that."