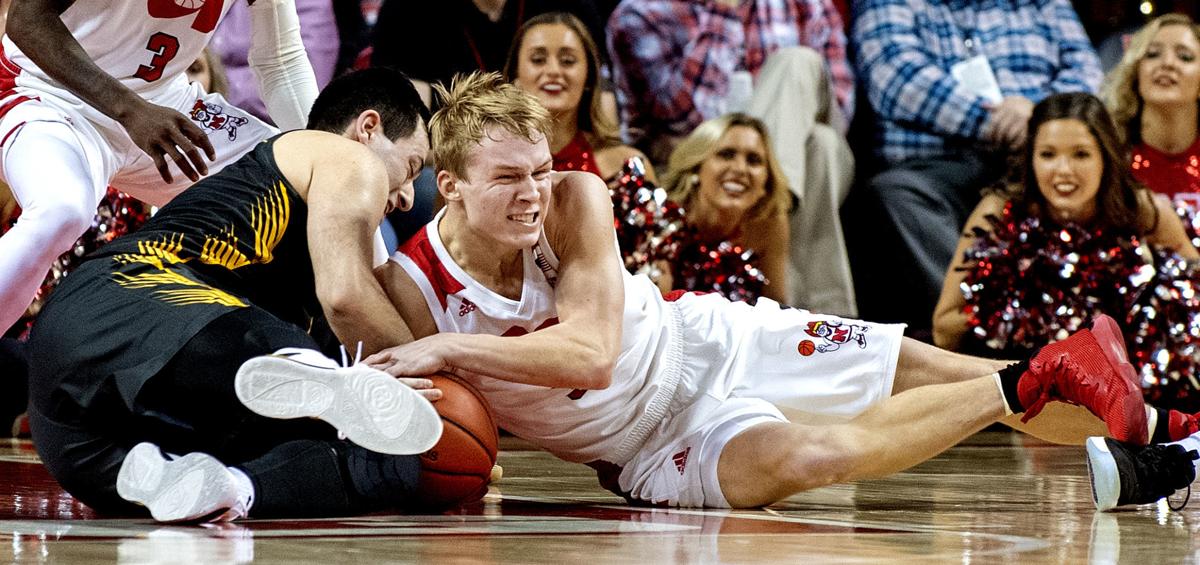 IOWA CITY — Fran McCaffery wouldn't mind having a 6-foot-3 guard who makes half his 3-point field goal attempts right now. He also could use a skilled 6-11 power forward, a savvy senior point guard and a slick 6-foot-9 wing forward.
There's just one thing Iowa's basketball coach doesn't want at the moment: Excuses.
McCaffery's Hawkeyes enter another rugged Big Ten battle Friday night against No. 12 Maryland with an ever-shrinking bench, but he said it's counter-productive to dwell on the fact that a third of his scholarship players have been sidelined by various physical ailments.
"I think you can really fall into a trap with that," McCaffery said Thursday. "We're not the only team that's going through this. There's guys injured, there's guys that leave. Bottom line is we have other players that we believe in or they wouldn't be wearing this uniform, so that's an opportunity for them to step up and produce when given the opportunity."
The latest casualty is freshman guard CJ Fredrick, who has not played in the past game-and-a-half because of a stress reaction in his left foot.
Fredrick, who leads the Big Ten in 3-point percentage, is not likely to be available against Maryland and could be out for an extended period. He still was wearing a protective boot on Thursday.
His absence was obvious Tuesday night when Nebraska trotted out an entirely new defensive strategy against the Hawkeyes, thoroughly engulfing All-American candidate Luka Garza with bodies and daring everyone else to make 3-point shots. The Hawkeyes, who admittedly were flustered by the Cornhuskers' tactics, ended up making only 4 of 33 3s and lost 76-70.
Garza and senior forward Ryan Kriener said they hadn't seen a defense like that since high school.
"There was a lot of outside noise that kind of made that an excuse for us," said Kriener, who has replaced Fredrick in the starting lineup. "I think for me personally it's more of a motivator. It's always about proving other people wrong."
You have free articles remaining.
The Hawkeyes (10-5, 1-3 Big Ten) previously lost Jack Nunge, Jordan Bohannon and Patrick McCaffery. They are down to only eight healthy scholarship players, and that includes former walk-on Riley Till, who has played only 47 minutes all season.
But Garza, who has been battling the flu all week, said that's part of life in the Big Ten.
"I feel like making excuses means you're kind of soft," said the junior center, who has led the Big Ten in scoring most of the season.
"We're right in the middle of the Big Ten season and we have enough pieces to still be very good. It doesn't matter who's on the court or off the court. … We're not soft. We're not going to make any excuses. We're going to keep going. We know what we're capable of regardless of injuries. We feel like we're still one of the best teams in the Big Ten."
Nevertheless, it would be nice to have Fredrick in the backcourt against Maryland (13-2, 3-1 Big Ten), which has one of the best collections of guards in the Big Ten.
"A tough, talented group," McCaffery admitted. "Obviously, (Anthony) Cowan is one of the best players in the country, but (Eric) Ayala and (Darryl) Morsell, (Aaron) Wiggins, these are veteran guys that have really proven to be terrific players in this league. … Not only do they have versatile options and athletic backcourt people, they're big. They're all 6-5, 6-6, except for Cowan, who's got a tremendous burst."
On the plus side, the Hawkeyes finally will get a chance to play at home in Carver-Hawkeye Arena. That hasn't happened much lately as they have flitted around the country, playing only two home games in a span of 46 days.
"My travel bag just kind of sits in the corner of the room, ready to go over and over again," Kriener said. "It's definitely good to get a little extra rest and not have to worry about flights or anything like that."
McCaffery said he's looking forward to being at home now for four of the next five games.
"Our fan base, when we have been here, has been tremendous, and we need that, especially when you're playing a ranked team like Maryland," he said. "It's been a good game when we've played them, whether it's been here or there. They've been good games. We're looking forward to being back here."