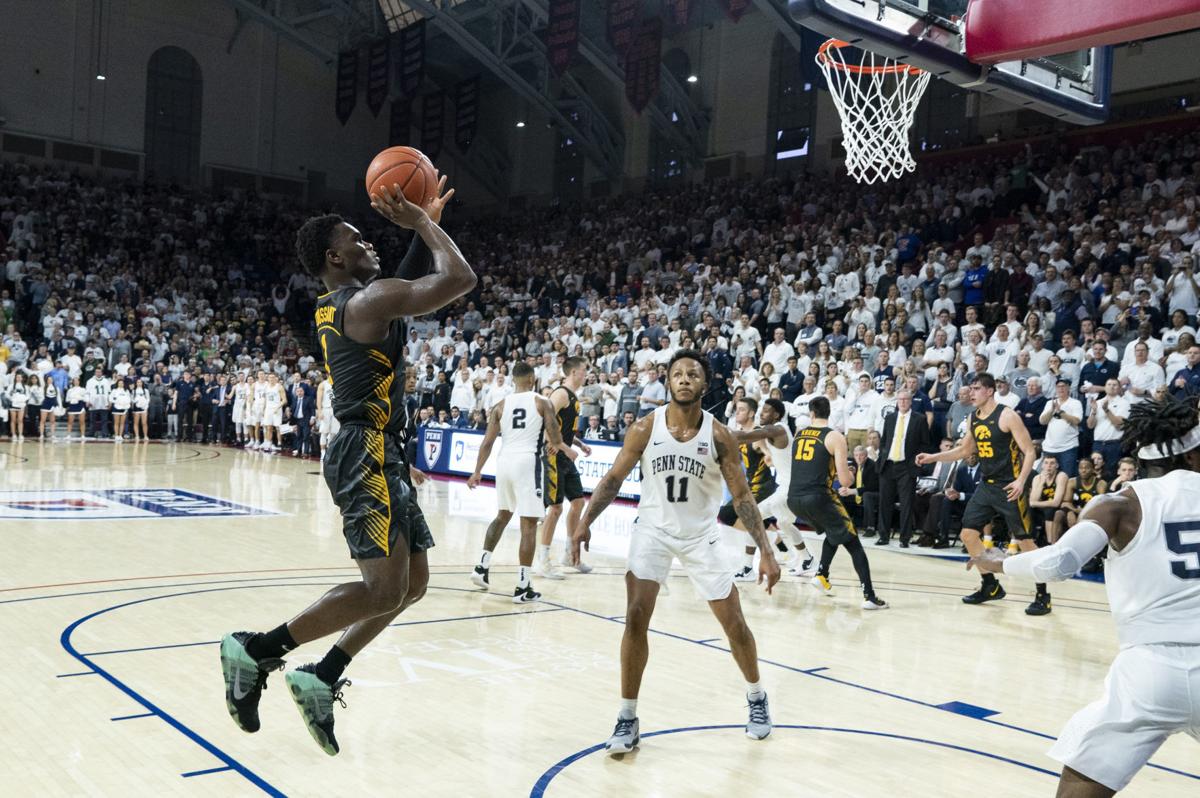 When the Iowa basketball team played at Nebraska in the final regular-season game last March, the Cornhuskers were decimated from a personnel standpoint.
They had lost so many players to injuries and illnesses that they were forced to throw walk-ons into the starting lineup.
When the Hawkeyes walk into Pinnacle Bank Arena on Tuesday night, the proverbial shoe will be on the other foot.
Iowa's depth, once the envy of other teams in the Big Ten, has been severely diminished only three games into the conference season.
Jack Nunge is out for the year with a knee injury. Jordan Bohannon has undergone season-ending hip surgery. Freshman Patrick McCaffery has played in only two games and seems almost certain to miss the remainder of the season.
Starting guard CJ Fredrick sat out the second half of Saturday's loss to Penn State with a foot injury and is questionable for Tuesday. Connor McCaffery played while sick Saturday and was even sicker Sunday. Ryan Kriener took a shot to the knee Saturday that initially was of great concern to head coach Fran McCaffery although he came back and played a little later in the game.
It's a situation that has placed added pressure on the few players who are healthy, but McCaffery said during a Monday teleconference with reporters that it's not something he has spent much time talking to his team about.
"I think that's how you've got to handle it,'' he said. "It's obviously something we're all aware of, but we'll deal with it one day at a time. It's an opportunity for somebody else to step up. It will change things, how we prepare, how we play in the games, and some of our walk-ons need to stay ready.''
Oh, and by the way, the best of the Hawkeyes' walk-ons, sophomore guard Austin Ash, is out with mononucleosis.
The good news is that starters Luka Garza, Joe Wieskamp and Joe Toussaint, who combined to score all but 11 of the Hawkeyes' points in the 89-86 loss to Penn State, seem to be healthy.
But if Fredrick is out for any length of time, it could be a big blow. The redshirt freshman is the team's third leading scorer and his 3-point shooting ability has taken on added importance with the loss of Bohannon.
McCaffery said he isn't sure yet if Fredrick's injury will be a long-term issue.
"I think we'll know a lot more about that in the next day or so. Not sure yet,'' he said. "I'm not ducking the question. We're looking at a variety of things on him. We want to make sure before we run him back out there that he's ready to go. He clearly was not ready to go in the second half.''
McCaffery would not specify what Fredrick's injury is, but said it is not a sprained ankle. He's not even sure if it happened before or during Saturday's game.
"He seemed to be fine before the game,'' McCaffery said. "I don't know if there was something going on before and it just got aggravated or not.''
You have free articles remaining.
If Fredrick does not play Tuesday, he probably will be replaced in the starting lineup by Kriener, who bumped knees with Penn State's Izaiah Brockington in the second half Saturday but apparently escaped serious injury.
"He's doing pretty well,'' McCaffery said. "I was really concerned about him when I went out on the floor. He was hurting. He's a tough kid and once they figured out there was nothing serious, he said 'I can go back in.' He looks OK.''
Patrick update: McCaffery was asked Monday about his son Patrick, who has not played since Nov. 11 as he deals with residual effects from his 2014 bout with thyroid cancer.
"What we're doing with him is we're trying to figure out how to get his body right,'' Coach McCaffery said. "He plays in practice some and meets with our nutrition people and our strength people and sees doctors and so forth to try and figure out how to stabilize his body. That's what's been compromised. He needs to maintain strength and stamina and feel better essentially. There's no change there. We're just going to continue to work through that.''
The coach did not come out and say that Patrick would sit out the remainder of the season but that seems likely. In order to take a medical redshirt year, Patrick cannot play in the second half of the season and Tuesday's game is the 15th on a 31-game schedule.
"We have a lot of people addressing the situation and trying to help him through it,'' Coach McCaffery said. "I think he'll be better for it next year.''
Toussaint honored: Toussaint was named the Big Ten's freshman of the week Monday after scoring a career-high 18 points and handing out four assists against Penn State.
The 6-foot guard is now averaging 7.0 points and 2.6 assists per game and ranks sixth in the Big Ten with 1.6 steals per game.
Michigan State's Cassius Winston was named the league's player of the week after he torched Michigan with 32 points and nine assists Sunday.
Ho-hum Huskers: The Nebraska team the Hawkeyes face Tuesday is expected by most experts to finish near the bottom of the Big Ten standings although the Cornhuskers always are tough on their home court.
Coach Fred Hoiberg's team is the only Big Ten team that had a sub-.500 record in non-conference play and it really has struggled on the boards. It is 348th out of 350 NCAA Division I teams in rebounding margin.
"They've got speed and quickness, they play hard, they execute as you would expect,'' McCaffery said. "I've been impressed with their team, in particular, as they've evolved. You throw a bunch of guys together in the beginning of the year, there's going to be some ups and downs but they've come into the league and performed really well.''
No. 26: As expected, Iowa fell out of the Associated Press Top 25 with Saturday's loss although the Hawkeyes are listed first among the other teams receiving votes.
Michigan State is now the highest ranked Big Ten team at No. 8, followed by Ohio State 11th, Maryland 12th, Michigan 19th and Penn State 20th.
As of Monday, Iowa was ranked 20th in both the KenPom and Sagarin power rankings, 33rd in the NET rankings.
Homecourt dominance: Going into Tuesday's action, the home team has won 20 of 23 Big Ten games. The only road victories have been recorded by Michigan State (at Northwestern), Wisconsin (at Ohio State) and Rutgers (at Nebraska).
Injury report: Iowa is not the only Big Ten team dealing with injury problems right now. Rutgers is playing without star point guard Geo Baker, Michigan is without leading scorer Isaiah Livers, Ohio State forward Kyle Young is sidelined after undergoing an appendectomy and Northwestern played Sunday without three of its best guards, Anthony Gaines, A.J. Turner and Boo Buie. Gaines is out for the year.