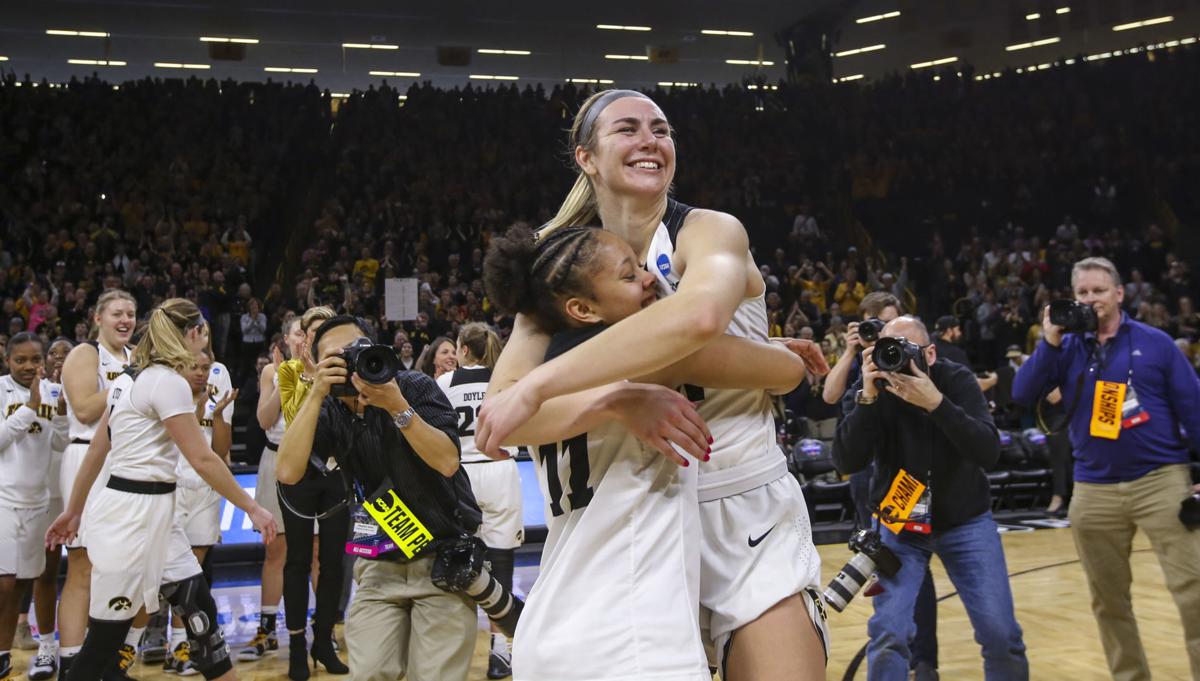 There is some business to take care of before the Iowa women's basketball team tips off its game against Clemson in the ACC/Big Ten Challenge on Wednesday night.
Tania Davis and Hannah Stewart, players who joined Megan Gustafson as senior starters on the Hawkeyes' Big Ten tournament championship team that reached the NCAA Elite Eight last season, will be presented their Big Ten Championship rings prior to the 8 p.m. game at Carver-Hawkeye Arena.
Davis is currently a graduate assistant for the Clemson team that brings a 3-5 record into the game, while Stewart returns from playing professional basketball in Australia.
Returning Hawkeyes were presented their rings during a surprise ceremony during an Iowa football game this fall and Gustafson is expected to receive hers at a game later this season.
Coach Lisa Bluder welcomes the chance to honor Davis and Stewart, who helped Iowa to a 29-7 record last season, earning its first Big Ten tourney title since 2001 and making its deepest run in NCAA play since reaching the Final Four in 1993.
She just wants to make certain that Davis enjoys the ceremony and not the outcome of the game as the Hawkeyes attempt to build on a 5-2 start.
"We're excited to have her back in the building,'' Bluder said. "But, she's one person you don't want on the opposing bench. She knows our personnel better than anybody. We've changed a lot, but some things remain the same.''
Iowa, which last won a game in the ACC/Big Ten Challenge when it won at Virginia in 2015, will be working to build on its performance at the Puerto Rico Classic where the Hawkeyes went 2-1.
While seniors Makenzie Meyer and Kathleen Doyle and sophomore Monika Czinano lead Iowa with scoring averages between 13-15.4 points per game, Bluder has been using a rotation that includes three freshmen, Gabbie Marshall, McKenna Warnock and Kate Martin.
"The sooner they feel a part of it, the quicker we're going to become a better team,'' Bluder said.
Marshall has seen significant time, averaging 8.1 points and 22.6 minutes while helping add to Iowa's shooting touch on the perimeter.
Iowa is holding its annual Buck Night on Wednesday, offering $1 admission for adults and free admission for youths and Iowa students.