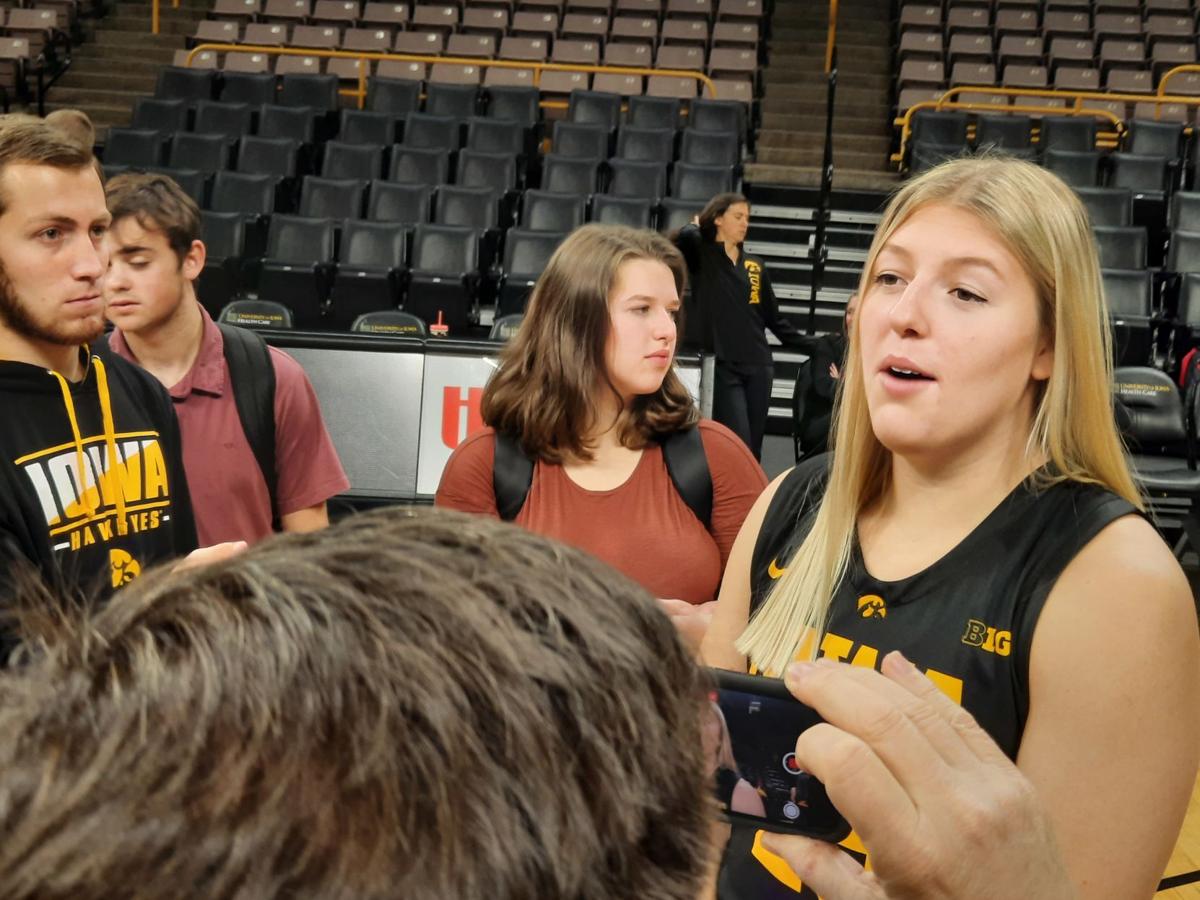 IOWA CITY — This time, the Iowa women's basketball team is taking nothing for granted.
The ninth-ranked Hawkeyes visit Northern Iowa at 2 p.m. Sunday, facing a Panthers team which upended a 23-win Iowa team 88-66 in its most recent visit to the McLeod Center.
"It wasn't a great day," Iowa center Monika Czinano recalled.
UNI limited the Hawkeyes to 35.4% shooting in that 2019 game and Iowa didn't fare much better at the line, hitting just 55.6% of its 27 free throws in one of the more frustrating games Iowa has played in recent seasons.
"We weren't ourselves that day," Czinano said.
The Hawkeyes see this as a new day, and the first real chance to test the team's defensive growth.
That has been a primary objective since summer, and while coach Lisa Bluder has liked the results she has seen during Iowa's 2-0 start to the season, she looks forward to seeing how well the Hawkeyes can defend a Northern Iowa team that is built around defense.
UNI limited St. Louis to 20-of-65 shooting in the Panthers' 63-54 season-opening road victory on Tuesday.
That 30.8% effort mirrors the defensive success Iowa has had in its season-opening routs of New Hampshire and Samford.
The Hawkeyes have limited their two opponents to a combined 31.1% effort from the field while winning its games by an average of 40 points.
"I'm excited to go (to UNI) with this new team and this new defensive philosophy," Czinano said. "Really, we want to go out there and show them what we can do and show them how good we are."
Caitlin Clark, Czinano and McKenna Warnock are all averaging for double digits for Iowa.
Clark, the nation's top scorer a year ago, is averaging 22.5 points while Czinano and Warnock average 17 and 10 points while seeing just over 20 minutes of playing time in the Hawkeyes' first two games.
Karli Rucker, the Panthers' senior point guard from North Scott, scored a team-high 17 points in UNI's opener.
Bre Gunnels, Kam Finley and Maya McDermott each contributed 10 points and North Scott alum Grace Boffeli added eight points in a balanced UNI effort against the Billikens.
Bluder expects a veteran Panthers team which reached the semifinals of the WNIT last season to be more than ready to host the Hawkeyes.
"It's been a tough place for us to play, in part because UNI is a good team," Iowa coach Lisa Bluder said. "Most of their players have played with our players growing up in AAU ball, that type of thing. There's a lot of familiarity."