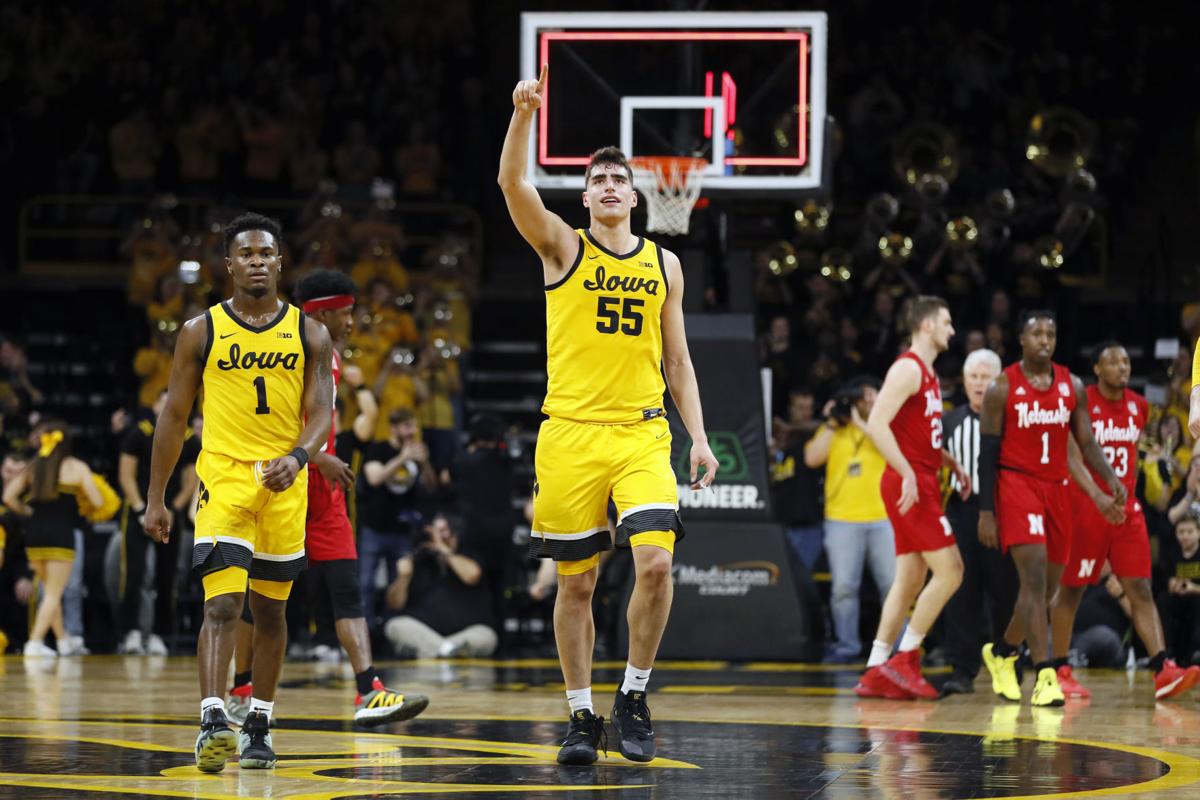 For awhile this spring, Iowa guard Joe Toussaint was playing a lot of basketball outdoors.
With the University of Iowa campus shut down because of the COVID-19 pandemic, he was back home in New York City and going to a local park nearly every day to work on his shot and stay in shape.
Then he went back one day and the rims had all been removed from the courts.
That's kind of the way things have gone as members of the Iowa basketball team and college athletes across the country have tried to do things to get ready for next season. It hasn't been easy to do with a deadly virus making its way around the world.
Iowa coach Fran McCaffery admitted it has been "a crazy few months" since his team's season was abruptly ended in mid-March with the Big Ten Tournament and NCAA tournament both being canceled.
"It began with Zoom calls with our players, staying connected and then making sure they were safe, most importantly," McCaffery said Thursday in a Facebook interview. "But then they all want to stay in shape, they all want to train, they all want to work and they all went home. Can you get into a gym? Can you not get into a gym? Are you working out in your basement? Running in the streets? … It was a unique coaching experience for quite some time."
The Hawkeyes are back to some semblance of normalcy now. All the players except freshman center Josh Ogundele have been back on campus since June 15. Ogundele is from England and has been unable to get back into the U.S. because of travel restrictions.
The players who are back must go through a series of daily protocols just to get into Carver-Hawkeye Arena, but they've been able to hold multiple voluntary workouts most days on their own. They can resume practices with the coaches on July 20.
McCaffery is eager to get back to working with his team because he thinks this could end up being a special season.
The Hawkeyes are being mentioned in many places as a top-10 team nationally, and bracketologists are projecting them as a No. 3 seed in the NCAA tournament, which would be Iowa's highest seeding since 2006.
If Luka Garza opts to pull out of the NBA draft and return to school, as most expect, Iowa will return its entire starting lineup.
In fact, McCaffery said he really considers his team to have seven starters back. Garza, Joe Wieskamp, Connor McCaffery, CJ Fredrick and Toussaint started most of last season, but Jack Nunge started the first five games before suffering a season-ending knee injury and Jordan Bohannon, who played in only 10 games before undergoing hip surgery, has started 102 times in his career.
"So you start with those seven veteran guys," McCaffery said. "That's something you always want when you feel you have a team that can contend for the national championship. You need those veteran guys."
He said that both Nunge and Bohannon have bounced back very well from their operations and Patrick McCaffery, who also sat out most of last season, is significantly healthier.
He hinted that Nunge and Toussaint may come off the bench along with Patrick McCaffery and five incoming freshmen he really likes, giving him "without question the deepest team we've had since I've been here, maybe the deepest team I've had since I got into the coaching profession.
"We'll have a little bit less experience coming off the bench but a lot of talent."
He said all that depth will allow the Hawkeyes to really ramp up their defensive efforts.
"I think you saw us play better defense last year and I think you'll see us play even better defense this year with the veterans that we have and the length and the depth that we have," he said.
Of course, the specter of the coronavirus still lurks in the background. There are lingering doubts about whether or not college athletics will be able to proceed as normal any time soon.
"We don't know what things are going to look like, but we're approaching it as though it's business as usual," McCaffery said. "Our guys are literally in the gym right now … They are preparing with tremendous focus on being what we think can be one of the best teams in college basketball."
Be the first to know
Get local news delivered to your inbox!