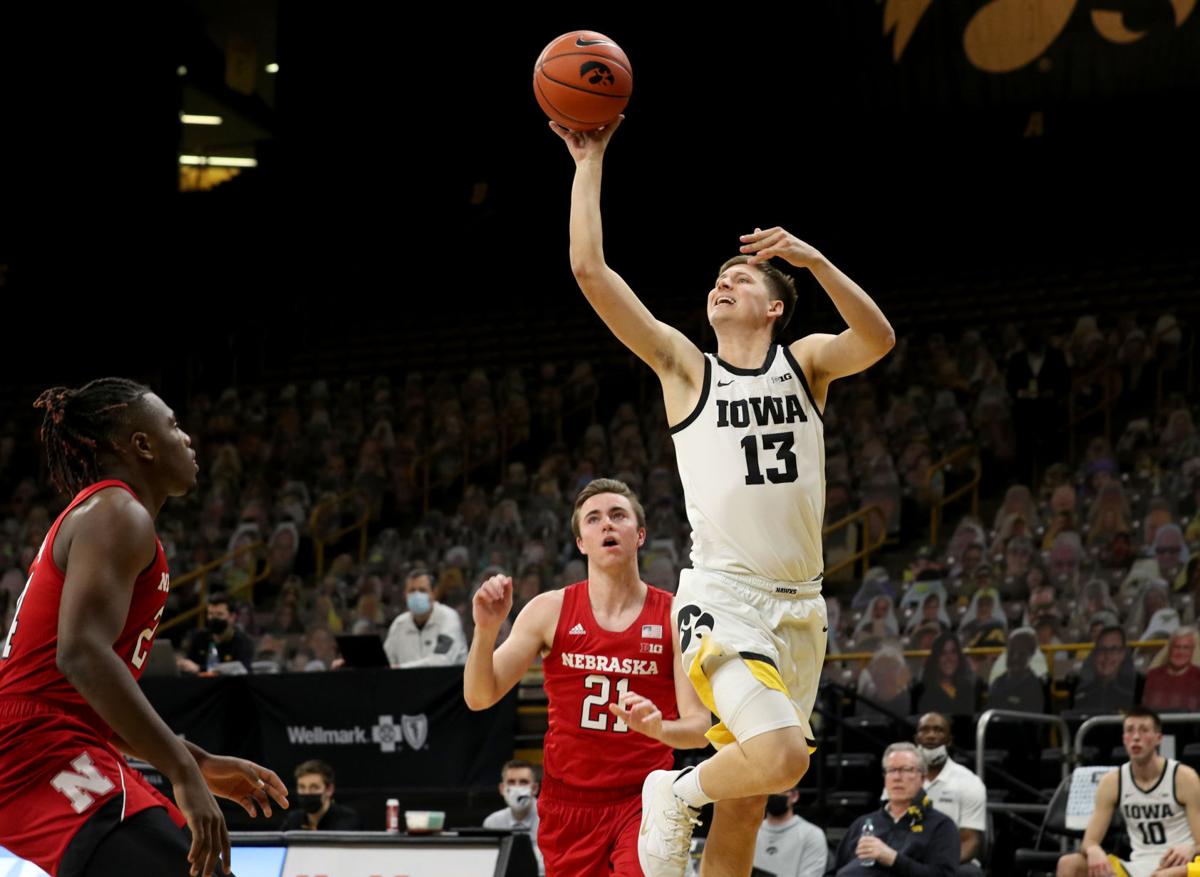 Walk-on guard Austin Ash has decided to pull out of the NCAA's transfer portal and return to the University of Iowa basketball program for another season.
And this time he will be on scholarship.
The 6-foot-3 guard from Mount Vernon had planned to leave as a graduate transfer and go somewhere he could receive more playing time. He even went through Senior Day ceremonies in March but he posted a video on Twitter on Thursday with line "Let's run it back" and closing with the message "I'm back!"
Iowa confirmed that Ash will be on scholarship after paying his own way for the past four years.
Ash played in 26 games with the Hawkeyes over the past three seasons, averaging 1.6 points per game while also collecting 14 rebounds, 8 assists and 7 steals. He was known primarily as an adept perimeter shooter, making 11 of 36 shots from behind the 3-point arc.
With nine scholarship players returning from last season's team along with freshman recruits Payton Sandfort and Riley Mulvey and transfer Filip Rebraca, the Hawkeyes now have 13 players on scholarship. However, Jordan Bohannon will not count against the NCAA limit because he is using an extra year of eligibility granted due to the COVID-19 pandemic.
Big Ten players in transfer portal:
Illinois: Adam Miller, Jermaine Hamlin
Indiana: Armaan Franklin (Virginia), Al Durham (Providence), Race Thompson (returning to Indiana), Khristian Lander, Jordan Geronimo, Joey Brunk (Ohio State), Jacquez Henderson, Parker Stewart
Iowa: CJ Fredrick, Jack Nunge (Xavier), Austin Ash (returning to Iowa), Michael Baer
Maryland: Darryl Morsell, Aquan Smart (Florida International), Jairus Hamilton, Chol Marial (Oregon State), Connor Odom
Michigan State: Rocket Watts, Thomas Kithier (Valparaiso), Foster Loyer, Jack Hoiberg (UT-Arlington)
Minnesota: Liam Robbins (Vanderbilt), Marcus Carr, Gabe Kalscheur, (Iowa State), Jamaal Mashburn Jr. (New Mexico), Tre Williams, Martice Mitchell, Sam Freeman, Jarvis Omersa (St. Thomas), David Mutaf (signed to play professionally in Spain)
Nebraska: Teddy Allen, Yvan Ouedraogo (Grand Canyon), Akol Arop, Elijah Wood, Brett Porter
Northwestern: Miller Kopp (Indiana), Anthony Gaines (Siena)
Ohio State: Musa Jallow (Charlotte)
Penn State: Myreon Jones (Florida), Jamari Wheeler (Ohio State), Seth Lundy (returning to Penn State), John Harrar (returning to Penn State), Patrick Kelly (Fordham), Trent Buttrick (UMass), Izaiah Brockington, D.J. Gordon
Purdue: Aaron Wheeler (St. John's), Emmanuel Dowuona (Tennessee State)
Rutgers: Myles Johnson (UCLA), Jacob Young, Montez Mathis (St. John's), Mamadou Doucoure (LaSalle), Daniel Lobach
Wisconsin: Nate Reuvers (decided to turn pro), Trevor Anderson (Valparaiso), Joe Hedstrom (Valparaiso), Walt McGrory (South Dakota)
Players transferring into Big Ten programs:
Illinois: Omar Payne (Florida), Alfonso Plummer (Utah)
Indiana: Xavier Johnson (Pittsburgh), Miller Kopp (Northwestern)
Iowa: Filip Rebraca (North Dakota)
Maryland: Fatts Russell (Rhode Island), Qudus Wahab (Georgetown), Ian Martinez (Utah)
Michigan State: Tyson Walker (Northeastern)
Minnesota: Jamison Battle (George Washington), E.J. Stephens (Lafayette), Luke Loewe (William & Mary), Sean Sutherlin (New Hampshire), Parker Fox (Northern State), Payton Willis (College of Charleston)
Nebraska: Keon Edwards (DePaul), C.J. Wilcher (Xavier)
Northwestern: Elyjah Williams (Fairleigh Dickinson)
Ohio State: Jamari Wheeler (Penn State), Joey Brunk (Indiana)
Penn State: Jaheam Cornwall (Gardner-Webb), Jalen Pickett (Siena)
Rutgers: Aundre Hyatt (LSU)
Wisconsin: Jahcobi Neath (Wake Forest)