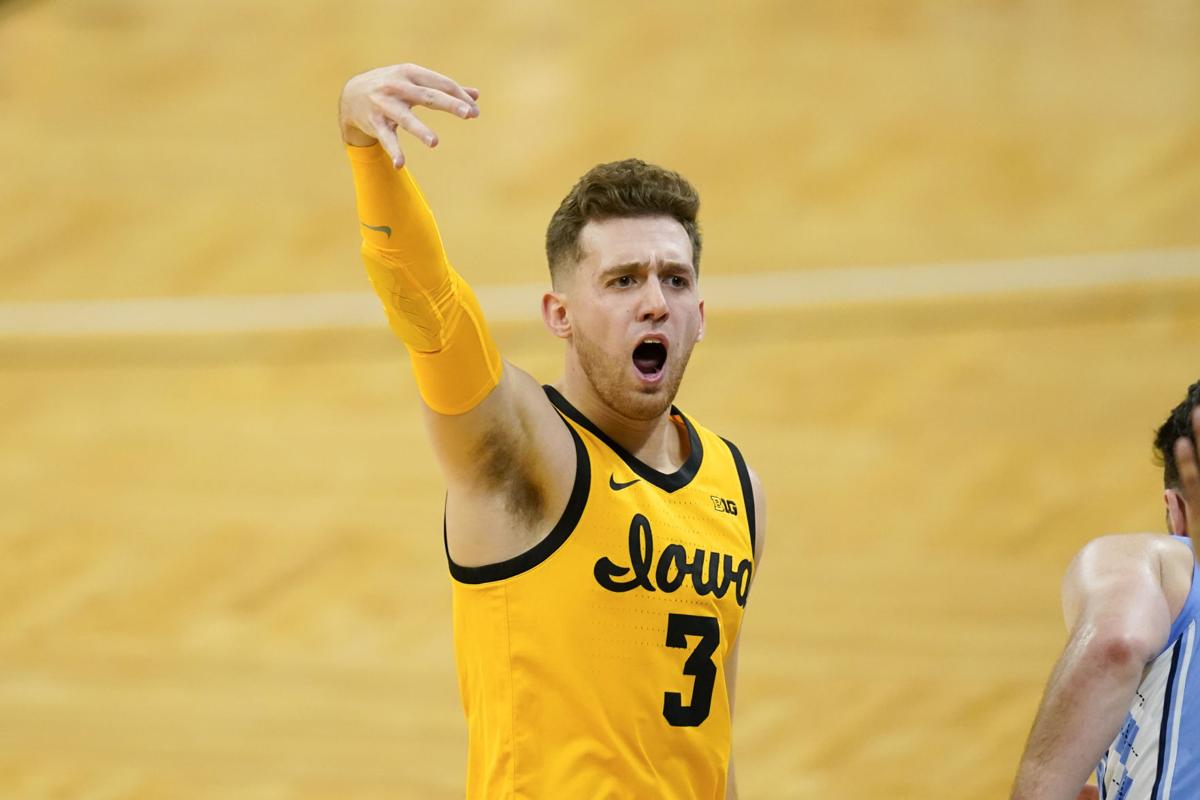 There are certain things about the game of basketball that always have resonated with Jordan Bohannon.
He always has cherished being an underdog. He has tried to be someone who gets under the skin of opposing teams and fans. He likes being a leader on the court. He loves feeding off the energy of the crowd. And although he has been a point guard for pretty much the entire five years of his college basketball career, he also likes to shoot.
All of those things contributed to Bohannon arriving at a life-changing decision this week: He's going to play a sixth season at the college level.
Bohannon revealed Monday that he will return to play one more season at the University of Iowa, taking advantage of the NCAA's decision to extend an extra year of eligibility to players because of the COVID-19 pandemic.
The 6-foot-1 guard already has played in more games, handed out more assists and made more 3-point field goals than anyone in Hawkeye history, but he finally realized he wasn't quite ready to close this chapter of his journey.
He said his three older brothers, all of whom played Division I basketball, were unanimous in their opinion of what he should do.
"Even Jason, the oldest one in our family, he was saying if he had a chance to go back for one more year of college, he would go in a heartbeat," Bohannon said.
"A big thing for me was: What is it going to be like 20 years down the road when I'm done playing basketball and looking back on my career and thinking 'Man, I had one more year to go back to the University of Iowa, one more year to possibly lead this team?'"
So Bohannon is coming back.
The soon-to-be 24-year-old is looking forward to leading a team comprised mostly of 19-, 20- and 21-year-olds.
He's looking forward to playing in front of fans again.
"I think it will be way more fun and exciting this year," he said. "Not to say that last year wasn't. It just never felt like a real season. … Every game felt like a scrimmage."
He's even looking forward to going back and playing at Hilton Coliseum in Ames, a place where he left his sneakers lying on the floor following a 2019 game with a snarky farewell message scrawled on them.
"I think I need to have security with me every step of the way from going into Hilton and outside of Hilton," he said.
And, of course, he is looking forward to continuing to fight for college athletes' rights to make money from their own name, image and likeness, a cause he has spearheaded over the past year or so.
Bohannon admitted when last season ended with a disheartening loss to Oregon in the NCAA tournament, a game in which he failed to score a single point, he was ready to move on with his life.
He planned to find some sort of opportunity to play professionally either in this country or overseas. He even slacked off a bit on his academic work, something he said he has "worked my butt off" to correct in the past week or two.
"I really wasn't planning to come back but then a couple things happened," he said.
One of those things was the abrupt departure of incumbent shooting guard CJ Fredrick from the Iowa program.
Bohannon said one of the reasons he initially did not plan to return was because he didn't want to impede the progress of Joe Toussaint, his heir apparent as the team's point guard. But Fredrick's decision to transfer left a hole he knew he could fill.
"CJ's decision definitely played a part because of my ability to move off the ball and not have to worry about if I came back I might impact Joe Toussaint's trajectory as a player," Bohannon said.
He said that his discussions with Iowa coach Fran McCaffery have centered on the probability of he and Toussaint starting side-by-side in the backcourt.
"I'll definitely still have the ball in my hands a lot but my ability to move off the ball like I have a bunch of times during my career will create a different aspect to the team and I think will make us better in the long run," he said.
He knows the experts won't see it that way. With national player of the year Luka Garza leaving, No. 2 scorer Joe Wieskamp possibly staying in the NBA draft and Fredrick and Jack Nunge transferring, expectations for Iowa this season will be significantly lower than a year ago.
Bohannon kind of likes it that way. In fact, he said McCaffery and his two sons on the team used that as a selling point when they essentially "re-recruited" him over the past week or so.
"That's something Connor and Patrick told me when they were trying to get me to come back is 'This is your whole life, you've been an underdog. You've tried to accomplish great things when people doubted you,'" Bohannon said. "And this year is kind of like that."
He added that any experts who underestimate the Hawkeyes are going to be in for a surprise.
"I think what we have is a great combination of leaders as well as young talent that can make an impact," Bohannon said. "I think that will be really exciting for Hawkeye fans to watch because we don't have as high expectations as we did before last season. …
"This year we kind of have to prove a lot and that's something I kind of thrive on."