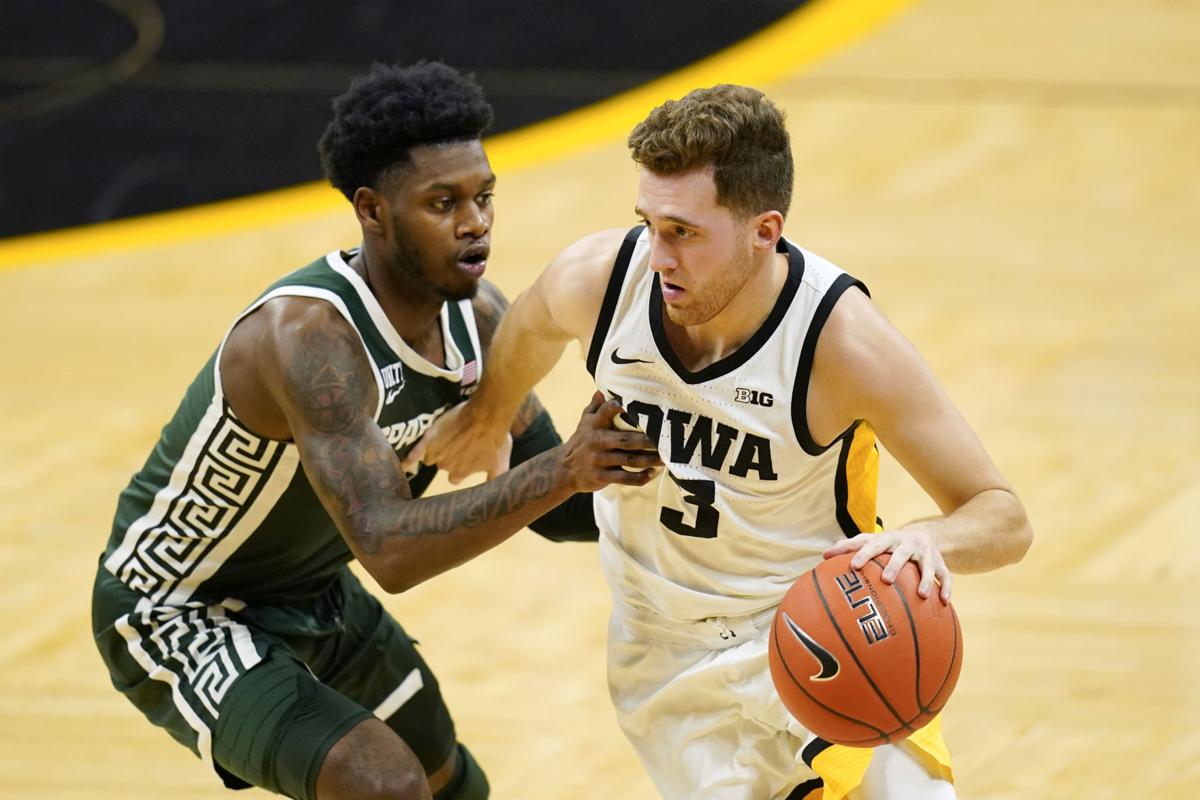 The University of Iowa basketball team began summer workouts Thursday with three backcourt players on the sidelines because of injuries.
Jordan Bohannon was not one of them.
Bohannon, who suffered what was reported to be "a serious head injury" during a recent altercation outside an Iowa City bar, was among the active participants as the Hawkeyes took the court for the first time since the season ended.
The group that head coach Fran McCaffery put through its paces Thursday looked a bit different than what he had in a March 22 loss to Oregon in the NCAA tournament.
The Hawkeyes have added three new players: High school recruits Payton Sandfort and Riley Mulvey plus North Dakota transfer Filip Rebraca.
National player of the year Luka Garza is gone and No. 2 scorer Joe Wieskamp is in Las Vegas working out while trying to decide whether or not to keep his name in the NBA draft pool.
Also not participating were Connor McCaffery, Joe Toussaint and Ahron Ulis, all of whom underwent surgery during the spring.
Bohannon, however, was "full go," according to Coach McCaffery.
"I've talked to him regularly throughout the summer since the season ended and I think he's in a really good place," McCaffery said on a Zoom conference with reporters. "Obviously, it was an unfortunate situation that he had to deal with, but I think he's done really well with how he's dealt with it."
He said Bohannon is not physically affected by the incident that took place on May 23.
"At the time it was a serious head injury," McCaffery said. "He's recovered."
He added that he didn't know yet if Bohannon planned to pursue charges against the person who assaulted him.
"I have my opinions on it but I'll keep those to myself," McCaffery said. "That's a family matter, it's a personal matter, and I'll support him in whatever he decides."
The coach admitted that Bohannon is likely to play a slightly different role in his sixth season in an Iowa uniform.
With Garza and possibly Wieskamp gone to the professional level and starting guard CJ Fredrick transferring to Kentucky, the Hawkeyes desperately need someone to pick up the scoring slack, especially from the perimeter.
Those three players combined to make 153 3-point field goals last season and each shot 44% or better from long range.
Bohannon, who needs only 11 more 3s to become the Big Ten's career leader in that category, has primarily been a point guard during his time at Iowa but is likely to see much more action at the shooting guard position next season.
"Obviously, J-Bo is a guy who in a full complement of games is probably going to make 90 3s," Coach McCaffery said. "So, he's a guard. Whether we play him at the 2 or at the 1, my thought process is to get him as many shots as we can.
"Will he never play the point? That's probably not going to be the case. He'll play some there, I would think, over the course of the season, but really we felt that somebody who was an elite shooter would really help this team. I think he saw the same thing that we saw and he wants to help in any way he can."
That would leave the point guard duties to be split among the three players currently recovering from surgery. Coach McCaffery said he thinks two of them will be back in action very soon.
"I would say Joe T. and Ahron Ulis are really close," he said. "Connor had basically the same hip surgeries that Jordan had a couple years ago. He's way ahead of schedule. He's doing pool workouts, he's walking the Carver steps, he's lifting, he'll do some stuff on the side, but I would think full tilt probably not until we come back in September."