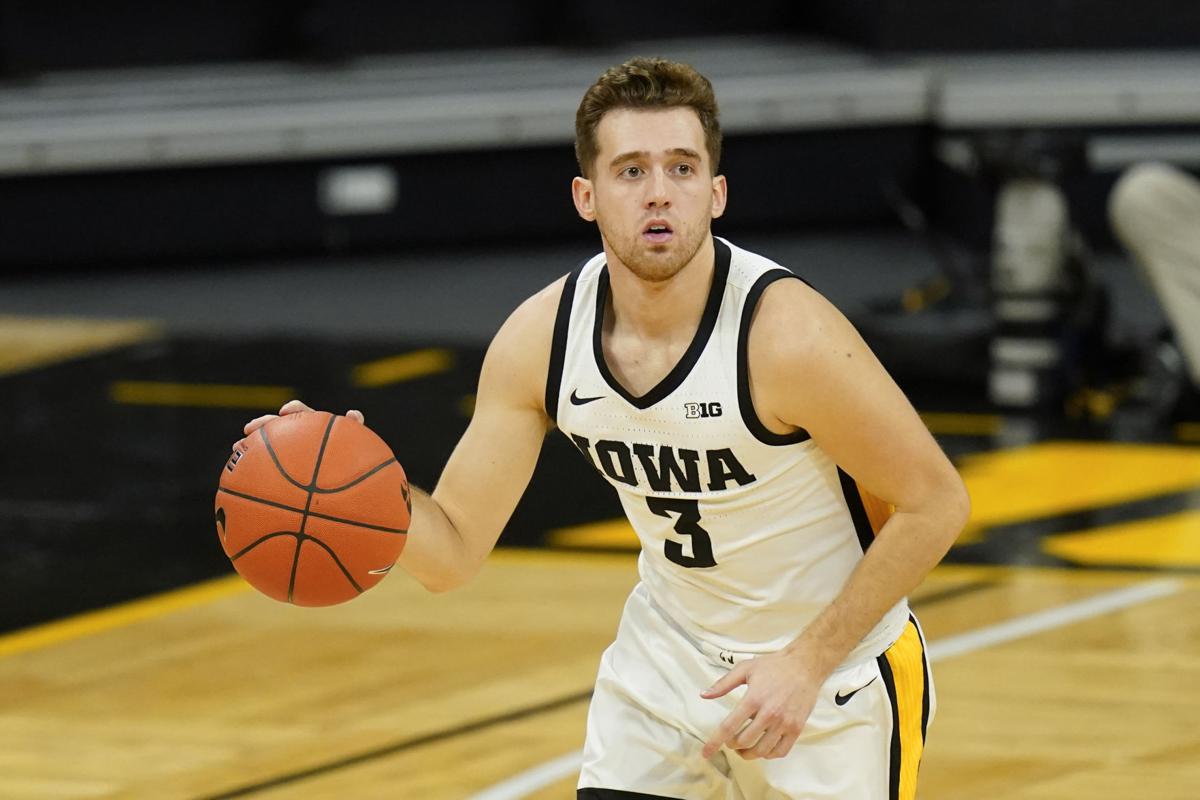 IOWA CITY — Iowa basketball player Jordan Bohannon spent a couple of years pushing, prodding and petitioning for this.
He and other college athletes around the country finally got what they wanted on July 1 when the NCAA announced a temporary plan to allow them to profit from their own name, image and likeness.
Bohannon has now spent the past few weeks taking a crash course in what this NIL business is all about.
"I've kind of grown to know it's going to be very time-consuming so I've kind of had to understand that I've got to listen and talk to people that are more well-versed in this field," he said.
He said he has enlisted the help of others to engage in negotiations with companies on his behalf to limit the amount of time he spends on NIL ventures.
"I've done a really good job of balancing that and it's been fun, not only for myself but seeing all these college athletes coming out day to day and saying they're working with this company or endorsing this product," Bohannon said. "It brings a smile to my face because it's something that I worked so hard for."
The senior guard hit the ground running when the NCAA's restrictions were lifted on July 1. He made a paid personal appearance at a Des Moines area fireworks store that day and came out with a line of shirts with his nickname "JBo" emblazoned across the front.
He sold the shirts online to people in almost every state in the country and at one point he noticed that Wisconsin was one of the few states where no one had bought one.
It's a state where he's not too popular. Bohannon's two older brothers played basketball for the Badgers, who did not offer him a scholarship coming out of high school. He takes great pride in the fact that he hit a game-winning shot against Wisconsin as a freshman in 2017.
He mentioned on Twitter that no one in Wisconsin had bought a JBo shirt and he said within seconds there was an order from there.
Bohannon said he started with 275 shirts and by late last week he had only a couple dozen left in stock.
But he has learned that even just peddling a few shirts and getting them shipped out isn't quite as easy as it sounds.
"It's been very expensive to do it all online," he admitted. "I'll tell you, I've learned a lot about the industry already.
"That's the fun thing. I've learned about business, I've learned about taxes, I'm learning about finances. It's been cool. I'll just continue to do what I can do off the court so I can excel when I'm done with basketball, whenever that is."
For now, Bohannon is looking forward to putting a giant exclamation mark on his college playing career in his sixth season with the Hawkeyes.
He already holds the school records for games played, 3-point field goals and assists in a career, and he feels as though all the hip and foot maladies that have plagued him may finally be in the past.
"I feel the best I've ever felt," he said. "I just really worked on my conditioning this past year-and-a-half. I can honestly say I feel like I'm in my prime of being the most athletic, most conditioned, most skilled I've been in my entire life. It's been a lot of fun to feel like I've gotten to another level the past couple of months."