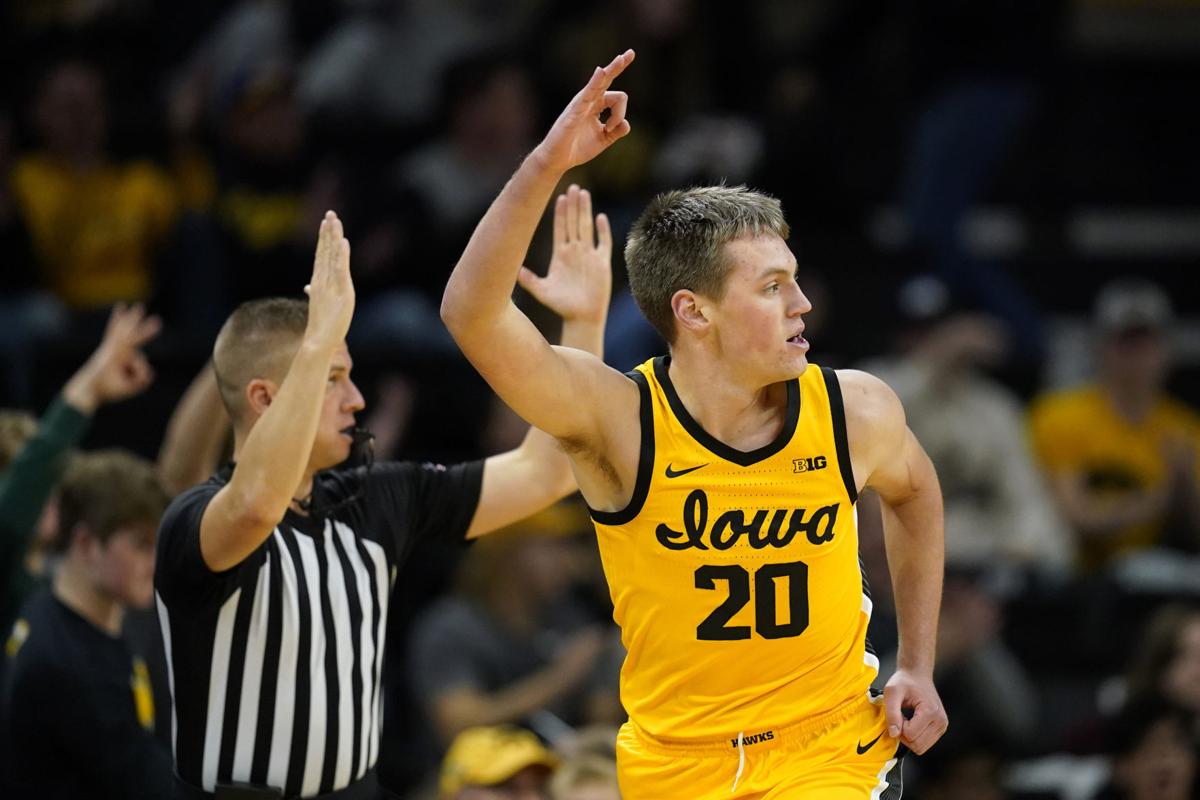 After-thoughts from Iowa's 109-61 victory over Western Michigan:
--Keegan Murray continued his remarkably consistent early-season barrage of points, reaching a new career high in scoring for the fourth time in the first five games. He scored 29 and, as in the previous games, did it in a variety of ways. He had two 3-pointers and made seven free throws and although the other 16 points came on shots in the lane, they all were a little different. There was a jump hook, a reverse layup, a couple of offensive rebound putbacks. It's the first game this season in which he hasn't had at least one dunk but the guy just has a knack for putting the ball in the basket, especially early in the game. He is averaging 17.6 points just in the first half alone this season.
--The young kids coming off the Iowa bench also are oozing confidence right now and playing with reckless abandon. That's especially true of Tony Perkins, who is turning out to be a much more effective offensive player than some of us imagined. He was 5 for 6 from the field, 4 for 4 at the foul line and made his only 3-point attempt on the way to 15 points in 17 minutes. Payton Sandfort made five 3s for the second straight game and Ahron Ulis had eight assists in less than 19 minutes of action. Yes, the level of competition is nowhere near what Iowa will face in the Big Ten but this is still extremely encouraging and is doing wonders for the confidence of these kids.
--Even freshman center Riley Mulvey is starting to look as though he could help the Hawkeyes. With the Hawkeyes' only other true center, Josh Ogundele, sidelined by an illness, Mulvey got to play extensively and looked pretty solid for a kid who should still be a senior in high school. The 6-foot-11 freshman, who reclassified in order to enroll in college a year early, collected eight points and four rebounds in 13½ minutes. He runs well for a kid that big and has good hands. At times, he just needs to remember that he's 6-11. He got the ball right under the basket a few times and rather than going up to score, he looked to pass the ball back out.
--Western Michigan was extremely focused on not giving Jordan Bohannon any looks at the basket so the 6-1 senior didn't score until the second half and finished with only five points. He found other ways to contribute, though. During one brief stretch of the second half, he fed Murray for a 3-point play, got a steal and funneled the ball to Joe Toussaint for a layup, made his only 3-pointer of the game, then got another steal and went in for a layup himself.
--Connor McCaffery also didn't do much statistically and actually was the only Iowa player that played who didn't score. But he was a team-best plus-32 for the night. The team functions so smoothly when he is on the court that you wonder if head coach Fran McCaffery might leave him in the starting lineup when younger son Patrick returns from injury, which probably will happen Friday against Portland State. Patrick started the first five games before sitting out the last two with a lower leg injury.
--For the second straight game, walk-on Luc Laketa made a 3-pointer in mop-up time and you have to think this one was very special for him. He is from Concord, Mich., less than an hour east of the Western Michigan campus. His mother, Brigitte, is a former WMU gymnast and his brother, Parker, played lacrosse there.