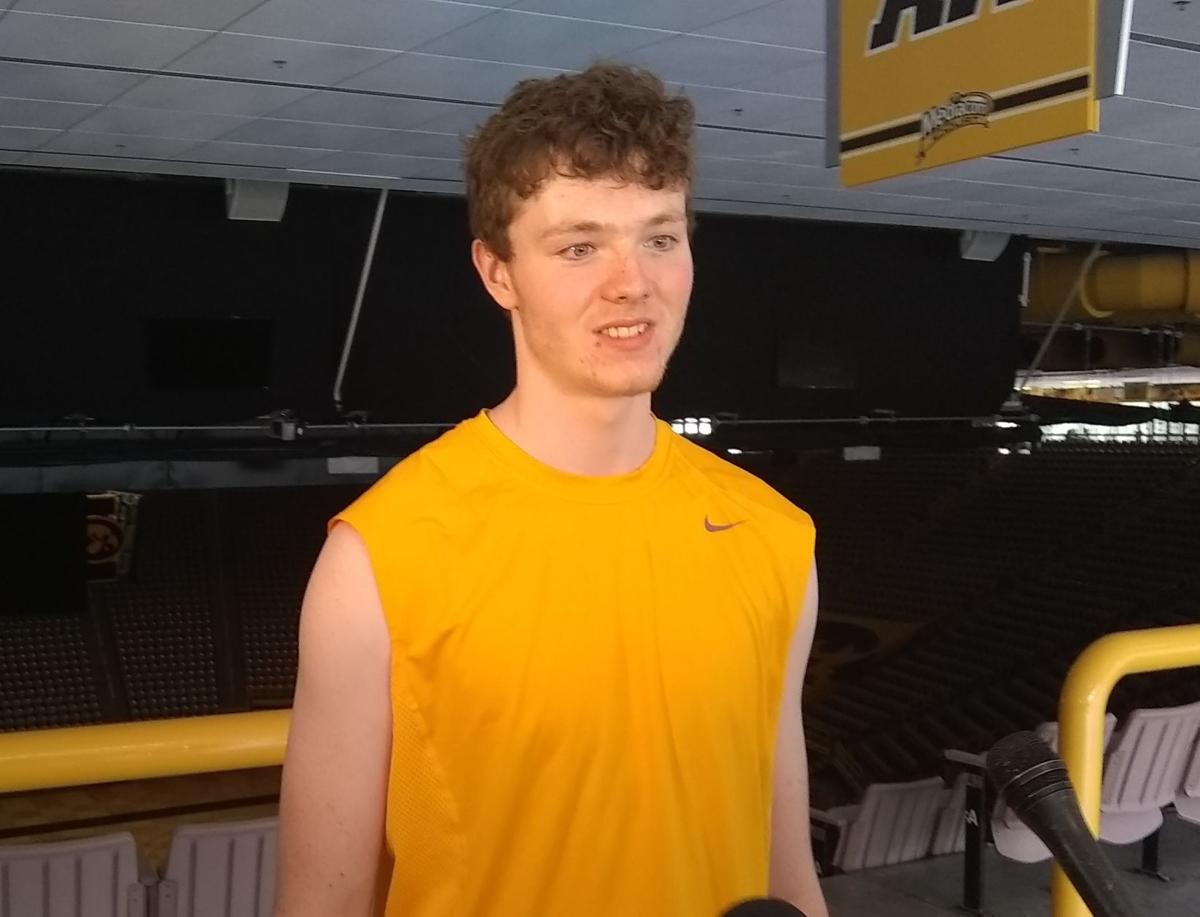 IOWA CITY — Most young players coming into the University of Iowa basketball program have had some sort of "Big Ten moment" when it becomes apparent to them that they have encountered a whole new level of physicality.
For freshman center Riley Mulvey, it didn't take long.
"First day, first day I was here," Mulvey said. "Josh Ogundele just hit me and I went backwards. It was like 'Oh, my gosh.' That was definitely like 'Hi, we're in the Big Ten now.'"
But the 6-foot-11, 230-pound Mulvey feels he has held up fairly well in his first several weeks of summer workouts with the Hawkeyes.
"I've honestly just had a ton of fun being here already," he said. "Playing basically every day has been honestly a dream come true."
Mulvey, of course, really wasn't supposed to be here this soon.
He made a verbal commitment to play for Iowa in March, following his junior season at St. Thomas More School in Oakdale, Conn. His scheduled arrival date was 2022.
Within a month after that, a few players — including 6-11 Jack Nunge — had left the Iowa program and Mulvey began to contemplate the unusual step of reclassifying, finishing up high school early and joining the Hawkeyes in 2021 instead.
Mulvey grew up in the Albany, N.Y., area, where Iowa coach Fran McCaffery formerly coached at Siena College, and McCaffery has known the kid since he was 10 years old.
As such, he felt comfortable approaching him with the idea of reclassifying.
"Obviously, we needed size and we felt like he was ready so we just kind of broached the subject with him," McCaffery said. "We didn't try to talk him into it. We kind of floated the idea and he was very receptive and feels like getting here now … would really benefit him with our lifting program and our skill development program and obviously also our practice sessions."
Mulvey admitted it was not an easy decision.
"The decision to come to Iowa was pretty easy to make," he said. "The decision on top of that to come early was definitely the hardest part for me."
He is glad now that he did it. He said he already has gained 5 to 10 pounds of muscle and lost 5 to 10 pounds of fat.
"Being here has really helped with that," Mulvey said. "I feel like I'm a better player than I would have been if I hadn't come here early."
He said he feels that despite that Big Ten moment, the transition to the college level has not been that daunting.
Mulvey played last year in the New England Prep School Athletic Council, which uses college rules and includes many players who are playing an extra year beyond their normal high school careers.
"I've been used to playing 20-minute halves, playing with the 3-point line the way it is now and the physicality of older people, people who are older than high school seniors," Mulvey said.
Because of that, he said the physical nature of the Big Ten game isn't that foreign to him.
"I feel like the biggest adjustment was the speed of the game," he said. "The physicality isn't that much different from the NEPSAC Triple-A that I was playing at for the past year, but the speed of the game is definitely different."
Mulvey said he thinks he has chance to help the Hawkeyes right away next season, especially in a few areas.
"I'm definitely a rim protector who tries to run the floor as best he can and who can shoot the ball really well as a big," he said.
He said it was made clear to him that Filip Rebraca, a graduate transfer from the University of North Dakota, was brought in to play the majority of the minutes at the center position previously occupied by national player of the year Luka Garza.
But Mulvey and Ogundele, who also came out of the New England prep school ranks, are vying for playing time behind Rebraca.
"Obviously he will continue to grow in terms of weight but also with his game," McCaffery said of Mulvey. "I think he's somebody we can count on this year."