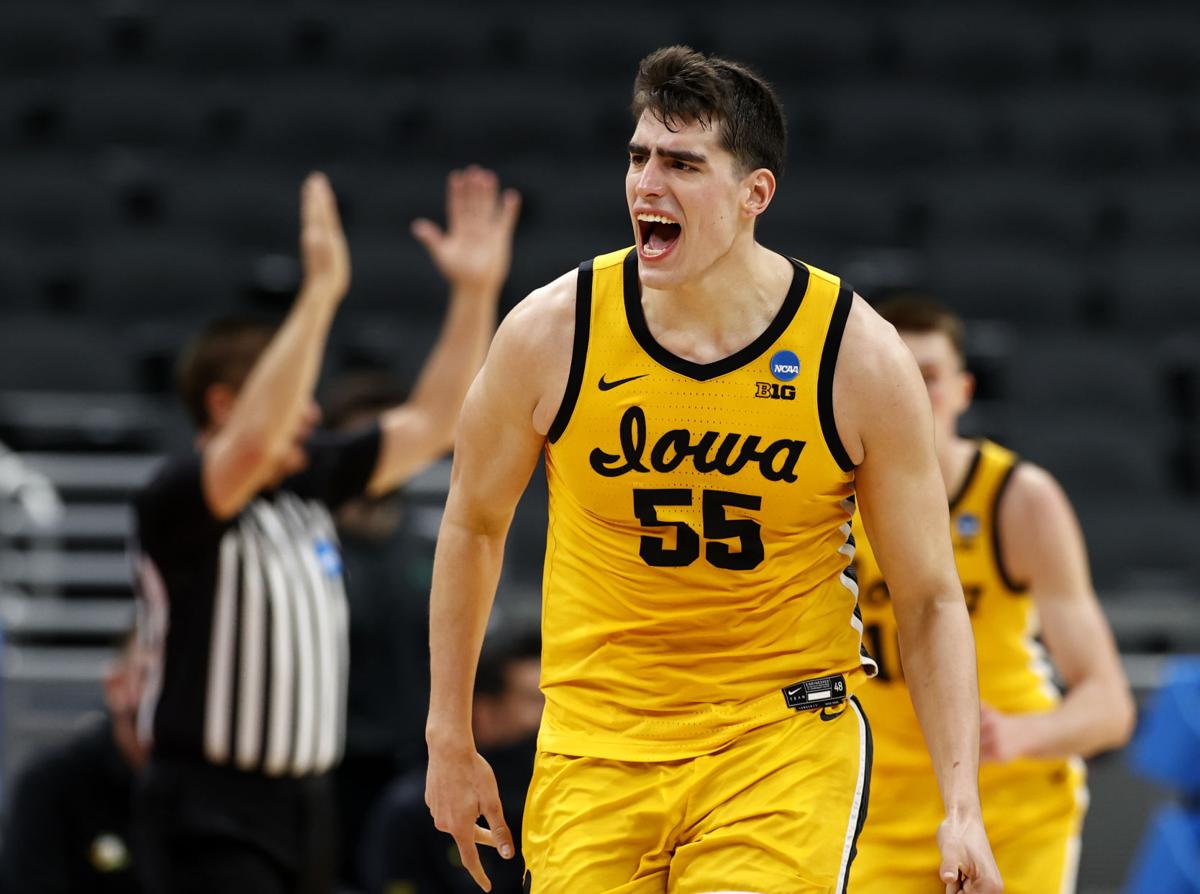 Luka Garza bid one final, tearful farewell to the University of Iowa on Saturday.
The most decorated player in the school's basketball history didn't show a great deal of emotion in addressing the crowd at Kinnick Stadium prior to a morning football workout, but the tears welled up as he spoke at the basketball team's awards ceremony a few hours later.
"It's honestly unreal," he said of his four years at Iowa, which included two Big Ten Conference player of the year awards, two years as a consensus All-American and almost every national player of the year award this past season.
"I am so thankful and will be thankful for the rest of my life for you seeing what you saw in me," he told Iowa coach Fran McCaffery.
Garza was formally presented the Naismith Trophy as the national player of the year on the field at Kinnick and then was named the co-winner of Iowa's Chris Street Award at the basketball team's awards presentation in Carver-Hawkeye Arena.
He shared the Street award with fellow senior Jordan Bohannon, who announced last week that he will return to play one more season with the Hawkeyes.
Garza also received a special award for becoming Iowa's career scoring leader and was honored as the team's top rebounder in the awards ceremony.
Muscatine's Joe Wieskamp and reserve guard Joe Toussaint were co-winners of the Kenny Arnold Hawkeye Spirit Award, although neither of them was present to accept the honor. Wieskamp is in Las Vegas preparing for the NBA draft and Toussaint is at home in New York recovering from surgery to remove a bone spur in his ankle.
Other awards presented were: Most improved player, Patrick McCaffery; newcomer of the year, Keegan Murray; top playmaker, Bohannon and Connor McCaffery; and academic excellence, Michael Baer and Connor McCaffery.
Baer, as a departing senior, was called upon to speak at the basketball event and he reflected on his journey from starting just one game at Bettendorf High School to team manager at Iowa to a walk-on who played for three seasons.
"I don't know if there's any other Division I basketball player who had the lack of high school pedigree that I had," he said.
Baer became very emotional when addressing his brother Nicholas, who preceded him as a player at Iowa and who served as a graduate assistant with the Hawkeyes last season.
"You really forged a path for me here, you believed in me, you told me you believed in me," Michael said.
Also speaking at the basketball event was Eric Oberman, president of the Atlanta Tipoff Club, who earlier had presented the Naismith to Garza at Kinnick.
He noted how rare it was to have a player come into the season as the overwhelming favorite to win the award and then to have him perform so consistently during the season that there was almost no doubt he would win it.
"For you to have that kind of success every night for five months is just incredible," he told Garza.
Oberman noted that Iowa is now one of only six schools in the entire country to have had both a men's and women's Naismith winner. Megan Gustafson won the women's award two years ago.
Garza thanked the coaches at Iowa, all of his teammates and his entire family, including his grandfather, James Halm, who traveled from California to be there.
"I can't tell you how much it means to me to bring this award back to Iowa City," he told the crowd at Kinnick.