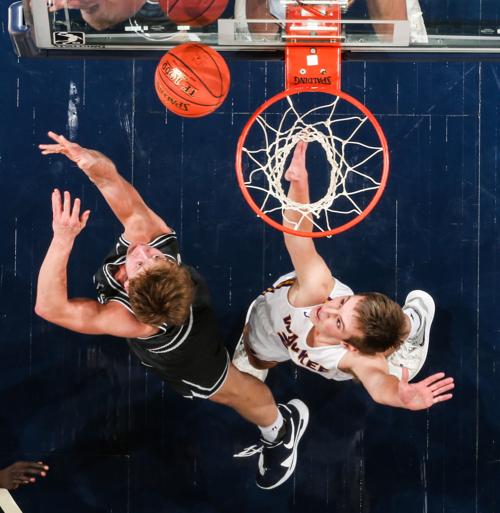 Coming into the University of Iowa basketball program, Payton Sandfort had a pretty good idea of what it was going to be like.
As an in-state recruit, the former Waukee High School star already knew a lot of the players and had seen a lot of games. He had a feel for what he was getting himself into.
But he said that doesn't mean his first week or so of summer workouts with the Hawkeyes has been easy.
"So far, I've really noticed how different the speed and the conditioning and the pace are here in Iowa City than in high school," Sandfort said on a Zoom conference with reporters Tuesday. "I kind of expected it and I've been preparing for it. The transition has been a little tough but I'm starting to figure it out.
"Everyone is just a whole lot stronger and more athletic, faster, everything … you name it," he added.
The 6-foot-7 freshman figures to play primarily at small forward, a position occupied for the past three seasons by Muscatine's Joe Wieskamp. Wieskamp has another year of eligibility remaining, but he has entered his name in the NBA draft and currently is working out in Las Vegas, trying to decide whether or not to remain in the draft.
Even if Wieskamp was to return, the departures of national player of the year Luka Garza, CJ Fredrick and Jack Nunge has opened up a lot of playing time for someone new to fill.
"I think I'm going to have a chance to get some minutes, but it really all depends on how hard I work and how well I perform in the summer and the fall and leading up to the season," Sandfort said. "It's really up to me."
He said he thinks his strengths are his playmaking ability, his ability to get off shots quickly and his overall basketball IQ.
There certainly is no question the Hawkeyes could use an influx of 3-point shooting ability, and that's something Sandfort clearly could supply.
In three years as a varsity player at Waukee, he made 45.4% of the 302 3-pointers he attempted. He shot 45.8% as a senior and made 95.7% of his free throw attempts while averaging 16.6 points and 7.7 rebounds per game. He averaged 19.8 and 8.6 as a junior, but his shooting percentages improved every season.
He admitted that even with Wieskamp not around right now, there is plenty of competition at the small forward spot.
"So far Keegan (Murray) and Patrick (McCaffery) have really impressed me," Sandfort said. "Just their versatility and length can be a lot for teams to handle. But I think I can definitely come in and contribute some shooting.
"I'm going to work my butt off to become the best defender I can and be able to compete defensively. I'm just going to bring a ton of energy and hopefully make some shots and make some plays and contribute some of what's been lost."
He added that after just one week on campus, he already can tell that the Iowa program and coach Fran McCaffery are going to give him the family feeling he sought when he was being recruited.
"Already so far we've gone over to Fran's house a few times to watch numerous NBA games or the boxing match the other night," he said. "Everyone's always hanging out with each other and the guys have been super great. What I expected to walk into so far has been a great family setting. … I'm just really happy that I chose to come play here."