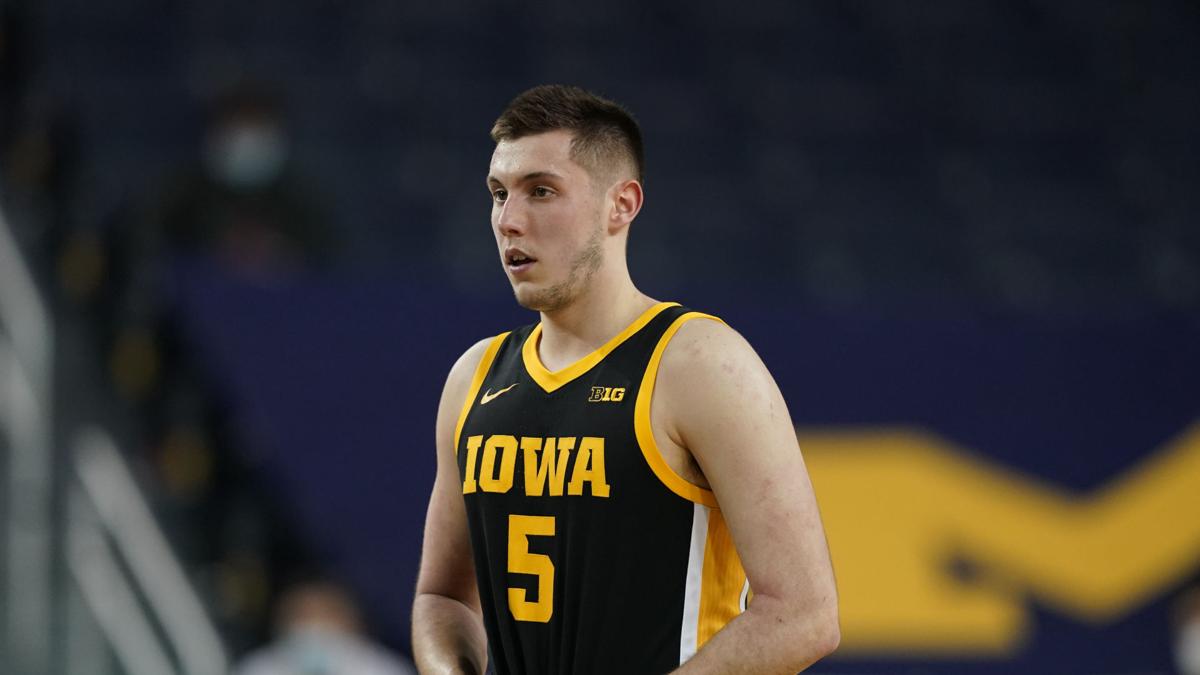 The statement issued by the University of Iowa basketball program Monday was unusually terse.
Normally, when an athlete decides to depart one of Iowa's high profile sports teams there is a multi-paragraph release with comments from the coach expressing support, wishing them well, thanking them for their efforts, etc.
It was a one-sentence missive on Twitter: "Iowa Head Coach Fran McCaffery announced Monday that junior guard CJ Fredrick has submitted his name in the NCAA transfer portal.''
On Tuesday, there was a follow-up tweet from the university's NCAA compliance Twitter account: "A good reminder that a prospective DI or DII transfer needs to be entered into the transfer portal before any contact or communication occurs.''
It's fairly obvious that some people believe other schools — specifically, the University of Kentucky — were talking to Fredrick about possibly transferring before he ever filed his paperwork.
It didn't help that there were news reports within 24 hours after Fredrick's entry into the portal that he was talking to Kentucky.
It all mushroomed into a larger controversy Wednesday when Fredrick's Uncle Joe posted a scathing Facebook message accusing Iowa of "childish'' behavior.
You might recall that Joe Fredrick had a lot to do with his nephew attending Iowa to begin with. Joe played for McCaffery at Notre Dame back in the 1990s and had maintained a great relationship with the Iowa coach. CJ Fredrick, who led Covington Catholic to a Kentucky state title in 2018, actually agreed to play for Iowa even if he had to come in as a walk-on.
Joe and Fran clearly have had a falling-out.
Joe Fredrick's Facebook post stated that "100 percent no school ever tampered with CJ while he was at Iowa.
"I had clear communication with the staff at Iowa over rumors and how they were started,'' Joe added. "I also was clear about concerns throughout the season. Bottom line is we won't stoop to the level Iowa has shown CJ as he made a decision for himself. Their NCAA compliance tweets childish, their running CJ thru the mud on social media childish, their press release childish.''
Joe didn't mention that he contributed to the rumors himself. When someone tweeted in March that Kentucky needed a team-first player who can shoot, he replied: "Help coming.''
The rumors were swirling even before that. There were assorted vague Twitter posts from Kentucky media people. There was a lengthy discussion about Fredrick possibly transferring to Kentucky on Rupp Rafters, a message board for Kentucky fans on Cats Illustrated.
All of that points to the possibility that there was tampering, that Kentucky was in contact with Fredrick long before it legally was allowed to be.
It would be naïve to think that tampering with players in other programs isn't rampant in college basketball right now. There are more than 1,500 players in the transfer portal and it's guaranteed that some of them went there knowing they had a predetermined destination.
ESPN analyst Dick Vitale tweeted on Tuesday that he has been told by many coaches that tampering is widespread. He labeled it "pathetic.''
He's right. But don't look for anything to be done about it. If it is that prevalent, the NCAA is likely to just ignore the problem, just as it has so many of the other issues in college athletics.
We just hope CJ knows what he is doing. He seems like a genuinely good kid with a ton of talent who may be steered by over-zealous adults into a less desirable situation.
When the possibility of him transferring to Kentucky was being discussed on those message boards, the general consensus wasn't favorable.
Among the comments from Kentucky fans: "He's not the answer.'' "That does nothing for me.'' "He can't guard a corpse.'' "Don't see how a guy like him gets more than 8mpg here.'' "I'm gonna be hella pissed if the best we can do is CJ Frederick for a guard.''