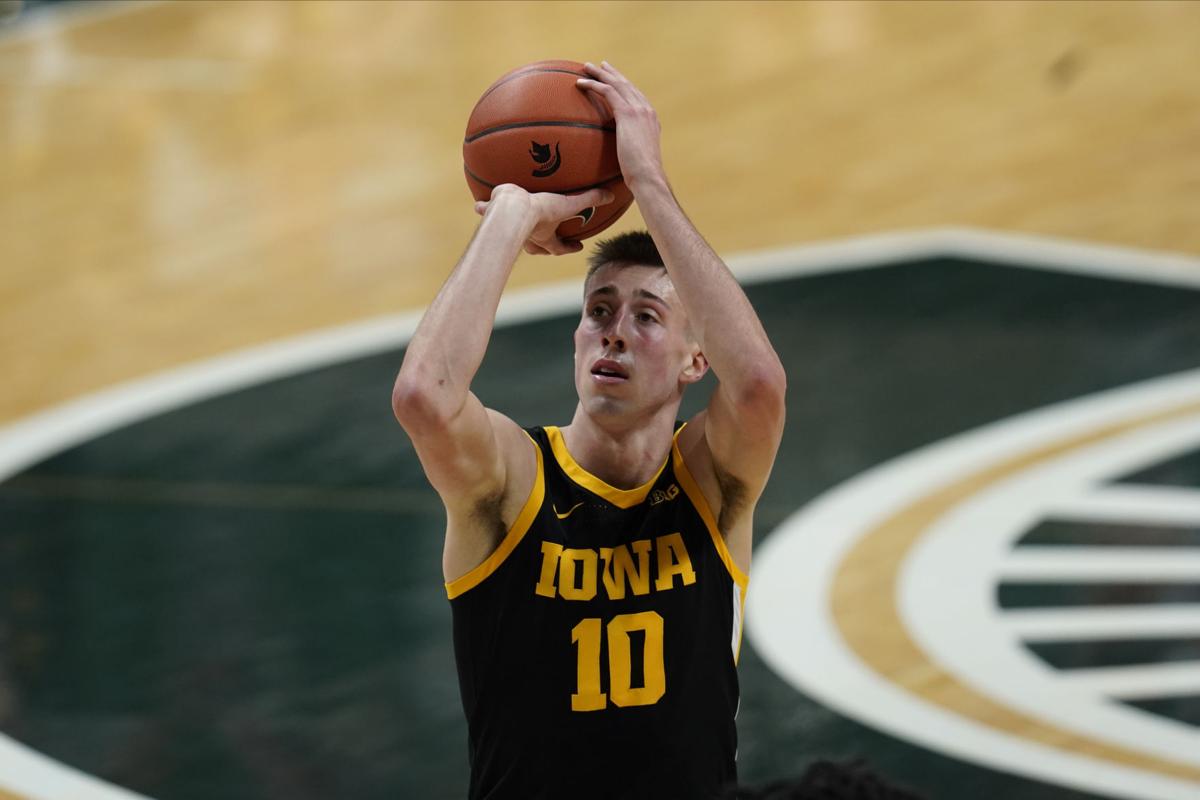 It doesn't happen often in life, but sometimes if you attack a project with purpose and resolve, things turn out exactly the way you want.
It happened that way for Joe Wieskamp on Thursday night.
Even before the former Muscatine High School star really got deeply involved in the NBA draft process, he and his representatives at Priority Sports in Chicago had their eye on one particular franchise.
And it all worked out perfectly when the San Antonio Spurs selected Wieskamp with the 41st pick in the draft.
"My agent and I had San Antonio circled since before I started going to team workouts," Wieskamp said Friday. "They've been a team that's been really high on me ever since I did go work out for them. We just knew they were a really good fit so we're excited to be a part of that organization."
The Spurs, who have focused heavily on perimeter players in the past six drafts, picked another wing player in the first round Thursday, using the 12th overall selection on Alabama's Joshua Primo.
But Primo is 18 years old and averaged only 8.1 points per game in his only year of college. He doesn't figure to be as NBA-ready as the 21-year-old Wieskamp, who started 97 straight games at the college level.
That's part of the reason Wieskamp felt the Spurs were such a good fit.
"They need shooting," he said. "I'm obviously a really good shooter and I'll come in there and help them out right away. I just like their culture, too, the way that they develop players and all those different things."
The Spurs, who have won five NBA titles through the years but have missed the playoffs the past two years, clearly liked what they saw and heard from Wieskamp.
After his junior season at Iowa, he attacked the process of preparing for the next level with a single-minded determination, moving to Las Vegas to work out and whipping himself into the best shape of his life.
That helped him make a big splash at the NBA combine and to excel in individual workouts with teams.
It all paid off Thursday as Wieskamp sat at his parent's home in Muscatine waiting to hear his name called.
"We kept it pretty small, just my family and grandparents, aunts, uncles and cousins," he said. "It was a special moment just to have them there with me. All the support that they've given me all throughout my whole life … those are the people that I wanted to have there with me."
He already was on his way to San Antonio on Friday.
"It was definitely crazy," he said during a layover at O'Hare International Airport in Chicago. "I got the call last night and they had a flight all set up. I'm just super excited to get there."
He said he didn't know exactly what the next few days will bring. He thought there might even be a practice scheduled for Saturday.
"Honestly, I'm just taking it one step at a time," he said. "Last night I was just focused on the draft and finding out where I was headed. I'm just finding out things as I go."
Hard work in the past several months also paid off for Wieskamp's college teammate, Luka Garza.
The consensus national player of the year wasn't drafted as high as he hoped but he landed in a very good spot, going to Detroit with the 52nd pick.
The Pistons are rebuilding around No. 1 overall pick Cade Cunningham and need help in the frontcourt. They have several power forward types, including former Iowa star Tyler Cook, but could really use a 6-foot-11 big man who made 44% of his 3-point attempts last season.
Wieskamp and Garza actually worked out for Detroit at the same time and exchanged congratulatory text messages Thursday after being drafted about 30 minutes apart.
"We'll talk in the next couple of days once things settle down a little bit," Wieskamp said. "I'm just super excited for him to get an opportunity to play with them."