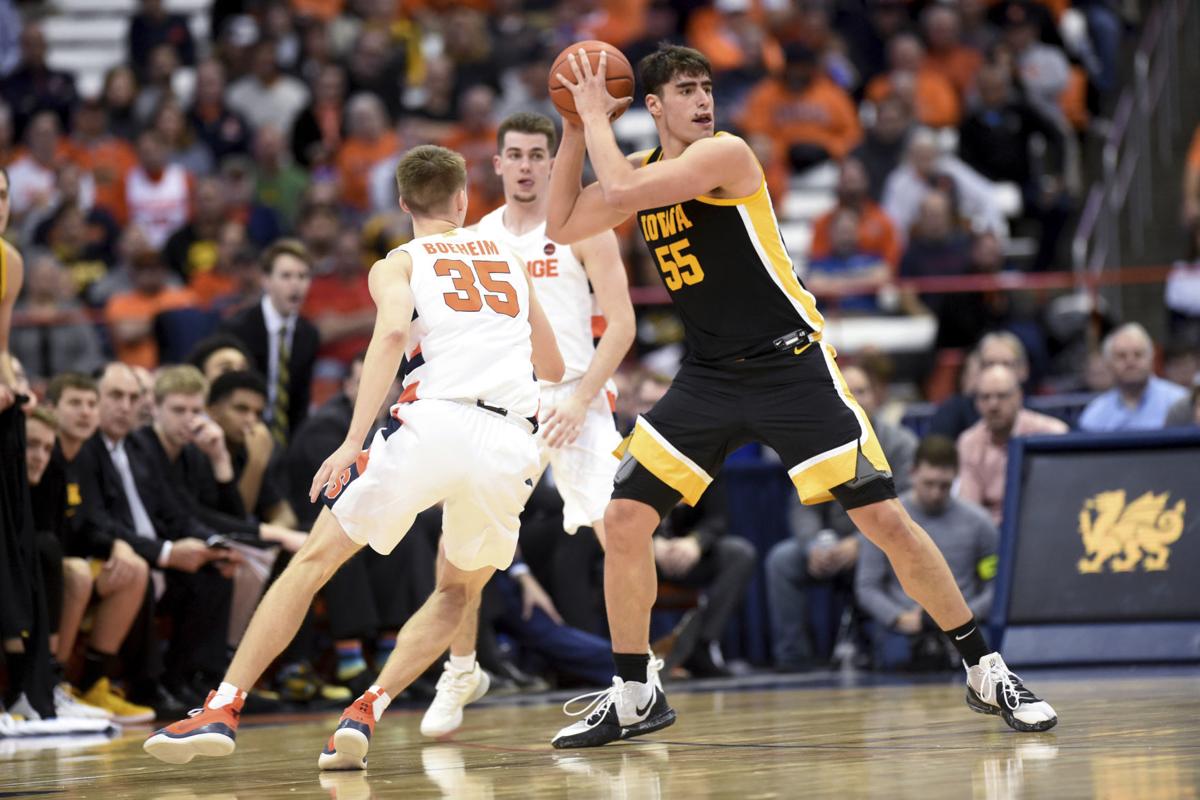 SYRACUSE, N.Y. — The Iowa basketball team had two more key players on the bench in street clothes Tuesday night.
They Hawkeyes didn't learn until just before the game that starting guard CJ Fredrick and reserve forward Cordell Pemsl were not going to play because of injuries.
It didn't bode well for their chances in a tough road game.
Luka Garza tossed in 23 points, Jordan Bohannon added 17 and Joe Wieskamp turned in a superb all-around game as the Hawkeyes broke loose in the second half and romped to a 68-54 victory over Syracuse at the Carrier Dome.
The Hawkeyes (6-2) led by only a point at halftime, but buried the Orange with a 16-2 second-half run to hand Syracuse its third straight loss and give Fran McCaffery his first victory in five head-to-head meetings with legendary coach Jim Boeheim.
"From a coaching perspective, you're always proud of your team,'' McCaffery said. "You get home late (from Las Vegas last week), you've got a couple guys hurt who don't play. But we stayed together, we stuck to the game plan and won a game … I was just pleased with our ability to kind of stay the course tonight regardless of what happened.''
Defense was a big part of the win as Syracuse (4-4) shot just 36.5 percent from the field and committed 16 turnovers. The 54 points was the fewest allowed by Iowa in a game this season.
"I thought our defense in the second half was great, especially Wieskamp on (Elijah) Hughes,'' McCaffery said. "He's a tremendous player, we have a lot of respect for him and I thought we locked in on defending him.''
The 6-foot-6 Hughes, who was averaging 19 points per game, was held to only 10 points on 3-for-13 shooting.
That's not all Wieskamp did. He also contributed 13 points, 9 rebounds, 4 assists and 3 steals.
You have free articles remaining.
Garza, who led the Big Ten in scoring coming in, also grabbed nine rebounds and the Hawkeyes got some sort of contribution from all eight players who saw action.
Bohannon, who hit some of the biggest shots, missed his first six 3-point attempts before finally draining one with a Syracuse defender in his face with three minutes remaining in the first half. He ended up hitting five shots from behind the arc.
"It took me a little while to get going,'' the senior guard said in a postgame radio interview. "I was a little frustrated with myself but my teammates kept me up.''
Bohannon admitted that Syracuse's vaunted zone defense presented a few problems early in the game.
"It's really tough,'' he said. "They extend it way out and it made it tough to get it in to Luka to start. We were a little slow out of the gate but we got going and got open shots.
"Quite honestly, I don't think we took a bad shot this entire night. They just weren't falling. Then we got in that stretch in the second half where we just broke it totally open.''
Neither team led by more than four points in the first 23 minutes but the Hawkeyes finally strung together several defense stops in the second half to take control.
A run of 12 straight points that included a pair of 3s by Bohannon pushed the lead to 56-38 about midway through the half. The cushion peaked at 66-47 on another Bohannon 3 with 4:12 to go.
After shooting 34.4 percent in the first half, the Hawkeyes shot at a 51.7 clip in the second half. And after committing eight turnovers in the first half, they went 17 minutes into the second half before committing another one.
"That was a key point we made coming out at halftime,'' Bohannon said. "We have to limit the turnovers. We had a couple of dumb mistakes to start the game but then we got the ball moving and realized what we were doing at the offensive end.''
Fredrick sat out the game with a quad injury and Pemsl was nursing a back injury. McCaffery said he suspected Fredrick wouldn't play but the freshman guard went through the pregame shootaround before trainer Brad Floy determined that he shouldn't play.
McCaffery said he thought Fredrick might be ready to face Michigan on Friday in the Big Ten opener.
"I like his chances Friday, but we'll see,'' he said.