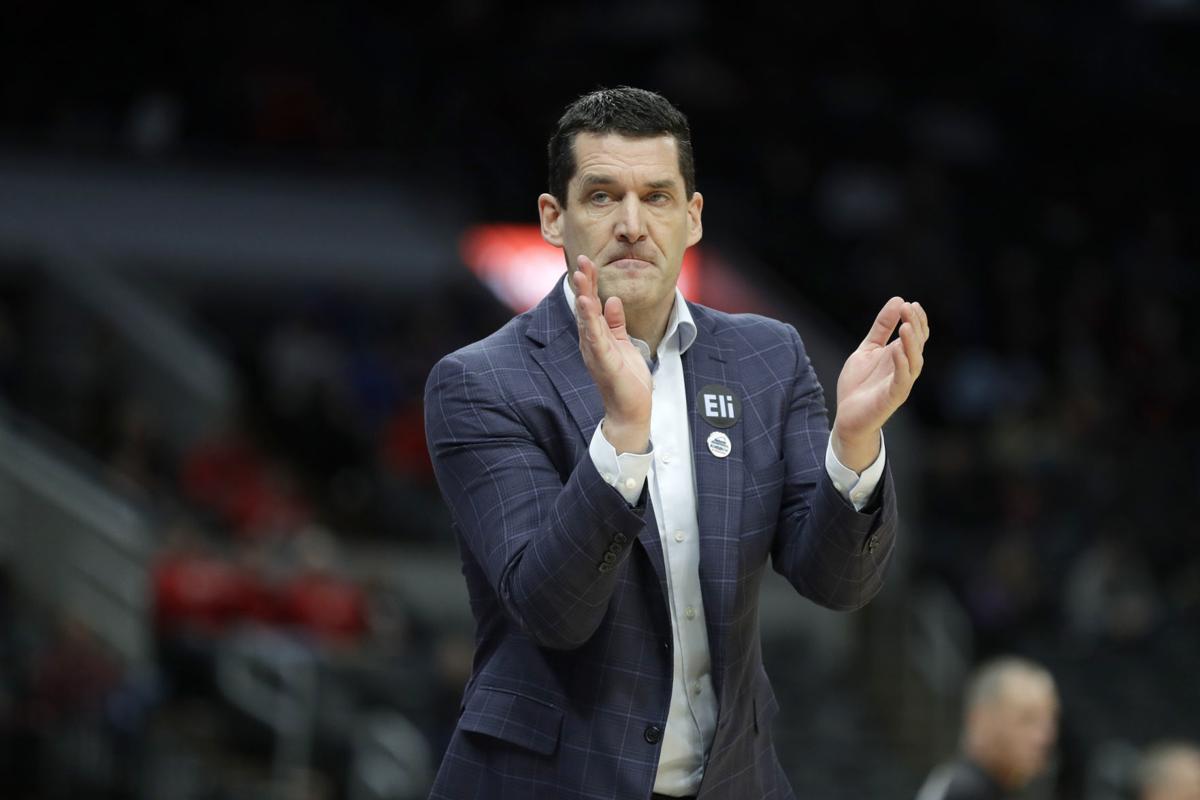 It goes without saying that the death of George Floyd was tragic and the ensuing social unrest has been troubling.
But if you're looking for a positive aspect to all of this, it's this: It has initiated a great deal of conversation about the racial divides in our country and a renewed resolve to bridge the gap, especially in college basketball.
The coronavirus is still topic No. 1, but race relations seemingly has become 1B.
The subject came up frequently on a teleconference with Missouri Valley Conference basketball coaches last week. And Iowa star Luka Garza spoke extensively about it on a CLNS Media Network podcast with Jeff Goodman.
Garza said he recognizes that as a "privileged white man,'' he has had a different experience than his African American peers and that he always has been open to listening and willing to learn and grow.
But he indicated his eyes and ears have been opened even more by the events of recent months. He said he thinks the Iowa basketball program has done a good job of addressing race in ongoing conversations on Zoom and in person.
"Obviously, we are a predominantly white team but we have Black assistant coaches, we have Black players ...'' Garza said. "Listening to my fellow teammates and coaches … at first it was really, really eye-opening.''
Garza said one of the Hawkeyes' coaches shared his fears on how to have conversations with his young son on being a Black man today. He saw how emotional the coach was as he spoke.
"That just inspired me to continue to have conversations and educate myself,'' Garza said.
Those conversations appear to be taking place everywhere.
Northern Iowa coach Ben Jacobson said on the MVC teleconference it has become an almost daily topic with his players and he vowed that it is going to amount to more than just talk.
Every UNI player already has been distributed a t-shirt — developed by one of the school's women's basketball players — that says "Love people'' across the front.
Jacobson said his players probably are going to produce a video with a similar message for distribution on social media, they may do some fundraising and he may even try to emulate a community outreach program developed by Missouri State coach Dana Ford.
Ford initiated "Bears, Badges and Basketball'' days, which brings Missouri State's basketball players together with local youth and local law enforcement to develop a closer rapport.
"I'm a firm believer that it's easier to build up a kid than it is to change a grown man,'' Ford said, "so we wanted our kids to get around the cops and do some things outside of arresting someone or outside of breaking the law and just see each other as human beings.''
Many other programs already have begun doing more than just talking.
Nebraska and Indiana have released anti-racism videos and the Cornhuskers have developed a partnership with a center dedicated to advancing civil rights and racial equality in Lincoln. Maryland coach Mark Turgeon also has done a Facebook video and he and his players all are reading "Why We Can't Wait'' by Martin Luther King Jr.
Some schools are planning to hold benefit games in support of the Black Lives Matter movement.
Whatever UNI does, Jacobson said the topic needs to remain on the front burner indefinitely.
"We're going to stay on it each week …'' he said. "They (the players) said 'Hey Coach, this can't be something we talk about for a couple of weeks and we do one or two things, and that's it. We need to do this every week.' ...
"We would all like so many things to be better in our country right now and at the forefront of that is racial equality and justice. We would all like for it to be better tomorrow. But for us, it's going to take a concerted effort on a daily basis to enact change. So we're going to stay on it.''
Garza said there will be actions to go with the words at Iowa, too.
"The primary thing for our team is just to continue to have conversations but we've also had talks about what we can do as a team, as a unit,'' he said. "The biggest thing for us, when we talked, was we don't want it to be two guys do something or whatever the case may be. It needs to be a whole group effort, as a team, standing for the university.''
He said the players feel they can use their visibility for positive good although he said it's too early to say exactly what that will entail.
"We'll do something,'' he said. "There have been ideas passed around, whether it be patches on the jerseys or kneeling … We've had those conversations.''
He also said it's important that this topic isn't just addressed for a few months and then allowed to slip away. Everyone seems to agree on that.
"We want to have consistent, ongoing practices or events to improve equality and social justice,'' Bradley coach Brian Wardle said on the MVC teleconference. "We want consistent things, things that we do every year and not just during these times when it's obviously a hard time for a lot of people and very emotional.''
"I think the most important thing for me is this has got to be something we talk about every week,'' Jacobson added. "It's something that we're not just going to let go of.''