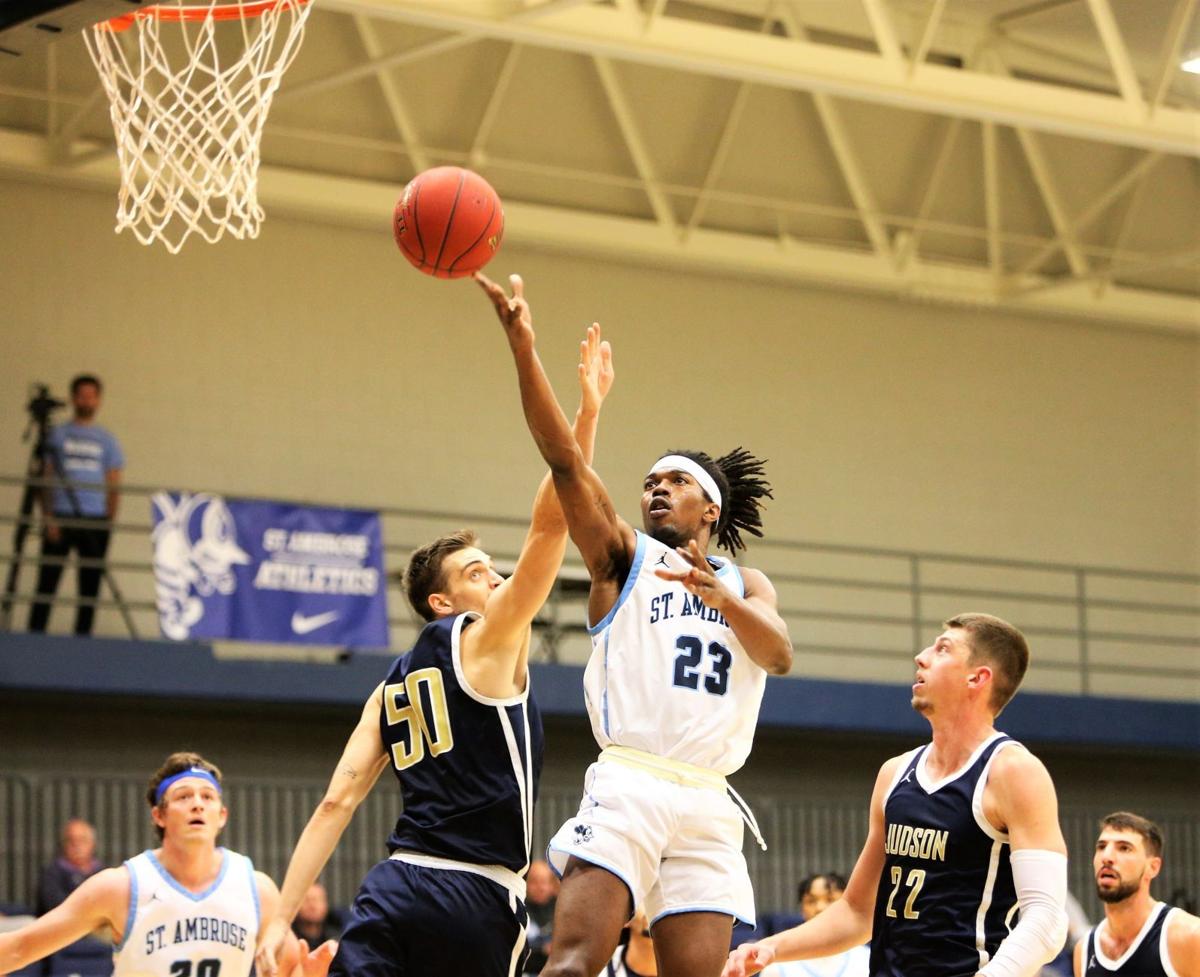 Missing a couple of free throws in Monday's season opener didn't sit well with St. Ambrose sophomore Will Spriggs.
He returned to the gym, worked on his touch and met his expectations Wednesday.
Spriggs finished off a 5-of-5 game at the line by hitting four straight in the final 21 seconds to help the Fighting Bees finish off Judson 76-74 in the Chicagoland Collegiate Athletic Conference opener for St. Ambrose at Lee Lohman Arena.
"I've got to knock those down,'' Spriggs said. "When the game's on the line, you've got to hit the clutch free throws.''
Spriggs came up big on more than one occasion as the Fighting Bees held off a late surge by the Eagles.
As Judson chipped away at a 59-44 lead St. Ambrose had opened midway through the second half on a jumper by Nathan Moeller, it was Spriggs who beat the shot-clock buzzer with a jumper with 5 minutes, 4 seconds remaining to keep the Bees in front 67-56.
It was all part of a team-leading 17-point effort from the sophomore, part of a strong effort off the bench for St. Ambrose as a team that complemented a double-double from Tom Kazanecki, who finished with 16 points and 10 rebounds.
"Everybody on this team is going to help,'' Spriggs said. "We started a little slow and had to hold on at the end, but we stuck together as a team and got it done.''
Moeller came in to knock down two 3-point baskets late in the first half to help the send the teams into the locker room tied at 38-38 at the break.
The sophomore from Clinton Prince of Peace finished with 10 points and freshman Grant Mason contributed 10 to help St. Ambrose build a 39-15 edge in bench points.
"We had a good effort off the bench. Guys came in and hit some shots, played good defense and gave us some good minutes,'' St. Ambrose coach Ray Shovlain said. "I felt as a team the majority of the time we played decent defense.''
That helped put the Fighting Bees in a position to have a lead to hold.
St. Ambrose slowed Judson with a string of stops early in the second half after Ben Schols hit two free throws with 18 minutes, 15 seconds left to give St. Ambrose a 43-42 lead.
A basket by Spriggs and a 3-pointer by Schols fueled a surge that came as the Eagles stomached eight straight empty possessions and ultimately went scoreless on 14-of-15 trips down the floor.
Led by 20 points from Jordan Johnson, Judson cut the Bees' lead to 69-67 on a follow-up by Thomas Donati with 1:39 to play.
Schols, who finished with 10 points, scored on a drive on the ensuing possession and the before the Eagles (2-2, 1-1 CCAC) eventually pulled within 75-74 on a 3-pointer by Segev Grylak with :02 to play.
Drake Gunn, was fouled, hit the first of two free throws with 1.7 seconds to go but after a timeout, Judson was unable to get the ball beyond the midcourt line.
"We still have some work to do, but in a game that could have gone either way, we found a way to get a very good win,'' Shovlain said.