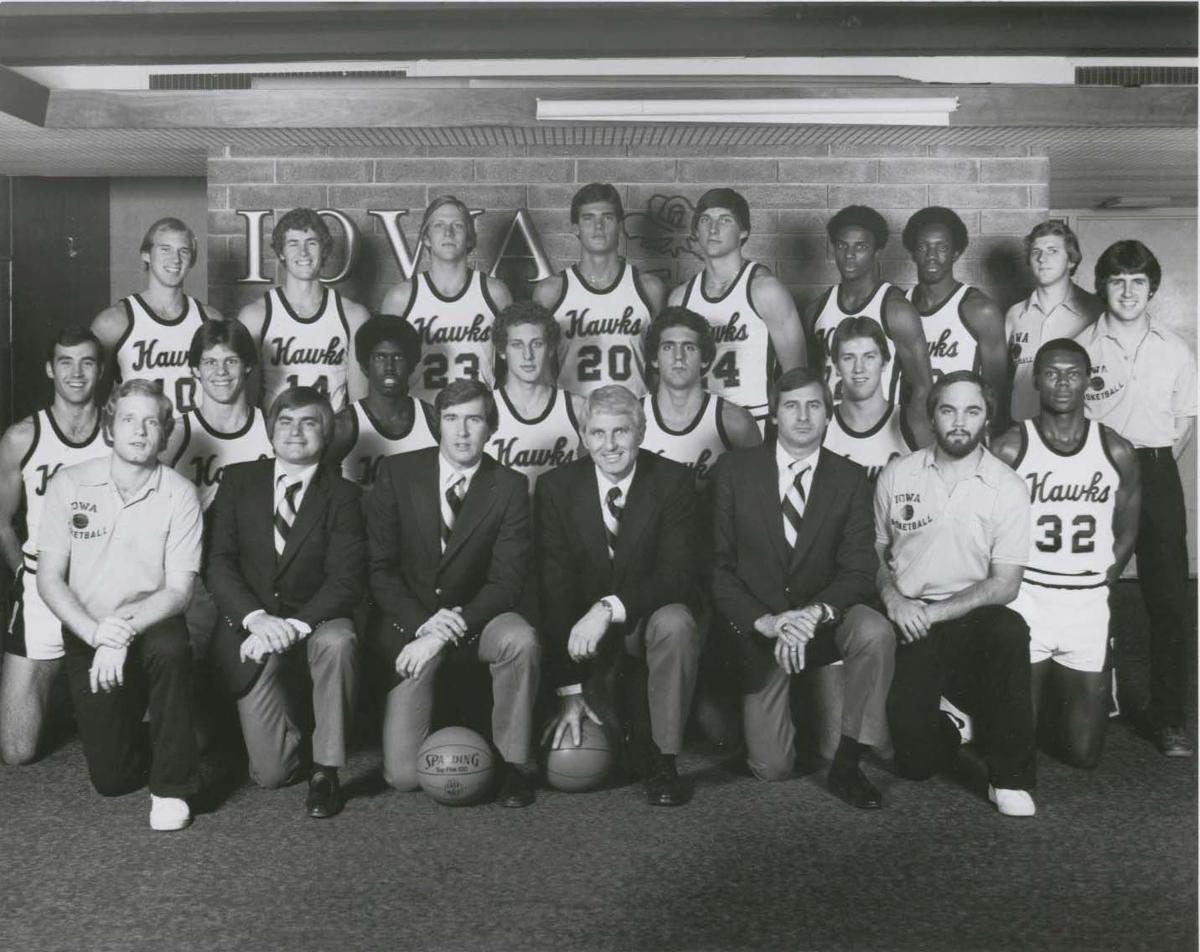 Two of them had fairly lengthy stays in the National Basketball Association. Two of them are now analysts for the radio broadcasts of Division I teams in the state. Several of them did some coaching, including two very successful current coaches of women's teams. Many of them have gone on very successful business careers. Sadly, two of them also have passed away.
A look at where the members of the 1980 Iowa basketball team are now:
THE REGULARS
Ronnie Lester: Retired and living in Florida. Was a first-round pick of the Portland Trail Blazers in 1980 (10th overall) and spent six years in the NBA with the Bulls and Lakers. He then served 24 years as a scout and assistant general manager with the Lakers and four more years with the Phoenix Suns.
Kevin Boyle: Vice president of Lincoln Savings Bank insurance and also the analyst for Northern Iowa men's basketball radio broadcasts. After playing pro basketball in England, France and Switzerland, he served as an assistant coach at UNI from 1986 to 1998.
Steve Krafcisin: Has served as the women's basketball coach at Des Moines Area Community College since 2005. Prior to that, he spent seven years as the men's coach at North Iowa Area Community College and did assistant coaching stints at Loras, Iowa State and North Dakota. Drafted in the fifth round by the NBA's Atlanta Hawks, he played professionally in Italy and in the Continental Basketball League.
Steve Waite: Spent 30 years as an executive with Pioneer Hi-Bred International before becoming the business director for the Strategic Innovation Career Academy in Iowa's MBA program. Now lives in Des Moines.
Vince Brookins: Played pro basketball in France, England, Austria, Brazil, Taiwan and Argentina, then went into real estate in the Cleveland area. Founded a non-profit organization called Success Images, which helps students with tutoring and life skills.
Kenny Arnold: Diagnosed with brain cancer in 1985, he battled health problems for the remainder of his life, including several strokes. Died at the age of 59 in April of last year.
THE BENCH
Bob Hansen: Played nine years in the NBA, the first seven with the Utah Jazz, then finished as a member of the Chicago Bulls' 1992 world championship team. Remains involved with Iowa basketball as the analyst for radio broadcasts of the Hawkeyes' games.
Mark Gannon: Still lives in Iowa City. Worked in the real estate and mortgage industries for many years before founding Hair of the Dawg drink mixes. Now Midwest manager for Western Son Distillery.
Mike "Tree" Henry: Lives in the Chicago area and works as a professional photographer. Devoted much of his life to helping his best friend and teammate, Kenny Arnold, cope with his health issues.
Greg Boyle: Became an executive in the financial planning industry, working for such companies as Morgan Stanley and Smith Barney in the northern suburbs of Chicago.
Mike Arens: Became a successful advertising executive with several companies and lived in Pompano Beach, Fla., at the time of his death in April 2018.
Jon Darsee: Highly successful entrepreneur has helped develop several start-up companies, including iRhythm Technologies, and was named in 2018 as the University of Iowa's first chief innovation officer.
Randy Norton: Head women's basketball coach at UAB for the past seven years, going 137-83. Was the boys basketball coach at Davenport Assumption from 1989-2003, then served as an assistant women's coach at Illinois State and Missouri before going to UAB in 2013.
Mike Heller: Finished his playing career at Baylor. Now lives in The Woodlands, Texas, and is the manager of Energy and Waste Consultants.
THE COACHES
Lute Olson: Now 85, he is retired and lives in Tucson, Ariz. Left Iowa in 1983 to become the head coach at Arizona and spent 25 years there, winning 20-plus games 20 years in a row, leading the Wildcats to four Final Fours and a national championship in 1997.
Jim Rosborough: Currently an assistant women's basketball and tennis coach at Pima Community College in Arizona. After leaving Iowa, he served briefly as an assistant coach at Tulsa, spent three years as the head coach at Northern Illinois, then served as an assistant under Olson for 18 more years at Arizona.
Tony McAndrews: Retired and living in Florida. Was the head coach at Colorado State from 1980-87, then became an assistant at Arizona under Olson from 1987-93. Had a variety of coaching jobs after that, including a 10-year stint as the head coach at Nova Southeastern.
Ken Burmeister: Retired and living in San Antonio, Texas. Followed Olson to Arizona and later served as the head coach at Texas-San Antonio, Loyola (Chicago), Trinity and Incarnate Word before retiring in 2018 with a career record of 330-262.
Be the first to know
Get local news delivered to your inbox!