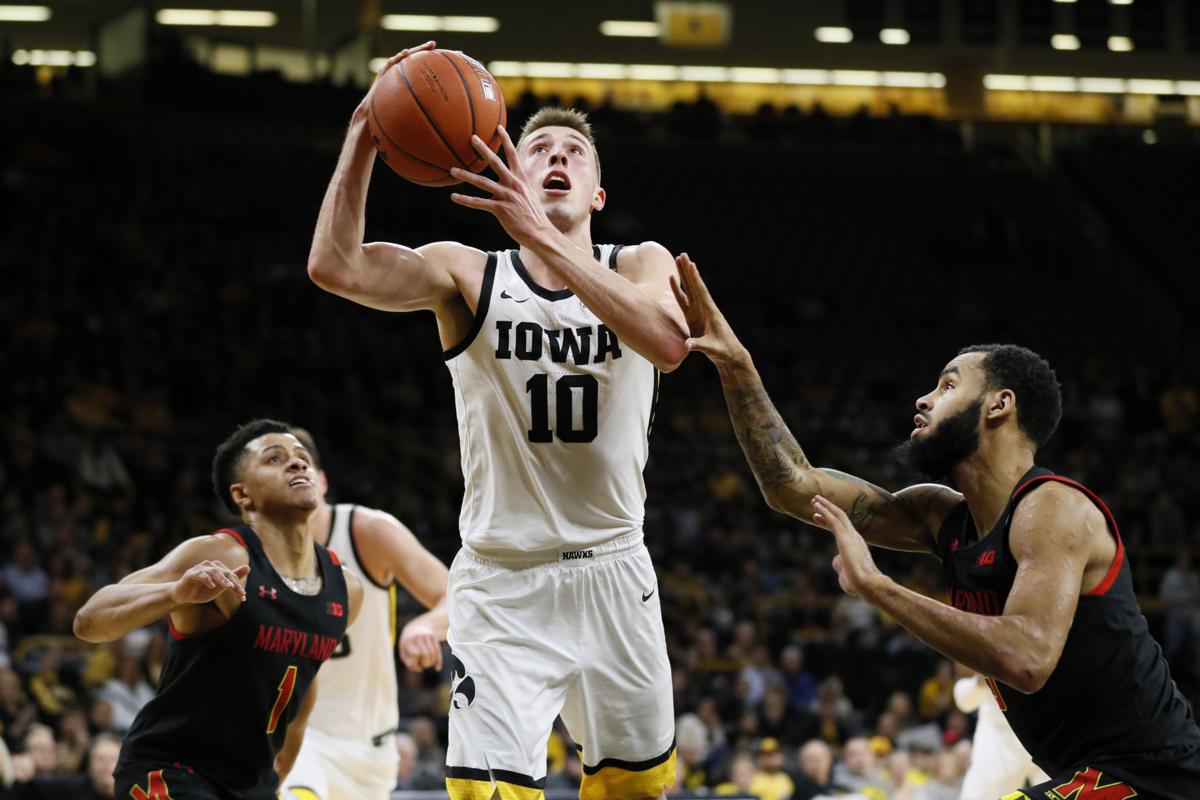 IOWA CITY — Joe Wieskamp played 39 minutes, 10 seconds for the Iowa basketball team Friday night as the Hawkeyes got their season back on track.
But Wieskamp figures he really didn't need that 50 seconds of rest he got in a 67-49 trouncing of 12th-ranked Maryland. The former Muscatine High School star said he gladly will play all 40 minutes every night if that's what it takes for the Hawkeyes to win.
"I'm perfectly fine with it," Wieskamp said after collecting career highs of 26 points and 11 rebounds in the win. "Obviously, it's going to take a little toll on my body so I've got to be very smart on our off days and just be smart about getting treatment, different things like that. But I played every single minute in every high school game and in AAU it was pretty much the same thing, so I'm perfectly fine going the whole game."
That may be what it takes for the Hawkeyes (11-5, 2-3 Big Ten) since they are now down to about a seven- or eight-player rotation because of injuries.
It's apparent they have come to rely more and more on their 6-foot-6 sophomore forward as the season has progressed. Wieskamp has now played 30-plus minutes in seven of the past eight games, and in the Hawkeyes' five Big Ten games, he is averaging 34 minutes, 54 seconds.
His production has spiked along with his playing time. He has 70 points and 28 rebounds in the three Big Ten games Iowa has played since conference play resumed this month. He is averaging 20 points per game over the past seven games and responded in a big way to a 1-for-10 3-point shooting effort in a Tuesday loss at Nebraska.
You have free articles remaining.
In addition to the career highs in scoring and rebounding, he notched season highs with five 3-point field goals and four steals.
"He doesn't seem to rattle one way or the other," Iowa coach Fran McCaffery said. "He didn't get too down on himself the other night and he kept shooting. …
"He's just going to keep coming. He's going to keep shooting, we're going to keep setting him up, our guys are going to keep looking for him. He came back the very next day in practice and wore it out."
Center Luka Garza, who leads the Big Ten in scoring, said he could see that Wieskamp came out Friday night determined to have a big game.
"I think right off the bat he had a lot of energy on the defensive end, he hit a couple of 3s, got to the free throw line," Garza said. "He just did a great job of scoring at all levels and rebounding. He's a tremendous rebounder for a wing, and he helped us outrebound a team that's been plus-8 in rebounding margin for the year."
Wieskamp said the players got together following the loss at Nebraska and decided they needed to make a statement.
"A lot of people were counting us out," he said. "We're missing a lot of players. We can either fold or we can band together and compete, and that's what we've done."