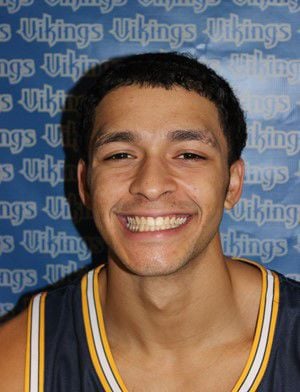 BLOOMINGTON — What Pierson Wofford started early in the second half, he finished in the waning moments Saturday at the Shirk Center.
Wofford's game-high 21 points and solid all-around play were key in leading the Augustana Vikings to a critical 78-64 CCIW victory over hosting Illinois Wesleyan in a game that avenged an earlier overtime setback to the Titans.
Just as big a factor was Augie's defense holding the dangerous Titans to 25 points in the final 20 minutes on 7 of 22 shooting, a fact that pleased Augie coach Grey Giovanine most as his 16-6, 10-3 CCIW team won for the fifth straight game and eighth in the Vikings' last nine starts.
As Augie finished 6-2 in league road games, it sets up a huge showdown on Wednesday when the second-place Vikings host league-leading and 17th ranked North Central (17-4, 10-2 CCIW), a 56-45 Saturday winner over No. 8 Elmhurst (18-4, 9-4 CCIW).
"We're in the thick of the race," said Giovanine, whose club has beaten three of the other top tier teams in the league at least once now. "We're in the hunt and now come home for three home games" to close the regular season.
They do so on a roll and with confidence.
"Just an unbelievable defensive effort in that second half," said Giovanine. "The first half, we were passive defensively and reacting to what they were doing. The second half, we dictated what was going on."
You have free articles remaining.
On both ends of the court and with not only Wofford. Micah Martin, who again battled first-half foul trouble, was a force defensively with four blocks and numerous other altered shots as he finished with 11 points and nine rebounds in 24 minutes. Fellow senior Austin Elledge was dynamite with his mid-range game, finishing with 15 points.
And then there was Wofford who seemingly hit the key shots when they were needed.
Wofford hit a 3-pointer to start the second half that spurred a 12-2 Viking run that opened a double-digit lead just under two minutes into the second half. Augie never lost that lead despite some scoring droughts as IWU tried to claw back into the contest. However, Wofford was the man again late as he hit two step-back jumpers and two free throws on three straight possessions as the game wound under three minutes left.
"We drew that up at halftime," said Giovanine of Wofford's triple to open the second half. "The rest of those, he got on his own. It was just a big-time player making big-time plays."
Augie trailed 39-38 with 1:13 left in the first half, but took a 41-39 halftime lead as Elledge hit a shot in the paint and freshman Matt Hanushewsky split a pair of free throws.
After a first half that featured 12 ties, Augie then blew out to that great start in the second half to take control.
"It was a frustrating way to start the second half," said IWU assistant coach Andy Etheridge on a post-game interview that followed the senior night setback. "We missed a couple of shots and I think that bothered us."
IWU was led by Luke Yoder's 15 points.
The Titans were just 2 of 18 on 3-point shots, while the Vikings were 10 of 20 from deep with Elledge's 3 of 6 shooting pacing that effort and six others adding triples.