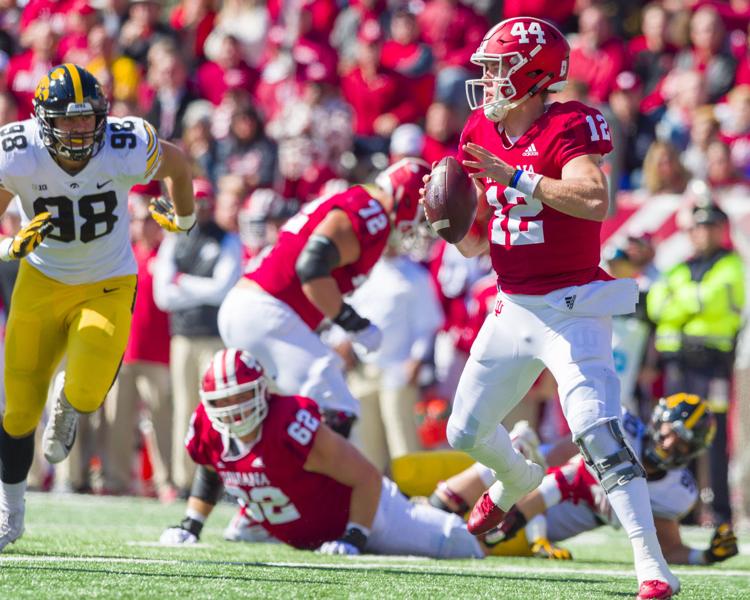 (First in a series looking at the upcoming Big Ten football season)
Coach: Tom Allen, 10-15 entering third season at Indiana and overall
2018 record: 5-7, 2-7 Big Ten (sixth, East Division)
Offensive starters returning (9): OL Coy Cronk, OL Hunter Littlejohn, OL, Simon Stepaniak, QB Peyton Ramsey, WR Donavan Hale, WR Whop Philyor, WR Nick Westbrook, TE Peyton Hendershot, RB Stevie Scott
Defensive starters returning (9): DL Gavin Everett, DL Allen Stallings IV, DL Jerome Johnson, LB Reakwon Jones, DB Marcellino Ball, DB Khalil Bryant, DB Andrew Brown Jr., DB A'Shon Riggins, DB Raheem Layne
Specialists returning (2): PK Logan Justus, P Haydon Whitehead
Returning statistical leaders: Rushing, Stevie Scott 228-1,137; Passing, Peyton Ramsey 295-447-13-2,675-19; Receiving, Nick Westbrook 42-590, Donavan Hale 42-508; Tackles, Marcellino Ball 58; Interceptions, Bryant Fitzgerald 3
Marcellino Ball: The junior fills a hybrid linebacker/defensive back role for the Hoosiers and has the athleticism to make it work. The 6-foot, 219-pounder led Indiana with 7.5 tackles for a loss among his 59 tackles a year ago. He joins Reakwon Jones and cornerbacks Andre Brown and Raheem Layne in an experienced back end on defense.
Stevie Scott: The sophomore running back set Indiana freshmen records last season when he rushed for 1,137 yards and 10 touchdowns while putting together six 100-yard rushing efforts. He's among a solid group of backs that includes junior Cole Gest and Sampson James, a four-star recruit who initially committed to Ohio State before opting to stay in his home state.
Nick Westbrook: The 6-3 senior joins 6-4 Donavan Hale in leading a veteran group of receivers. Westbrook and Hale each finished with 42 receptions and topped 500 receiving yards a year ago. They'll be among a group of receivers working with QB competition which includes two-year starter Peyton Ramsey, redshirt freshman Michael Penix and Utah transfer Jack Tuttle.
With head coach Tom Allen relinquishing defensive coordinator responsibilities to concentrate on head coaching duties, Indiana has two new coordinators this season. Offensive coordinator Kalen DeBoer arrives from Fresno State with an objective of giving the Hoosiers' attack more of a multiple look, while defensive coordinator Kane Wommack was promoted after coaching linebackers last season. Wommack, who previously coordinated the defense at South Alabama, will stick with a 4-2-5 scheme.
"This year, I see us as a football team that is starting to build the depth you need to compete in this conference. I would consider us a young, experienced team. We played 16 freshmen last year, 10 on defense, six on offense, in meaningful minutes in the rotation. Those guys had a chance to develop and grow. Another offseason under our belt with our strength staff and our nutrition staff, it's helping our players develop physically. It's making a difference.'' – Tom Allen
Aug. 31 – vs. Ball State at Indianapolis
Sept. 7 – Eastern Illinois
Sept. 28 – at Michigan State
You have free articles remaining.
Where Indiana ranked in the Big Ten in 2018:
Scoring offense: 26.4 (10th)
Rushing offense: 157.3 (Ninth)
Passing offense: 257.8 (Third)
Total offense:415.7 (Seventh)
Scoring defense: 29.9 (10th)
Rushing defense: 183.2 (10th)
Passing defense: 240.6 (10th)
Total defense: 423.8 (11th)
The Hoosiers' record over the last five years:
Iowa 45, Indiana 28, Ties 4
Record in the last five games vs. the Hawkeyes
2011: Iowa 45, Indiana 24
2012: Indiana 24, Iowa 21
2014: Iowa 45, Indiana 29
2015: Iowa 35, Indiana 27
2018: Iowa 42, Indiana 16