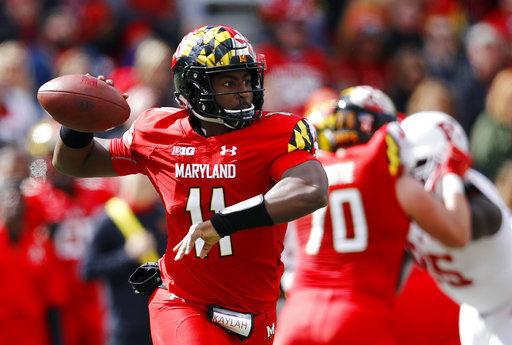 (Second in a series looking at the upcoming Big Ten football season)
Coach: Mike Locksley, 1-5 entering first full season at Maryland, 3-31 entering fifth full season overall
2018 record: 5-7, 3-6 Big Ten (fifth, East Division)
Offensive starters returning (3): RB Anthony McFarland, OL Terrence Davis, OL Sean Christie
Defensive starters returning (5): DL Adam McLean, LB Isaiah Davis, DB Antoine Brooks Jr., DB Tino Ellis, DB Antoine Richardson
Specialists returning (1): PK Joseph Petrino
Returning statistical leaders: Rushing, Anthony McFarland 131-1,034; Passing, Tyrell Pigrone 37-67-1-561-2; Receiving, Jeshaun Jones 22-298; Tackles, Isaiah Davis 94; Interceptions, Antoine Richardson 1, Ayinde Eley 1
Antoine Brooks: The senior filled a nickel back role in the Maryland defense a year ago but saw time in the spring at cornerback and safety. One of five defensive players with starting experience returning this fall, he has the versatility to fit in wherever he is needed after counting 9.5 tackles for a loss among his 68 stops last season.
Josh Jackson: The Virginia Tech transfer is battling junior Tyrrell Pigrome for the starting nod at quarterback following the transfer of Kasim Hill. A two-year starter for the Hokies, Jackson threw for 2,991 yards and 20 touchdowns in 2017 as a freshman. He left for the Big Ten after seeing his 2018 season cut short in September by a broken fibula and appears to have the ability to take the controls of the spread-option attack coach Mike Locksley wants.
Anthony McFarland: Maryland found success running the football a year ago, finishing third in the league in rushing and the 5-foot-8, 193-pound sophomore had a lot to do with that. McFarland ran for a school freshman record 1,034 yards while averaging 7.9 yards per carry last season for the Terrapins. He's joined in the backfield by junior Lolo Harris, healthy following knee surgery.
The Terrapins helped themselves by forcing a Big Ten-best 23 turnovers last season, intercepting 18 passes and recovering five fumbles. But, the key number for the Maryland defense and first-year coordinator Jon Hoke will be improving a defensive scoring average which saw the Terrapins give up more than 33 points in five of their seven losses last season. Linebacker Keandre Jones, an Ohio State transfer granted an NCAA waiver to compete this fall, will help.
"We've painted a really clear, concise picture of what our expectations are and how we want to do our business and it all starts with developing the right kind of behaviors. We use the term 'maximize it' around our place and here's what that means. If you talk to any of our players, they'll tell you that maximize it means we want to be really intentional with our behaviors and whatever we're doing at that particular time is the most important thing we do. If you're in the classroom, be where your feet are and be very intentional about taking something from the classroom. If you're in a meeting before practice, be there. If you're at practice, make sure all of your energies and efforts and behaviors are right where we are at.'' – Mike Locksley
Nov. 30 – at Michigan State
Where Maryland ranked in the Big Ten in 2018:
Scoring offense: 28.5 (Ninth)
Rushing offense: 230.2 (Third)
Passing offense: 141.3 (13th)
Total offense: 371.4 (11th)
Scoring defense: 28.7 (Ninth)
Rushing defense: 183.9 (11th)
Passing defense: 206.5 (Sixth)
Total defense: 390.4 (Seventh)
The Terrapins' record over the last five years:
Record in the last three games vs. the Hawkeyes
2014: Maryland 38, Iowa 31
2015: Iowa 31, Maryland 15
2018: Iowa 23, Maryland 0