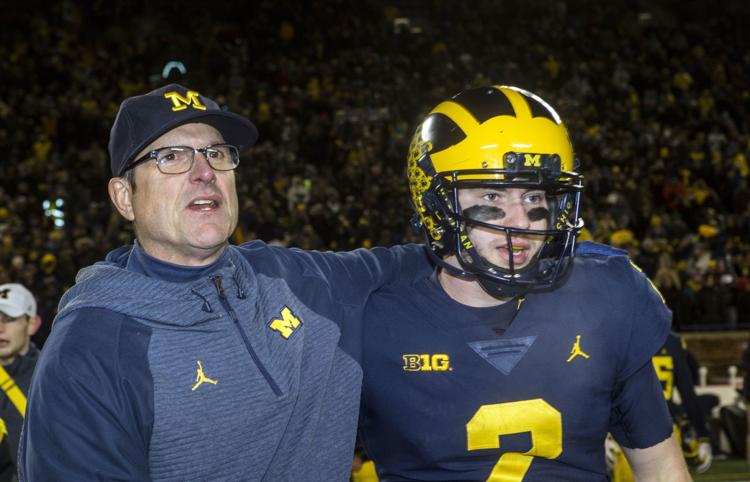 (Third in a series about the upcoming Big Ten football season)
Coach: Jim Harbaugh, 38-14 entering fifth season at Michigan, 96-41 entering 12th season overall
2018 record: 10-3, 8-1 Big Ten (tied for first, East), lost to Florida 41-15 in the Peach Bowl
Offensive starters returning (8): LG Ben Bredeson, WR Nico Collins, TE Sean McKeon, RG Michael Onwenu, QB Shea Patterson, WR Donovan Peoples-Jones, RG Cesar Ruiz, LT John Runyan
Defensive starters returning (5): LB Devin Gil, CB Lavert Hill, LB Khaleke Hudson, DT Carlo Kemp, S Josh Metellus
Specialists returning (3): P Will Hart, PK Jake Moody, PK Quinn Nordin
Returning statistical leaders: Rushing, Chris Evans 81-432; Passing, Shea Patterson 210-325-7-2,600-22; Receiving, Donovan Peoples-Jones 47-612; Tackles, Josh Ross 61; Interceptions, Josh Metellus 3
Three Wolverines to watch
Lavert Hill: A two-time all-Big Ten selection at cornerback, the 5-foot-11, 185-pound senior is being counted on to join safety Josh Metellus in leading a defense which must replace four NFL draft picks. Opponents have typically avoided throwing Hill's way. He broke up five passes and intercepted a sixth last season.
Shea Patterson: Will be at the controls of an offense that underwent an offseason overhaul following the hiring of former Alabama co-offensive coordinator Josh Gattis. The Wolverines hope to pick up the pace and use the abilities of their 6-2, 205-pound senior quarterback and a group of four returning offensive linemen to make it happen. Patterson completed 64.6 percent of his 325 passes last season, throwing for 2,600 yards and 22 touchdowns.
Donovan Peoples-Jones: The junior wide receiver caught 47 passes for 612 yards and eight touchdowns a year ago in a run-heavy offense. With Michigan working to open things up a bit offensively, Peoples-Jones and Nico Collins both factor heavily into the Wolverines' plans despite missing time in the spring with injuries. Collins, a junior, caught 38 passes for 632 yards last season.
Number of times Michigan has beaten rival Ohio State since 2003, including a string of four consecutive losses in the series under coach Jim Harbaugh. The Buckeyes put 62 points on the board a year ago against the Wolverines, among the reasons Harbaugh opted to make multiple staff changes during the offseason.
"I feel like our team is in a really good place. We're a young, enthusiastic team with players with a lot of good experience. I feel really good about our coaching staff and like I said, I feel like it's good, it's tight and we're proceeding on a daily basis to make it even tighter and even better.'' – Jim Harbaugh
Aug. 31 – Middle Tennessee
Where Michigan ranked in the Big Ten in 2018:
Scoring offense: 35.2 (Second)
Rushing offense: 203.8 (Sixth)
Passing offense: 215.7 (Ninth)
Total offense: 419.5 (Sixth)
Scoring defense: 19.4 (Third)
Rushing defense: 127.4 (Third)
Passing defense: 147.8 (First)
Total defense: 275.2 (First)
The Wolverines' record over the last five years:
Michigan 41, Iowa 15, Ties 4
Record in the last five games vs. the Hawkeyes
2010: Iowa 38, Michigan 28
2011: Iowa 24, Michigan 16
2012: Michigan 42, Iowa 17
2013: Iowa 24, Michigan 21
2016: Iowa 14, Michigan 13