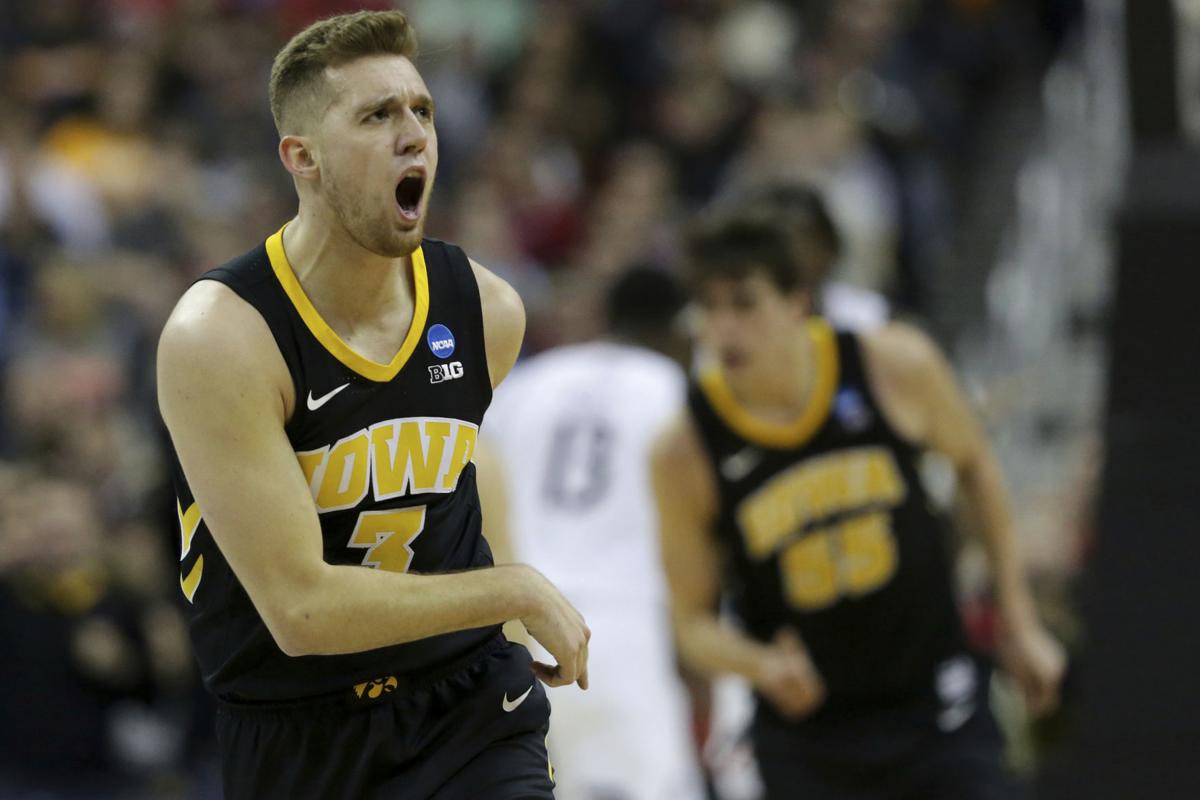 ROSEMONT, Ill. — Preseason practice began last Saturday, but no one connected with the Iowa basketball program still has any idea if Jordan Bohannon is going to play this season.
His coach doesn't know. His best friend on the team doesn't know. The up-and-coming star wing player who was hoping to play two seasons alongside Bohannon doesn't know.
The fact that Bohannon was not among the Iowa players invited to Wednesday's Big Ten preseason media day may be a hint. Or maybe not.
No one knows. Or at least no one will say.
"Nobody knows what his status is, and he's obviously critical to our team," Iowa coach Fran McCaffery said during the Big Ten event at the Rosemont Hilton.
"I would have said eight weeks ago, seven weeks ago, we're playing without him. Now there is, I think, the possibility. He's not playing, but he's dribbling and shooting and doing some things. … We're trying not to put pressure on him in any way, shape or form."
Bohannon underwent surgery on his hip in May after struggling with that and other leg ailments for most of his first three seasons at Iowa.
"He was tired of playing where he just didn't feel good," McCaffery said.
Bohannon has indicated he only wants to play what would be his senior season if he can be completely healthy from the very beginning. Otherwise, the 6-foot-1 guard would prefer to take a redshirt year and complete his college career in 2020-21.
It's a stance that McCaffery wholeheartedly endorses.
"I want him to be able to play his senior year as pain-free as possible," the coach said. "So we're planning as if he's not playing. If he plays, we'll be thrilled that he is, and he'll be able to jump back in because of how good he is and because he's our senior leader."
No one on the Iowa team is closer to Bohannon than fellow senior Ryan Kriener, who played AAU ball with him in high school and is still his roommate.
But Kriener said Wednesday he doesn't know what his buddy is going to do.
"We've talked about how he really wants to play, but it's not really fair to himself to go out there and play another season on one leg," Kriener said. "He really wants to be able to be healthy for once because every year he's always had some sort of nagging injury. Last year he played on one leg most of the year."
Bohannon is first and foremost a competitor and as the season approaches — the Hawkeyes' preseason exhibition game is Nov. 4 — both McCaffery and Kriener sense that he starting to chomp at the bit to get back onto the court.
Kriener saw that last week in the team's final conditioning session before practice began.
"Two days ago he just started jogging, and he said 'I'm doing the conditioning thing. I'm doing it,'" Kriener said. "So he did a whole conditioning workout, the hardest one of the year, and he never really stopped. He did the whole thing. He's a competitor, he's a warrior. He wants to play, but it just depends on where his body is."
McCaffery said Bohannon only did "a portion" of the conditioning workout, but admitted it was a sign of how badly the kid wants to play.
Sophomore Joe Weiskamp, who has idolized Bohannon since his high school days and who credits him with helping him navigate his freshman season, said he also doesn't have a sense of where the senior guard is at.
"He's one of the greatest Iowa basketball players of all time, a leader for us, so if he doesn't play it's obviously going to hurt our team," Wieskamp said. "But he has to do what's best for him at the end of the day. But I respect him a lot and I know he's going to do whatever he can."
McCaffery said that if Bohannon doesn't play, his team will be fine. Unlike a few years ago, the Hawkeyes have ample depth in the backcourt. Wieskamp could easily swing back to play guard instead of small forward and there's also Connor McCaffery, CJ Fredrick, Bakari Evelyn and Joe Toussaint.
Then again, you don't easily replace someone who has started 96 consecutive games and already has made more 3-point field goals than anyone in Iowa history. Bohannon also has a chance to break the school's career records for assists and free throw percentage.
Kriener just doesn't want his friend to make a decision he'll end up regretting.
"Something that would weigh on me is if he's not 100 percent and four games go by and then he is 100 percent, but then he's already redshirted and he's sitting there watching," Kriener said. "That's just some stuff he's got to figure out. … If he wants to play, we're going to love to have him.
"Selfishly," he added, "I really want to play my senior year with him."