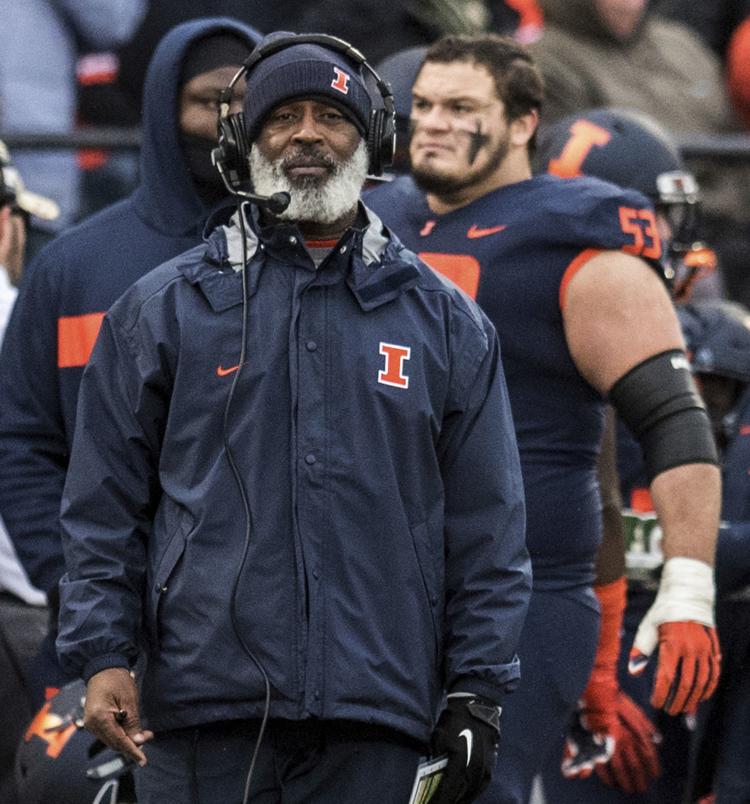 (Eighth in a series looking at the upcoming Big Ten football season)
Coach: Lovie Smith, 9-27 entering fourth season at Illinois and overall
2018 record: 4-8, 2-7 Big Ten (seventh, West)
Offensive starters returning (7): RB Reggie Corbin, WR Ricky Smalling, WR Trenard Davis, OL Vedarian Lowe, OL Kendrick Green, OL Doug Kramer, OL Alex Palczewski
Defensive starters returning (9): DL Owen Carney, DL Tymir Oliver, DL Jamal Milan, LB Jake Hansen, NB Delano Ware, DB Jartavius Martin, DB Nate Hobbs, DB Sydney Brown, DB Stanley Green
Specialists returning (1): P Blake Hayes
Returning statistical leaders: Rushing, Reggie Corbin 128-1,085; Passing, None; Receiving, Ricky Smalling 33-406; Tackles, Jake Hansen 95; Interceptions, Jartavius Martin 3
Three Fighting Illini to watch
Reggie Corbin: The 5-foot-10, 200-pound senior fueled a rushing attack which ranked as the second most productive in the Big Ten in offensive coordinator Rod Smith's first season. After averaging 90.4 yards per game last season, he'll work behind a line which returns four starters. Corbin rushed for 1,085 yards last season.
Jake Hansen: Becomes one of the expected leaders of a defense which will play without its top returning player, injured end Bobby Roundtree. The 6-1, 230-pound junior finished with 95 tackles and 8.5 tackles for a loss a year ago and is being counted on create similar havoc this season. Two graduate transfers, defensive end Oluwole Betiku from USC and linebacker Milo Eifler from Washington, are expected to help a porous Fighting Illini defense improve.
Brandon Peters: As highly-regarded freshman Isaiah Williams settles in, the 6-5, 230-pound graduate transfer from Michigan brings two years of eligibility at quarterback to the Illini program. He played in 10 games over the past two years for the Wolverines, including four starts in 2017. The Indiana native threw for 680 yards and four touchdowns at Michigan after earning Indiana Mr. Football honors at Avon High School, where he threw for 6,843 yards and 79 touchdowns during his prep career in suburban Indianapolis.
Illinois opens its new $80 million football performance facility this fall. The 107,650-square foot facility is adjacent to the indoor practice facility and sits adjacent to the east side of Memorial Stadium.
"We have to be a lot better in so many areas on defense, things we didn't do well. We gave up too many big plays. We weren't really able to stop the run and our signature is about doing that and taking the ball away and scoring on defense. We weren't able to do all of those things. I feel like we have a better understanding of what we're going to do and individual improvements that we needed to make, we have made.'' – Lovie Smith
Sept. 14 – Eastern Michigan
Nov. 9 – at Michigan State
You have free articles remaining.
Where Illinois ranked in the Big Ten in 2018:
Scoring offense: 26.0 (11th)
Rushing offense:  243.0 (Second)
Passing offense: 165.7 (11th)
Total offense: 408.7 (Eighth)
Scoring defense: 39.4 (14th)
Rushing defense: 245.3 (14th)
Passing defense: 263.1 (13th)
Total defense: 508.4 (14th)
The Fighting Illini record over the last five years:
Illinois 38, Iowa 34, Ties 2
Record in the last five games vs. the Hawkeyes
2014: Iowa 30, Illinois 14
2015: Iowa 29, Illinois 20
2016: Iowa 28, Illinois 0
2017: Iowa 45, Illinois 16
2018: Iowa 63, Illinois 0