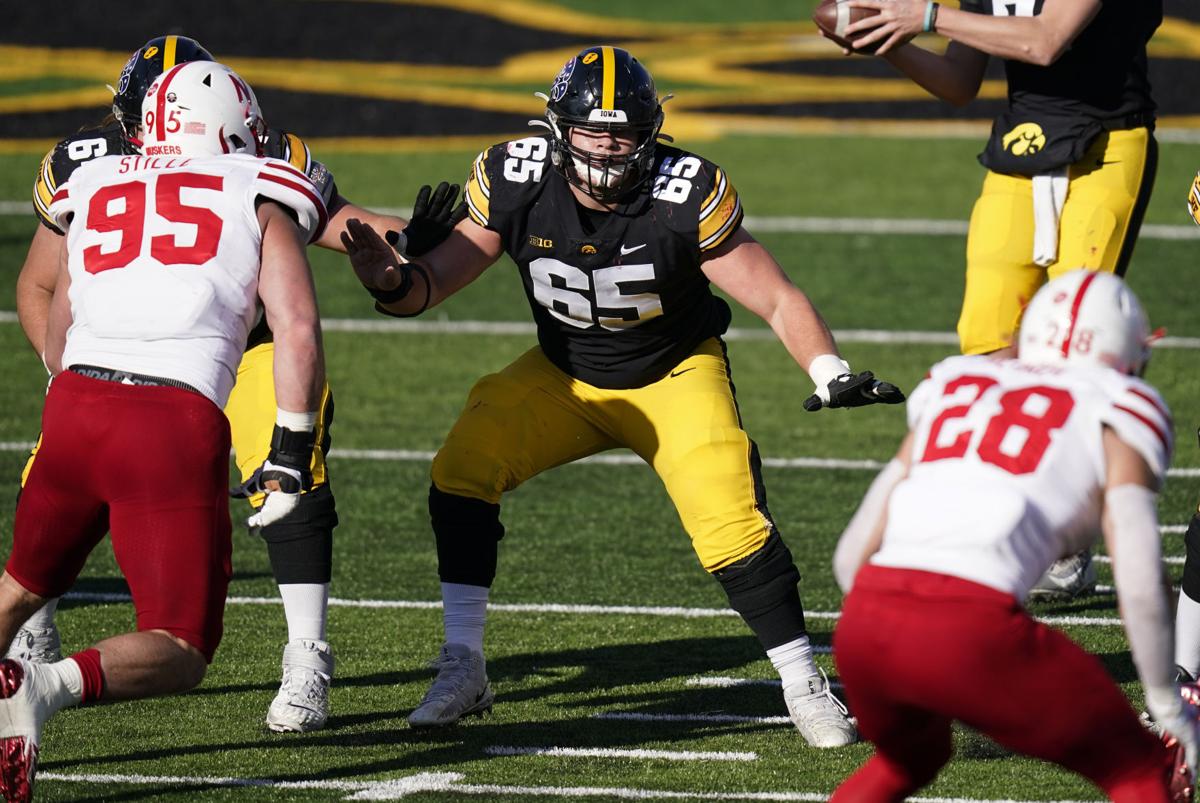 Going from the hunter to the hunted, preparing for multiple Purdue quarterbacks and Linderbaum for Heisman all land a spot in today's Hawkeye 10@10.
You daily dose of Iowa football news and notes is delivered each weekday at 10 a.m. during game week at hawkmania.com, your home for all things Iowa.
Here is today's Hawkeye 10@10:
1. Six weeks into the season, the Iowa football team has gone from the hunter to the hunted.
That's what three wins over ranked opponents will do for an unbeaten football team that seems to be gaining traction on a weekly basis.
That role comes with the realization that top-level performances on a weekly basis are part of the deal.
"We know we're going to get the other team's best shot every week. There are no easy games,'' quarterback Spencer Petras said.
"Coach (Ken) O'Keefe, coach (Kirk) Ferentz, one of the biggest things they are preaching right now, which I think is a really good concept, is the law of the price tag. Essentially, that is that the price never goes down, it only goes up and in order to be successful, everyone on the team has to pay the price.''
2. Iowa defensive end Zach VanValkenburg believes Iowa's success begins on the practice field.
He traces the roots of the Hawkeyes' ongoing 12-game win streak to the back-to-back losses to Purdue and Northwestern that opened the 2020 season.
"Those first few losses were kind of gut-wrenching. We really had to evaluate what our practice habits were and things like that,'' VanValkenburg said.
"After that Purdue loss, we were practicing really hard but we didn't pull that next one out against Northwestern. We just kept practicing, harder and harder. I think that has made the difference.''
3. Jack Plummer and Aidan O'Connell have split time under center this season for Purdue and coach Jeff Brohm hasn't publicly named a starter for Saturday's 2:30 p.m. game at Iowa.
Both have put up similar numbers through five games.
Plummer has completed 82-of-118 passes for 840 yards and seven touchdowns without an interception, while O'Connell has completed 66-of-100 passes for 743 yards and four touchdowns while being picked off five times.
Brohm said Austin Burton, who has completed all five of the passes he has attempted, also is a possibility.
"I think that all of our options are on the table. We have a room of quarterbacks who have all played and all have to be ready to play,'' Brohm said. "Whatever we feel like we need to do to win, we're going to do.''
Iowa coach Kirk Ferentz said Iowa is preparing for all possibilities.
4. Only three teams in the Football Bowl Subdivision have punted more than the 40 times Iowa has punted the ball away through six games this season.
New Mexico State with 43 and Vanderbilt and New Mexico with 41 punts apiece lead the Hawkeyes, who sit one punt in front Illinois' 39 among Big Ten teams.
While the Hawkeyes are 6-0 of the 10 teams with the most punts in college football, the nine not named Iowa have a combined record of 12-45.
Only four of those teams – two-win Illinois, Middle Tennessee, New Mexico and Vanderbilt – have won more than one game.
Arkansas State, Florida International, New Mexico State and Southern Mississippi have one win apiece while Connecticut is winless through seven games.
5. Tyler Linderbaum for Heisman?
Ralph Russo of the Associated Press believes there is a case to be made and at least one of the teammates of the Iowa center agrees.
Russo on Monday retweeted Pro Football Focus' rankings of the Hawkeyes' all-American center which rank the junior as the best run blocker in the country in three of the last four weeks and the second-best run blocker in the fourth week.
"Y'all think I'm kidding about this. #Linderbaum4Heisman. … C'mon Iowa,'' Russo wrote.
Iowa guard Kyler Schott said that is a campaign he could get behind. "If a center is ever going to win it, he's the guy,'' Schott said.
6. Iowa defensive back Matt Hankins was named Thursday as the Jim Thorpe Award player of the week, receiving the national honor for his work in last week's win over Penn State.
Hankins had five tackles in the game, none more significant than a solo stop on a fourth-and-3 play with 3 minutes, 39 seconds remaining in the Hawkeyes' 23-20 win.
He also ended the Nittany Lions next possession with an interception on a fourth-down pass.
7. Spencer Petras made his first career start last season in the Hawkeyes' opener at Purdue.
He completed 22-of-39 passes for 265 yards in his debut, but a pair of second-half fumbles helped the Boilermakers take a 24-20 win over Iowa.
"I still have a pretty bad taste in my mouth from that game last year,'' Petras said. "I'm really looking forward to getting out there and getting to compete against them again because it's never fun losing. I just want to play really well this Saturday.''
8. The Hawkeyes may be 6-0, but Iowa coach Kirk Ferentz doesn't want his team to get ahead of itself.
He downplayed comparisons to the Hawkeyes' 2015 team which won its first 12 games before losing to Michigan State in the Big Ten Championship Game and Stanford in the Rose Bowl.
He said the teams share a general vibe that led to success, but quickly pointed out that half of the regular season remains.
"That team (in 2015) ran the whole race and that's the first team since whatever it was, '21 or '22, a hundred years ago, so it shows you how hard it is to do that and we're just at the halfway mark,'' Ferentz said.
" …There's no prizes right now, we're bowl eligible and happy about that, but we don't get any prizes for having six wins.''
9. Ayden Gendreau of Camanche will be the Kid Captain at Saturday's game.
The 13-year old has undergone multiple heart and spinal surgeries since being diagnosed with a heart defect shortly after his birth.
He was diagnosed with VACTERL syndrome which affects multiple parts of the body, with each letter of the name representing a different abnormality.
Gendreau is scheduled to undergo another back surgery in December for permanent rods to be put in place.
He will be honored at midfield prior to the start of the Hawkeyes' homecoming game.
10. Iowa baseball coach Rick Heller will be the featured speaker Monday when the Davenport Grid Club holds its weekly luncheon.
Heller will join Quad-Cities area high school and college football coaches on the program at the noon event at the Knights of Columbus, 1111 W. 35th St., Davenport.
The luncheon is open to the public and tickets, priced at $12 apiece, include a buffet lunch and can be obtained at the door.