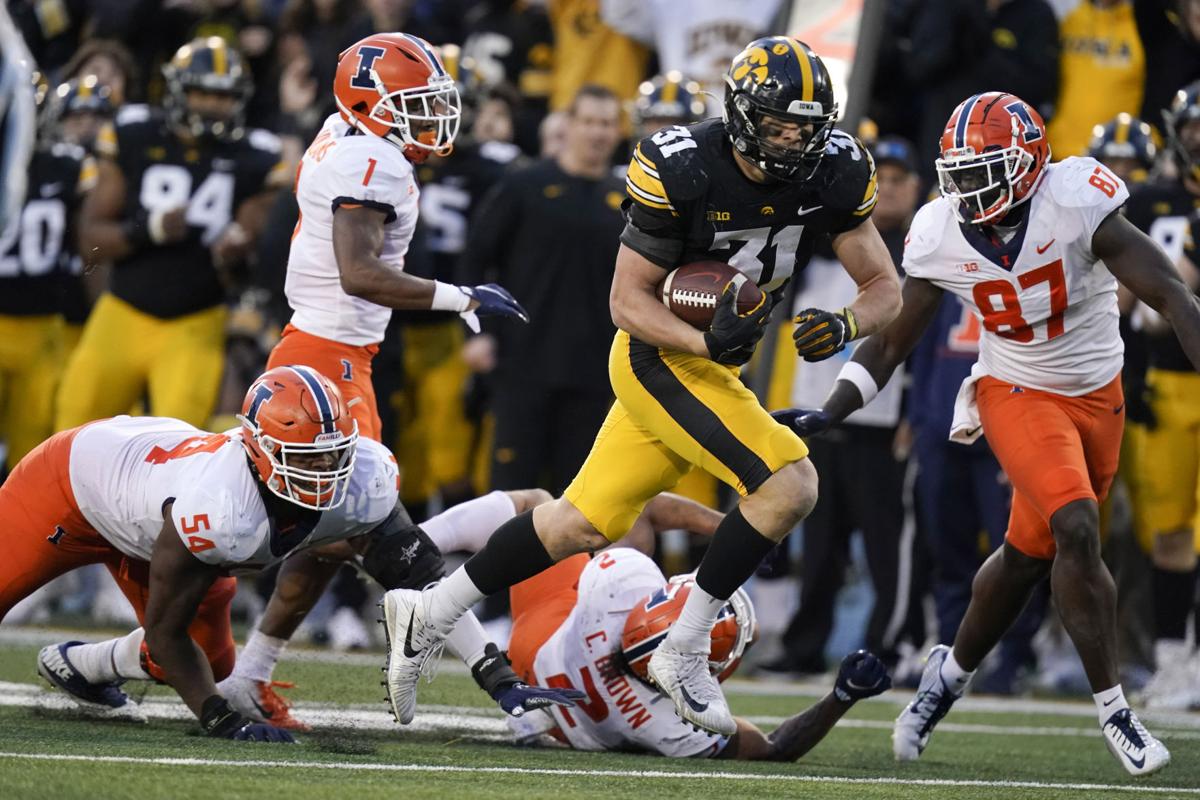 Jack Campbell's decision, Tyler Goodson's climb and Arland Bruce staying low to the ground are all part of today's Hawkeye 10@10.
Your daily dose of Iowa football news and notes is delivered each weekday at 10 a.m. during game week at hawkmania.com, your home for all things Iowa.
Here is today's Hawkeye 10@10:
1. Jack Campbell had a decision to make.
Intercepting a fourth-quarter pass thrown by Brandon Peters in Iowa's 33-23 win over Illinois, Campbell had to choose between securing the ball and going down or trying to return it which he did for a pick six and the Hawkeyes' final points of the game.
Linebackers are typically told to just go down and let the offense take over from there in that situation, but with room to run Campbell opted to take off.
"That may have been the funniest play of the game,'' Iowa coach Kirk Ferentz said. "You could see how torn he was. Stay or go, I was cheering for him to score actually even though it might not be the smart play. It was funny. What he does never surprises me.''
It was the second touchdown of the season for Campbell, who scored on a fumble return at Iowa State.
2. Tyler Goodson continued his assault on the Iowa record book on Saturday.
The junior moved into 10th on the Hawkeyes' career list with his 132-yard effort against the Fighting Illini, passing Shonn Greene and Ronnie Harmon on the list with his work against the Fighting Illini.
He currently has 2,345 yards and sits 211 yards behind Owen Gill who currently is in ninth on that list.
Goodson now has 945 rushing yards on the season as Iowa works toward Friday's 12:30 p.m. game at Nebraska.
3. Arland Bruce ran over an Illinois defender to plow his way into the end zone for the only offensive touchdown Iowa scored in Saturday's 33-23 win at Kinnick Stadium.
Bruce suggested he first thought about going down but opted to finish off the 2-yard run with an emphatic effort.
"They say the lower man wins and I'm not a very tall guy,'' Bruce said.
4. With Matt Hankins and Jack Koerner missing Saturday's game because of injuries, Iowa's secondary depth was tested against Illinois.
The Hawkeyes opened with Dane Belton, Kaevon Merriweather, Jermari Harris and Riley Moss in the secondary versus the Illini.
"Some people go down and you never know who is going to be in next,'' Belton said. "That's just the 'next man in' mentality and everyone is held to the same standard. It's kind of a pressure on the guys coming in, like 'I may be a two or three on the depth chart but I can be thrown into the game and I have to make plays, too.'"
Iowa coach Kirk Ferentz said Hankins will likely miss Friday's game at Nebraska while Koerner has a chance to return against the Cornhuskers.
5. Even coach Kirk Ferentz didn't think Iowa's win Saturday was much to look at.
"It was a game of missed opportunities it seemed,'' Ferentz said. "We found a way to win. And that's what's important.''
6. A pair of weekend NFL games included former Iowa defenders on opposite sidelines, highlighting a busy week for Hawkeyes at the next level.
Desmond King finished with eight tackles for the Texans in a win over the Titans, who had four tackles from Amani Hooker.
In the Chiefs win over the Cowboys, Anthony Hitchens had three tackles and Ben Niemann added two for Kansas City and Chauncey Golston had one tackle for Dallas.
Elsewhere on defense, Micah Hyde had six tackles and Ike Boettger and A.J. Epenesa finished with one apiece for the Bills in a loss to the Colts, Carl Davis had three tackles for the Patriots in a win over the Falcons and Kristian Welch had two tackles for the Ravens in a win over the Bears.
On offense, T.J. Hockenson caught six passes for 51 yards in the Lions' loss to the Browns and George Kittle had a touchdown catch among his four receptions for 34 yards in the 49ers win over the Jaguars.
7. Illinois assistant head coach George McDonald, who handled game-day coaching duties with coach Bret Bielema absent Saturday, said following the game that the Illini coach gave his staff and players a solid plan to work with against Iowa.
"I think coach did a great job all week having zoom calls with our staff, laying out his vision and trying to play the game through us and giving us an opportunity to ask questions,'' McDonald said.
"The last thing he told us was 'You've got to do what you think is right,' and he's trained us well.''
McDonald said too many penalties and late turnovers proved costly in a loss that left Illinois with seven losses and an 11th straight losing record.
8. Receiver Desmond Hutson, an Iowa sophomore, announced Friday that he had placed his name in the NCAA transfer portal.
"I would like to thank the coaching staff at The University of Iowa for helping me become the person I am today,'' Hutson wrote in announcing his decision.
"I have grown through the years in Iowa mentally, physically and spiritually. I've made connections that will last a lifetime and for that I am extremely grateful. Iowa City will always hold a special place in my heart.''
Hutson appeared in three games for Iowa in 2019 and 2021, sitting out the 2020 season with an injury, did not catch any passes during his Hawkeye career.
9. A pair of former Hawkeyes were on the field Saturday when Baylor beat Kansas State.
Dillon Doyle finished with three tackles and broke up a pair of passes for the Bears while Julius Brents finished with three tackles for the Wildcats.
In the Mid-American Conference last week, Cedric Boswell had five tackles for Miami (Ohio) in its win over Bowling Green and Samson Evans completed one pass for a 19-yard touchdown for Eastern Michigan in addition to rushing for 47 yards and catching one pass in a win over Western Michigan.
Former Hawkeye running back Shadrick Byrd ran 14 times for 61 yards in Charlotte's loss to Marshall and former Iowa quarterback Peyton Mansell completed 20-of-35 passes for 130 yards for Abilene Christian in a loss to Sam Houston State.
10. The Black Friday game day forecast for Lincoln and the Heroes Game match-up between Iowa and Nebraska is about as good as it gets for late November.