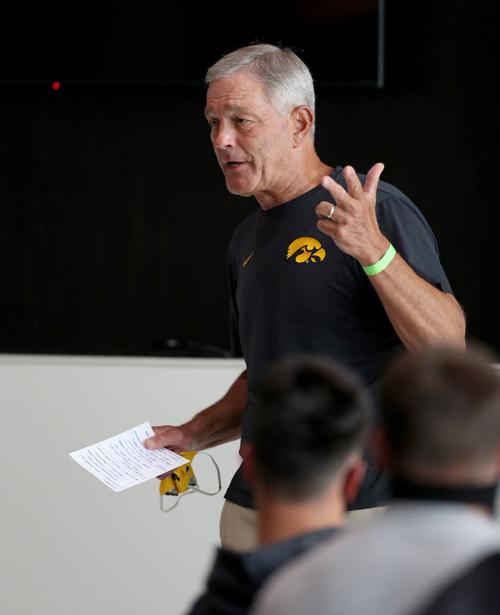 Iowa's 300-pound quarterback, the Hawkeyes' wildcat and Iowa running fakes were all questions discussed by Hawkeye coordinators on Thursday and the answers are all part of today's Hawkeye 10@10.
Your daily dose of Iowa news and notes is delivered each weekday at 10 a.m. at hawkmania.com and qctimes.com, your home for all things Hawkeye.
Here is today's Hawkeye 10@10:
1. Iowa tested out a new quarterback in a recent practice.
Daviyon Nixon, all 6-foot-3, 305 pounds of him, lined up under center for a snap at the end of a recent workout after the scout team quarterback had to leave the field.
"For a 300-pound quarterback, I thought it was pretty good that we let him do it,'' defensive coordinator Phil Parker said Thursday. "He had a pretty good throw downfield even though he threw an interception, but it was a nice spin on the ball and all that.''
Parker said that little bit of fun at the end of a productive workout is welcomed.
"Bringing guys together, you've got to have fun and I think they were having fun, but as a player Daviyon has been a very impactful player for us obviously,'' Parker said.
Heading into Saturday's 2:30 p.m. game at Penn State, Nixon leads the Big Ten with seven tackles for a loss. 
2. Receiver Brandon Smith wasn't targeted once in the Hawkeyes' 35-7 win at Minnesota last weekend, but offensive coordinator Brian Ferentz points out that the senior's effectiveness as a blocker played a major role in the outcome.
"Certainly you want everyone involved, but I think with Brandon in the first four weeks, you've seen his value in our offense,'' Ferentz said. "He's come up with a couple of key conversions on third down. He's done a nice job single width into the boundary when we have that match-up.
"And then last week, certainly no targets in the throw game but when you look at what he did in the run game, he had as big an impact on that game as he's had all year.''
3. Iowa junior Charlie Jones leads the Big Ten and ranks sixth in the country with an average of 15 yards on each of the 10 punt returns he has recorded during the Hawkeyes' 2-2 start.
Special teams coordinator LeVar Woods said that is a byproduct of the work Jones has put into his game since transferring to Iowa from Buffalo a year ago.
"The guy is here all the time, all day. I'll go by, go down to someone's office and look out on the field and the guy is out there catching balls off the JUGS machine at like 3 in the afternoon, well after practice,'' Woods said.
He said Jones and Nico Ragaini are frequent training partners in the spare time, something that seems to be paying off.
"I think he has a clear vision of what he wants to be and what he wants to do while he's here at Iowa, and the guy has put in the time,'' Woods said. "It's fun seeing it pay off for him.'' 
4. Penn State hasn't named a starting quarterback for the Iowa game, but coach James Franklin has said that both Sean Clifford and Will Levis could see snaps against the Hawkeyes.
The Nittany Lions, 0-4 and hoping to avoid the first 0-5 start in the program's storied history, seemed to settle into a flow offensively when Levis took over in last week's 30-23 loss at Nebraska in a move made after a pair of early turnovers by Clifford.
"Will was able to give us a spark that we needed, but at the end of the day we are confident in both of our quarterbacks and we trust both of them a ton,'' Penn State center Michael Menet said.
Levis rushed for 61 yards on 18 carries after entering the game last week, but was rather pedestrian in the passing game, completing just 14-of-31 passes for 219 yards.
Not unlike Iowa's Spencer Petras, Franklin said Levis still needs to develop the touch to be effective.
"Everybody loves the big, strong arm, which (Levis) has, but it's also knowing when to take a little something off it and throw for touch,'' Franklin said. 
5. Iowa offensive guard Cody Ince is expected to make his third straight start on the Hawkeye offensive line Saturday at Penn State, learning as he goes since Kyler Schott was forced out of action two games into the season.
"There have been some unfortunate things that have happened, but when you hear your name called, you have to got to take the opportunity and run with it,'' Ince said.
Two Big Ten tests have taught Ince that there is room for growth.
"There is always room for improvement, and I know I've got to do better on some things in the run game and pass game. But, I'm just happy with the opportunity and hopefully I can help the team out.''
Schott is not expected to play this weekend. 
6. Iowa has made occasional use of the wildcat formation it worked out for the first time in the season opener at Purdue.
Offensive coordinator Brian Ferentz said the result was as intended.
"The idea has just been trying to expand what we're doing. I think there's two really big things about the wildcat that were intriguing to us, one was just snapping the ball to a guy who can run. Obviously, you're eliminating part of the operation and it opened up to us some of the read game, the gap read stuff,'' Ferentz said.
He said the other part of the equation was forcing defenses to defend the formation.
"We're just trying to even the numbers out, create advantages for us in the run game and so far we've been able to do that,'' Ferentz said. "I do anticipate as we show more of it, as it becomes a bigger part of the offense, certainly people are going to defend it have creative ways to try to take those things away. We need to continue to evolve.'' 
7. Iowa's defense has been productive.
The Hawkeyes currently rank second in the Big Ten with eight interceptions, second in allowing 201.5 passing yards per game, third in scoring defense at 14.8 points, third in sacks with 2.75 per game, third in total defense at 314.3 yards per game, third with 10 turnovers gained and fourth in rushing defense at 112.8 yards per game.
Those are results defensive coordinator Phil Parker are a byproduct of what he sees daily on the practice field, something he saw change after Iowa was staring a 0-2 start in the face following a 21-20 loss to Northwestern.
"After the Northwestern game, you could tell the difference in the practice tempo and the energy that was coming out at practice,'' Parker said. "I think the last three weeks, we've been practicing at a high level and I feel very confident in that the guys are going to go out and play hard.''
Parker said he now sees an elevated level of intentness during meetings and in practice.
"To me that's part of the battle. That doesn't guarantee a win or anything like that, but our kids are invested and they're willing to keep investing,'' Parker said.
As a coach, Parker considers that satisfying.
"I'm not coaching effort anymore. I don't have to be,'' Parker said. "My guys are holding each other accountable.'' 
8. If Iowa runs a fake on special teams, it's not by accident.
Special teams coordinator LeVar Woods said the Hawkeyes will go into pretty much every game they play with a couple of fakes they would feel comfortable using if the correct match-up arises during a game.
"It also ties in with the play calling on offense and defense and sort of the situation we're in,'' Woods said. "Obviously coach (Kirk) Ferentz is the one who makes those final calls and I'm just the guy that tries to put it together and give him some ideas and thoughts. But ultimately, it comes down to what's best for the team and can we help our football team extend a drive or score points or whatever it is we're asked to do at that moment.''
Most, Woods said, don't happen until everyone from coaches to the players on the field reach a certain level of confidence in what they are doing. 
9. Penn State shifted its offensive line a week ago at Nebraska and will likely stick with a revised look against Iowa.
The Nittany Lions moved longtime right tackle Will Fries to right guard in place of C.J. Thorpe, a move that allowed freshman Caedan Wallace to move into the tackle position.
The result was a 245-yard rushing performance by Penn State.
"That combination makes it able for us to rotate some other guys in there,'' Nittany Lions coach James Franklin said. "I think that's been a positive for us, so I can see that continue to grow as long as (Wallace) continues to grow the way we think he will.'' 
10. Iowa coach Kirk Ferentz enters Saturday's game at Penn State with 99 Big Ten wins.
That's the fourth most of any coach in Big Ten history.
Only Ohio State's Woody Hayes with 153, Michigan's Bo Schembechler with 143 and Chicago's Amos Alonzo Stagg with 115 have coached 100 football victories against Big Ten opponents.
Be the first to know
Get local news delivered to your inbox!