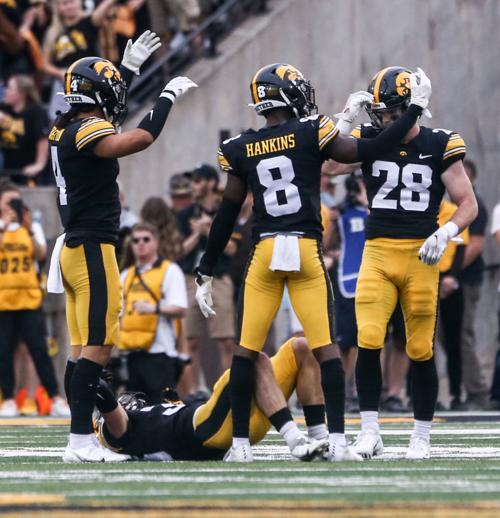 Another pay day for the "Dough Boys," a rowdy crowd at Kinnick and the death of a former Hawkeye are all part of today's Hawkeye 10@10.
Delivered each weekday at 10 a.m. during game week at hawkmania.com, the Hawkeye 10@10 provides your daily dose of Iowa football news and notes.
Here is today's Hawkeye 10@10:
1. There's no need to give the pass-picking Iowa secondary a nickname.
Cornerback Matt Hankins said they already have one, labeling themselves "The Dough Boys."
"We get to the money. The ball is money and as you can see this season, we get to the money,'' Hankins said.
Iowa cashed in again Saturday, recording four interceptions in the second-ranked Hawkeyes' 23-20 win over Penn State.
Iowa now has 16 picks on the season and has had at least three interceptions in four of its six games.
2. Iowa football players praised the energy created by Saturday's crowd in the Hawkeyes' 23-20 win over Penn State.
"I've never been a part of something like that,'' defensive tackle Logan Lee said. "That was a great experience just having all of the fans come out. That was the loudest experience I will ever have in my entire life.''
Lee said the constant noise created by the sellout crowd of 69,250 – the first sellout of the season at Kinnick Stadium – made a difference.
"It's really cool having that big of a backing, 65-, 70-thousand people are there just to support you. They had a huge impact on the game,'' Lee said. "They helped force a lot of penalties and that was a big part of the game.''
3. It doesn't surprise Iowa receiver Nico Ragaini the way Iowa's defense is piling up turnovers.
The Hawkeyes have collected 20 turnovers through six games, leading the Football Bowl Subdivision.
"We go against them all the time, and we faced them in camp. It made us better,'' Ragaini said. "It's definitely the best defense we'll play all year because they're so good all-around and every time they go out there, every time there is a pass thrown, I believe it's going to be an interception. I have that kind of trust in them.''
4. Penn State coach James Franklin said there was no question the crowd was a factor in the Nittany Lions' 23-20 loss at Iowa.
Franklin said starting quarterback Sean Clifford seemed to take it in stride, but when back-up Ta'Quan Roberson entered the game early in the second quarter, things changed.
"We didn't have an issue with the crowd noise until we lost Sean and we're responsible for that. We used the same system with Sean as we did with Ta'Quan and it didn't work. It became a significant issue in the game,'' Franklin said.
He said that offensive linemen had trouble hearing Roberson, something that factored into eight false start calls on the Penn State offense.
"It's a tough environment. Their entire stadium is standing up and pouring their energy into the players on the field. It makes an impact, it makes a significant impact,'' Franklin said.
5. Iowa senior defensive backs Matt Hankins and Riley Moss have been added to the Chuck Bednarik Award watch list.
The award is presented to the most outstanding defensive player in college football by the Maxwell Football Club.
Both players have had multi-interception games for the Hawkeyes this season, Hankins with a pair against Iowa State and Moss returning two for touchdowns in the season opener against Indiana.
6. Micah Hyde returned an interception 26 yards for a touchdown and had a pair of tackles for the Bills in their Sunday night win over the Chiefs, among the highlights of work by former Hawkeyes in the NFL over the weekend.
Anthony Hitchens finished with six stops and Ben Niemann added a pair for the Chiefs.
Christian Kirksey and Desmond King finished with 12 and 10 tackles, respectively, for the Texans in their loss to the Patriots, who saw Carl Davis finish with one tackle.
Elsewhere on defense, Daviyon Nixon had two tackles for the Panthers in a loss to the Eagles and Chauncey Golston recorded two stops for the Cowboys in their win over the Giants.
On offense, Noah Fant caught three passes for 20 yards for the Broncos in a loss to the Steelers and T.J. Hockenson finished with two receptions for 22 yards in the Lions' loss to the Vikings.
7. Former Hawkeye quarterback Tom Poholsky died last week.
The starting quarterback for Iowa teams that finished 6-4-3 in 1988 and 5-6 in 1989 was found dead in a Dallas hotel on Wednesday while on vacation.
He is believed to have died of a heart attack.
Poholsky most recently worked as the assistant head football coach at Evergreen High School in Colorado.
8. A pair of games in college football over the weekend included former Hawkeyes on opposing sidelines.
Cedric Boswell had nine tackles for Miami (Ohio) in its one-point loss to Eastern Michigan, which had Samson Evans rush for four yards on two carries and catch three passes for 10 yards.
On Friday, Shadrick Byrd ran for 80 yards on 14 carries and caught one pass for Charlotte in a win over Florida International, which was led in tackles the by eight recorded by Josh Turner.
Elsewhere, Nebraska receiver Oliver Martin caught two passes for 39 yards in the Cornhuskers' loss to Michigan and Dillion Doyle finished one tackle for Baylor in its win over West Virginia.
9. Kirk Speraw, a longtime assistant on Fran McCaffery's Iowa basketball staff and a former Hawkeye player is scheduled to be the guest speaker at today's Davenport Grid Club luncheon.
Speraw will join Quad-Cities area high school and college football coaches on the program for the noon event at the Knights of Columbus, 1111 W. 35th St., Davenport.
Tickets are priced at $12 and include a buffet lunch. Grid Club is open to the public and tickets are available at the door.
10. After a lengthy string of temperatures in the 70s and 80s at kickoff, more fall-like weather will accompany Saturday's homecoming game in Iowa City.
The current National Weather Service forecast for Saturday's 2:30 p.m. Iowa-Purdue game calls for sunny skies a high temperature of 60 degrees.