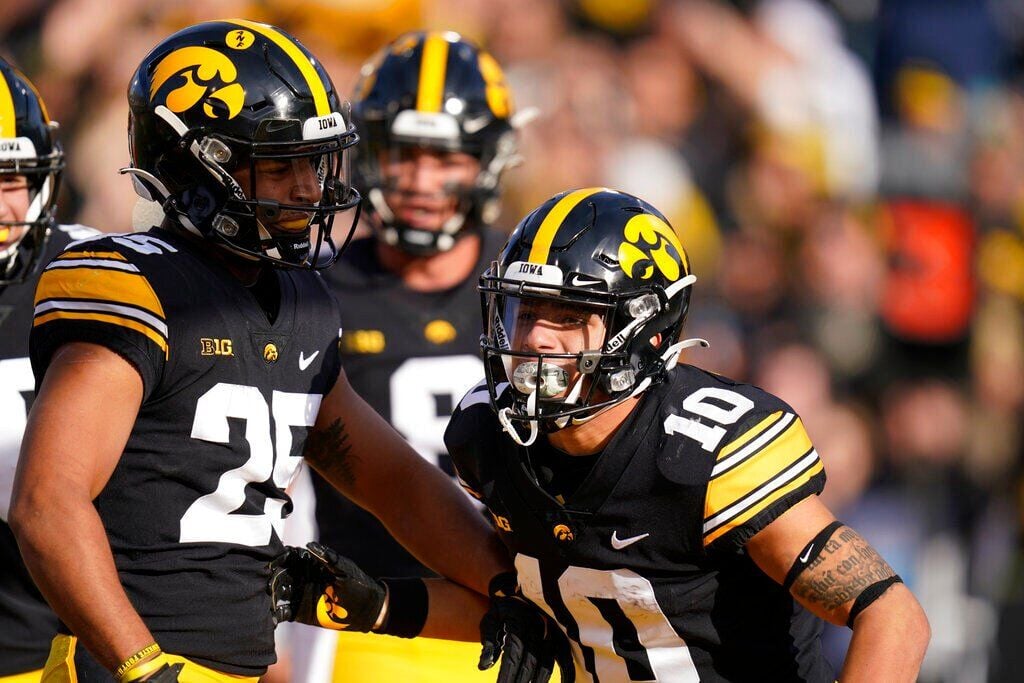 Recognition for Tyler Linderbaum and Phil Parker, freshmen Arland Bruce and Connor Colby moving forward and when a pass isn't a pass are all part of today's Hawkeye 10@10.
Delivered each weekday at 10 a.m. during game week at hawkmania.com, the Hawkeye 10@10 provides your daily dose of Iowa football news and notes.
Here is today's Hawkeye 10@10:
1. Arland Bruce made the most of his first career start Saturday, scoring the Iowa offense's only touchdown in the win over Illinois.
Bruce scored on a 2-yard carry early in the second quarter to move the Hawkeyes ahead to stay.
Bruce was Iowa's leading receiver in the game, catching a modest two passes for 45 yards.
He also ran four times for 23 yards. Bruce is the 31st true freshman to start for the Hawkeyes during Kirk Ferentz's 23 seasons as the program's head coach and third first-year player to start this year.
Offensive lineman Connor Colby and wide receiver Keagan Johnson made their starting debuts earlier in the season.
All three players enrolled at Iowa in January and participated in spring practices.
Bruce and Johnson were both in the lineup Saturday, the first time in Ferentz's tenure the Hawkeyes have started two true freshmen at receiver.
2. Connor Colby made his eighth start at right guard on Saturday for Iowa.
With that start, the first-year offensive lineman from Cedar Rapids Kennedy tied Tristan Wirfs for the most starts by a true freshman on the offensive line during Ferentz's 23 seasons.
"Colby's done a great job stepping in and making moves for us that allow us to be successful,'' running back Tyler Goodson said.
"The young guys have done a great job of listening and learning from the veteran guys like (Kyler Schott and Tyler Linderbaum). They take notes and apply it to the game. It's not easy for a freshman O-lineman in the Big Ten to go in and do what he does.''
Wirfs started eight games in 2017. Only two Hawkeye true freshmen have made more starts during the Ferentz era, Desmond King in 12 games at cornerback in 2013 and receiver Dominique Douglas in 11 games in 2005.
3. Iowa center Tyler Linderbaum was named Tuesday as one of three finalists for the Outland Trophy, presented by the Greater Omaha Sports Committee to the top interior lineman in college football.
A 32-game starter for the Hawkeyes on the offensive line, Linderbaum has anchored a front five that has helped Iowa build a 25-7 record when he has started at center since shifting from a spot on the defensive line at the end of his first year in the program.
Other finalists for the award are Georgia defensive tackle Jordan Davis and North Carolina State offensive tackle Ikem Ekwonu.
The winner will be announced on Dec. 9 as part of the virtual Home Depot College Football Awards Show.
The official presentation of the Outland Trophy will take place in Omaha on Jan. 12.
Four Hawkeyes have previously won the Outland Trophy, most recently in 2014 when Brandon Scherff won the honor.
Robert Gallery won it in 2003, Alex Karras in 1957 and Calvin Jones in 1955. Only Nebraska, Alabama and Oklahoma have had more Outland winners than the Hawkeyes.
4. Coach Kirk Ferentz said Tuesday that senior free safety Jack Koerner and redshirt freshman offensive lineman Mason Richman have a chance to play at Nebraska on Friday.
Koerner sat out Iowa's win over Illinois last weekend and Richman has missed the Hawkeyes' last two games.
Injured cornerback Matt Hankins will not be available to play against the Cornhuskers.
"Matt is definitely out and everybody else is kind of in an iffy spot right now,'' Ferentz said. "Koerner looked okay (during Tuesday's practice), we'll see how long he can go. Terry Roberts is still iffy and Mason Richman has a chance. We'll see how he holds up throughout the week, kind of go from there.''
5. Hawkeye defensive coordinator Phil Parker was named Tuesday as one of 15 semifinalists for the Broyles Award, presented to the top assistant coach in college football.
Parker is in his 23rd season on the Iowa staff and has coordinated the Hawkeye defense for the past 10 seasons.
His current Iowa defense leads the nation with 21 interceptions and ranks fourth nationally with 26 takeaways.
6. That pass that Nico Ragaini threw turned out not to be a pass after all.
Ragaini was credited in game statistics with an incomplete pass on a first-and-10 play from the Illinois 17-yard line in the fourth quarter Saturday but the incompletion was negated by a roughing the passer call.
The NCAA's statistical software provider is attempting to correct the statistical glitch.
7. True freshman Cooper DeJean had a big tackle on special teams late in the third quarter of Saturday's win over Illinois to help Iowa flip field position.
DeJean finished with two tackles while playing in his fourth game.
If he plays in any of the Hawkeyes' remaining games, he will lose a chance to redshirt this season but with multiple injuries in the secondary, DeJean is expected to play on special teams and fill a reserve role at cornerback in Friday's game at Nebraska.
"It's full speed ahead,'' Iowa coach Kirk Ferentz said. "He wants to play, and that's the main thing.''
8. Iowa moved up one position this week in the College Football Playoff poll.
The Hawkeyes sit in 16th in this week's poll, remaining in fifth among ranked Big Ten teams.
Georgia tops this week's poll followed by Ohio State, Alabama, Cincinnati and Michigan in the top five. Michigan State in 12th and Wisconsin in 14th also sit above Iowa.
9. Iowa will be the third straight top-20 opponent that Nebraska has played.
That's a rarity for any program, including the Cornhuskers.
Friday will be the second time in school history and the first time since 1968 that Nebraska has played three consecutive games against top-20 teams during the regular season.
10. With a pair of interceptions in Saturday's win over Illinois, Iowa continues to lead the nation with 21 interceptions this season.
The Hawkeyes have intercepted 85 passes since 2017, the most of any program in the nation.
Eleven different Hawkeyes have had at least one interception this season. Dane Belton leads the Big Ten with five picks.