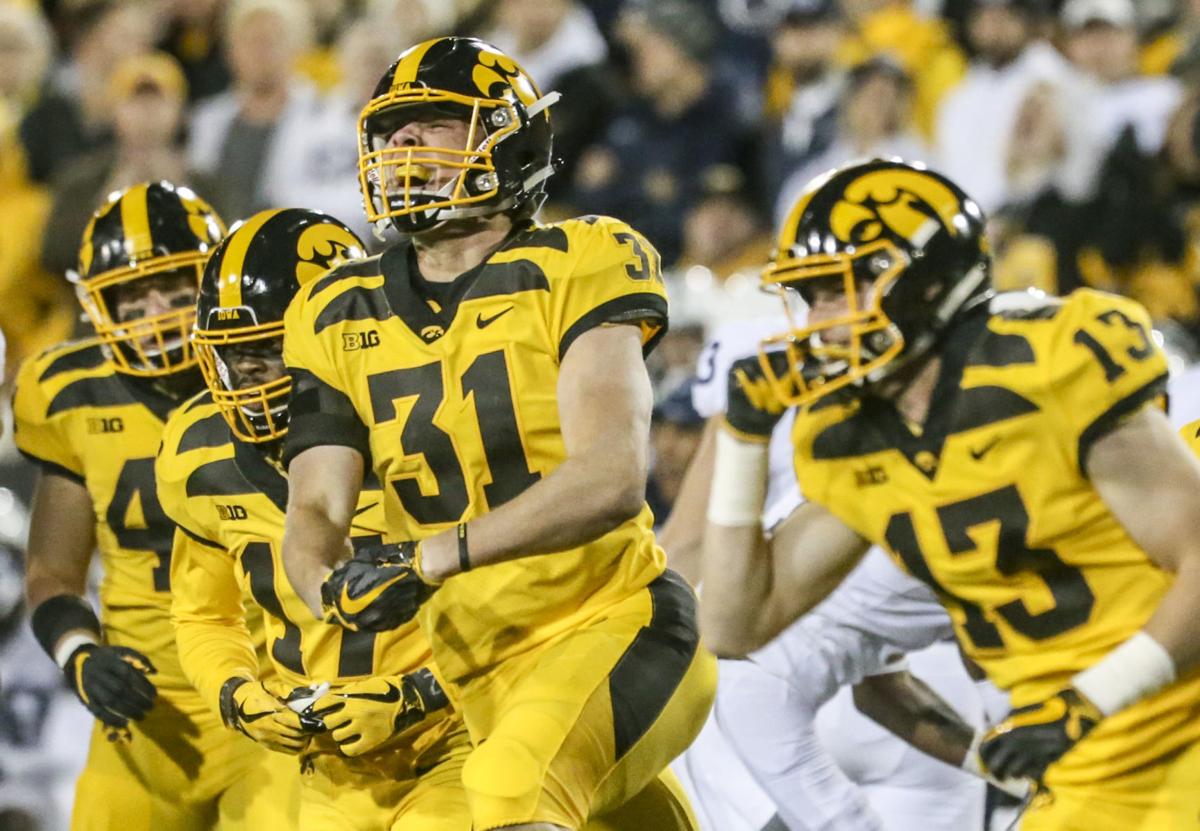 Kaevon Merriweather's patience, Keith Duncan trying to get back to par and James Franklin on Iowa's defense are all part of today's Hawkeye 10@10.
Your daily dose of Iowa news and notes is delivered each weekday at 10 a.m. at hawkmania.com and qctimes.com, your home for all things Hawkeye.
Here is today's Hawkeye 10@10:
1. Patience is paying off for Iowa strong safety Kaevon Merriweather.
The sophomore was dealt a tough blow a year ago, starting at free safety in the Hawkeyes' season opener against Miami (Ohio) and performing well before suffering a foot injury on the practice field the day before Iowa's second game of the season.
By the time Merriweather returned to the field, Jack Koerner had emerged as a starter and Merriweather was relegated to a back-up role, playing in just one other game during Iowa's 10-3 season.
He chose to use the experience as motivation and an opportunity to learn.
"I looked past it all and used that year as a way for me to grow mentally as a player,'' Merriweather said. "Just seeing the things that were going on on the field during the game and also going back to look at film.''
He believes the experience has only helped him.
"Probably more than I thought it would,'' Merriweather said. "I think it definitely prepared me for this year.''
Now in his third year in the Iowa program, Merriweather has worked his way back into the lineup and now starts at strong safety while Koerner remains the Hawkeyes' starting free safety.
Merriweather said having the chance to learn from teammates throughout his career has been beneficial.
He said he initially learned through the help of Amani Hooker and Jake Gervase and later from Geno Stone.
"We've had a lot of good examples around here, teammates who are willing to help teammates improve,'' Merriweather said.
2. Iowa will likely continue to have Seth Benson and Jack Campbell split time at middle linebacker in Saturday's 2:30 p.m. game at Penn State.
Benson has started the last three games at the position and was joined last week at Minnesota by Jack Campbell, splitting time following the return of the sophomore who missed Iowa's first three games with an illness.
The pair rotated every couple of drives last week against the Golden Gophers and Benson said it worked out well.
"When I was on the sideline, I was trying to act like I was out there, so then when (Campbell) came off the field, I could give him what I saw and then he would do the same for me,'' Benson said. "It helps each of us out so we can play faster. It's another set of eyes that knows exactly what we need to do.''
3. Kicker Keith Duncan will taking the field at Beaver Stadium on Saturday looking to stop a streak.
The Iowa senior has missed his last two field goal attempts after connecting on his first four tries of the season.
"After going 4-for-4, the last two games have been a little disappointing,'' Duncan said. "I'm a golf guy though and the other day I watched Tiger Woods take a 10 on a par-3 he had probably played hundreds of times, probably used the same clubs on hundreds of times, but he followed that by going 5-under the rest of his round.''
Duncan sees an opportunity to learn from that.
"It comes down to how you respond, how you carry yourself,'' he said.
4. Penn State coach James Franklin said whatever transpires Saturday, the Nittany Lions will have to earn it against the Iowa defense.
"They're always one of the bigger fronts that we play, usually over 300 pounds, typically, at the tackles and have length, usually 6-foot-4 or taller,'' Franklin said.
"Same thing at defensive end. They're usually 270, usually on the bigger side of the defensive ends that we face and they usually have tremendous length. They're not as long as they have been in the past.
"They're stout and physical at the linebacker position and they blitz enough to keep you honest and create situations where your five individual blocks have to win or you're going to give up pressures to the quarterback.''
5. Iowa selects its weekly game captains by a vote of its leadership group.
Coach Kirk Ferentz said senior defensive back Matt Hankins will join the season-long selections of Chauncey Golston, Nick Niemann, Mekhi Sargent, Tyler Linderbaum and Keith Duncan as captains this week because he was selected by teammates.
"All of the guys that are captains, they are in the same cluster, really close votes,'' Ferentz said, praising the leadership within this year's team. "Matt rose up and was tied with some other guys, so how do you do a tiebreaker? We're not going to flip a coin. Matt is certainly worthy of it.''
6. The Hawkeyes have lost their last six games against Penn State, but the last three of those games have been decided by one possession.
In 2017, Trace McSorley threw a walk-off touchdown pass as time expired in the Nittany Lions' 21-19 win at Iowa. A year later, Nick Scott intercepted a pass on a first-and-goal play from the 3-yard line with 3 minutes, 18 seconds remaining to preserve a 30-24 win and last season, an interception by Jaquan Brisker set up the game-deciding score in a 17-12 game.
"Six games against this program and they've been great games that we've been fortunate enough to find all different types of ways to get wins,'' Penn State coach James Franklin said.
7. Iowa's defense has done something recently that no other college football team can match.
The Hawkeyes have not allowed 30 points to an opponent since Nov. 3, 2018, a string of 21 straight games which ranks as the longest in the Football Bowl Subdivision.
Ohio State is second on that list at 19 games, with San Diego State at 18, Florida Atlantic at 12, Buffalo at 10 and Cincinnati at 9 next in line.
8. A pair of early-game turnovers prompted Penn State to change quarterbacks in last week's 30-23 loss at Nebraska, replacing Sean Clifford with Will Levis.
A sophomore who was among prospects Iowa attempted to recruit, Levis completed 14-of-31 passes and helped the Nittany Lions rally late.
Coach James Franklin saw some things to like in Levis' performance.
"Will's got a really strong arm and can drive the ball and make defenses defend the entire 53 and a third of the field, which is helpful,'' Franklin said. "His arm strength is also going to help with yards after the catch. That showed up on Saturday.''
Franklin said Levis also showed that he needs to continue to work on improving his touch, knowing "when to take a little bit of octane off the pass and put it in a position where our guy has a chance to go up and make the play.''
9. Scoring points hasn't been an issue for Iowa.
The Hawkeyes are currently averaging 31 points per game. If Iowa can maintain that, it would be the program's highest scoring average since the Hawkeyes averaged 36.5 points during the 2002 season.
10. There has been no place like home for Penn State since the doors first opened at Beaver Stadium in 1960.
The Nittany Lions are 297-76 in games played there, a .796 win percentage that ranks as the sixth-best in college football for teams in their current stadiums.
Only two teams, Alabama with an .833 win percentage at Bryant-Denny Stadium that opened in 1929 and Oklahoma with an .814 win percentage at Memorial Stadium which opened in 1923, have a better win percentage in facilities older than Beaver Stadium.
Be the first to know
Get local news delivered to your inbox!