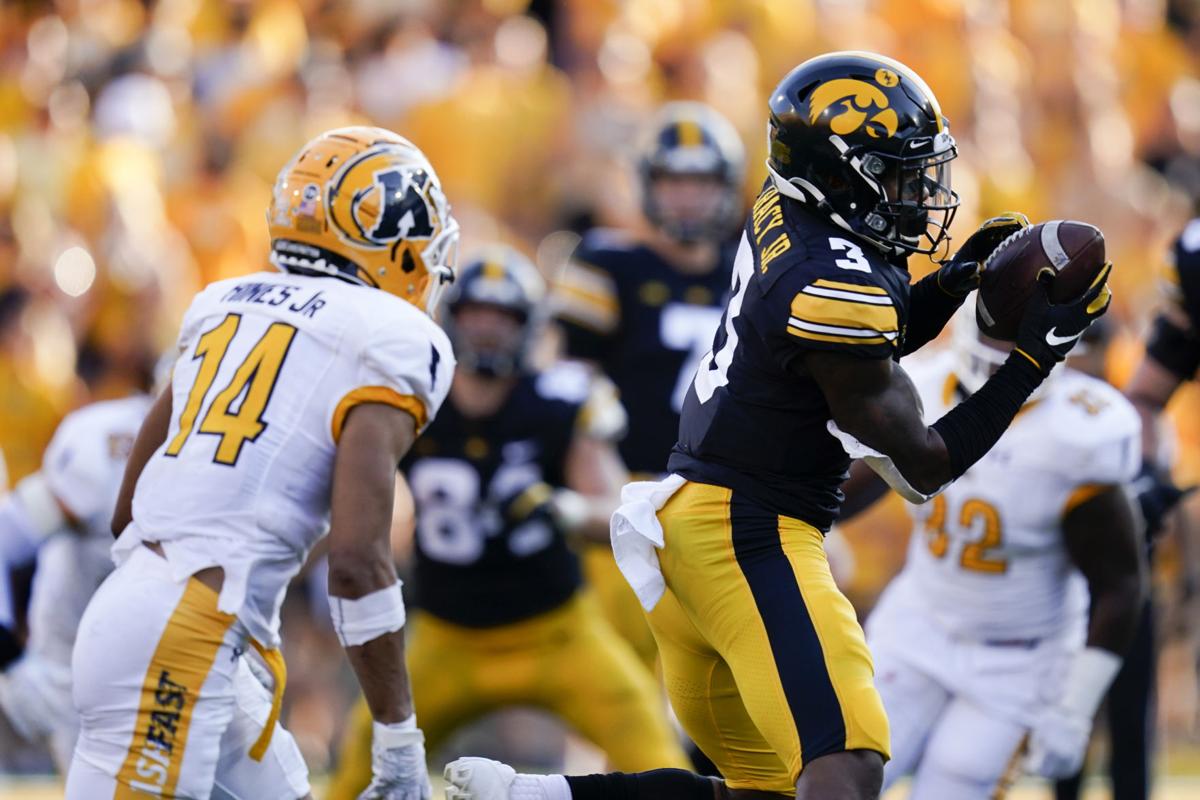 Tyrone Tracy's productive day, healthy Hawkeyes and Colorado State's big leg have all found their way into today's Hawkeye 10@10.
Delivered each weekday at 10 a.m. during game week at hawkmania.com, your home for all things Iowa, the Hawkeye 10@10 serves up your daily dose of Iowa football news and notes.
Here is today's Hawkeye 10@10:
1. Tyrone Tracy Jr. had his most productive day as a receiver since his freshman season during Saturday's 30-7 victory over Kent State.
The junior caught five passes for 43 yards, his best performance since catching six passes in consecutive games against Minnesota and Illinois during the final weeks of the regular season in 2019.
He said it felt good for Iowa's offense to put together a productive performance from start to finish.
"We wanted to get into the end zone again in the fourth quarter. We didn't want a field goal. Although field goals are amazing things, we wanted six and we got it,'' Tracy said.
Tracy had combined for four receptions in Iowa's first two games, a total that matched his single-game high from a year ago in the Hawkeyes' win over Michigan State.
2. Last week's depth chart is this week's depth chart for the Iowa football team.
From Kent State week to the Colorado State week depth chart released Monday, there is not a single change for the Hawkeyes.
That's a reflection on the relative good health Iowa has maintained throughout its 3-0 start to the season.
Kyler Schott remains listed as the back-up to Justin Britt at right guard.
3. Iowa's defense pitched a shutout in the second half of Saturday's 30-7 victory over Kent State and has allowed just 10 second-half points during the Hawkeyes' 3-0 start to the season.
Cornerback Riley Moss said the eight-and-a-half minute drive the Iowa offense put together late in the second quarter helped keep things fresh.
"We weren't on the field very much in that second quarter,'' Moss said. "It's nice because we get a break and they're going to go down and score. It's always good when the offense can put together big drives like that and run the clock out.''
4. The effort of redshirt freshman Gavin Williams earned praise from quarterback Spencer Petras on Saturday.
The former West Des Moines Dowling prep rushed four times for 17 yards and caught three passes for 14 yards.
"He's a tough guy who runs hard,'' Petras said. "I trust him. It was good to see him have the gains he had on his first couple of runs. He had a nice catch on third down, a good run on fourth down. He did a lot of good things.''
5. Iowa coach Kirk Ferentz said the Hawkeyes' 20-play, 95-yard scoring drive in Saturday's win over Kent State should help Iowa's offensive players understand what they are capable of doing.
"It's illustrative of what it takes to be a good offense,'' Ferentz said. "It's just concentrating play after play, not worrying about trying to make the big play. I think sometimes I get the feeling standing there that we're trying to force things a little bit too much sometimes. You want a player to try to do his best, but just let things play out.''
6. Heading into Saturday's game at Iowa, Colorado State kicker Cayden Camper was named Monday as one of three Lou Groza Award Stars of the Week.
The honor recognizes the top work of kickers in college football each week. Camper hit five field goals in the Rams' 22-6 road win over Toledo last weekend.
Camper, a junior from Pueblo, Colo., had missed his last three field goal attempts coming into the game before connecting from 47, 42, 31, 29 and 23 yards and hitting his only PAT try in the win.
7. Center Tyler Linderbaum believes a lot of long-term good can come from Iowa's long scoring drives against Kent State.
"Any time we're backed up, our next objective is to get the first down and get some breathing room. Then your next goal is to score a touchdown,'' Linderbaum said. "It was a long drive, especially being hot out made it a tough one but the defense was tired, too. Just keep pushing the ball and finding the end zone was important.''
8. Iowa quarterback Spencer Petras said Tyler Goodson's 153-yard rushing effort was also a byproduct of improved play by the Hawkeyes' offensive line.
"He ran hard and ran explosively, but none of that is possible without the line,'' Petras said.
"Those are the guys who get us started both in the running and throwing game. T-Good is the one who gets the glory with the ball in his arms, but it is only possible with those guys up front who bust their tail and make a hole for him.''
9. Players from Michigan State, Ohio State and Penn State were named as the Big Ten offensive and defensive players of the week on Monday.
Michigan State quarterback Payton Thorne and Ohio State running back TreVeyon Henderson shared the offensive award while Penn State linebacker Brandon Smith was named the defensive player of the week.
Thorne, a sophomore, completed 18-of-31 passes for 261 yards and four touchdowns to lead the Spartans to a 38-17 win over 17th-ranked Miami (Fla.).
Henderson, who was also named the Big Ten freshman of the week, rushed for 277 yards and three touchdowns on 24 carries in the Buckeyes' 41-20 victory over Tulsa including 207 rushing yards in the second half.
Smith, a junior, led the Nittany Lions in their 28-20 win over 22nd-ranked Auburn with a career-high 10 tackles.
Aron Cruickshank of Rutgers and Joseph Petrino of Maryland shared special teams player of the week recognition.
Cruickshank returned a punt 62 yards for a touchdown in the Scarlet Knights' win over Delaware while Petrino connected from 32 yards as time expired to kick the first game-winning field goal of his career in the Terrapins' 20-17 win at Illinois.
10. Quarterback Spencer Petras' numbers during Iowa's ongoing nine-game win streak have been solid.
The junior has completed 141-of-240 passes for 1,548 yards during the Hawkeyes' nine-game run, throwing 10 touchdown passes and being intercepted twice.
A look at Iowa in bowl games
1957 Rose Bowl: Iowa 35, Oregon State 13
PASADENA, Calif. — After a season dominated by defense, Clinton's Kenny Ploen earned MVP honors for Iowa by completing 9-of-10 passes and rushing for 59 yards including a 49-yard touchdown run. Collins Hagler led a 301-yard rushing effort by the Hawkeyes, gaining 85 yards on 10 carries.
1959 Rose Bowl: Iowa 38, California 12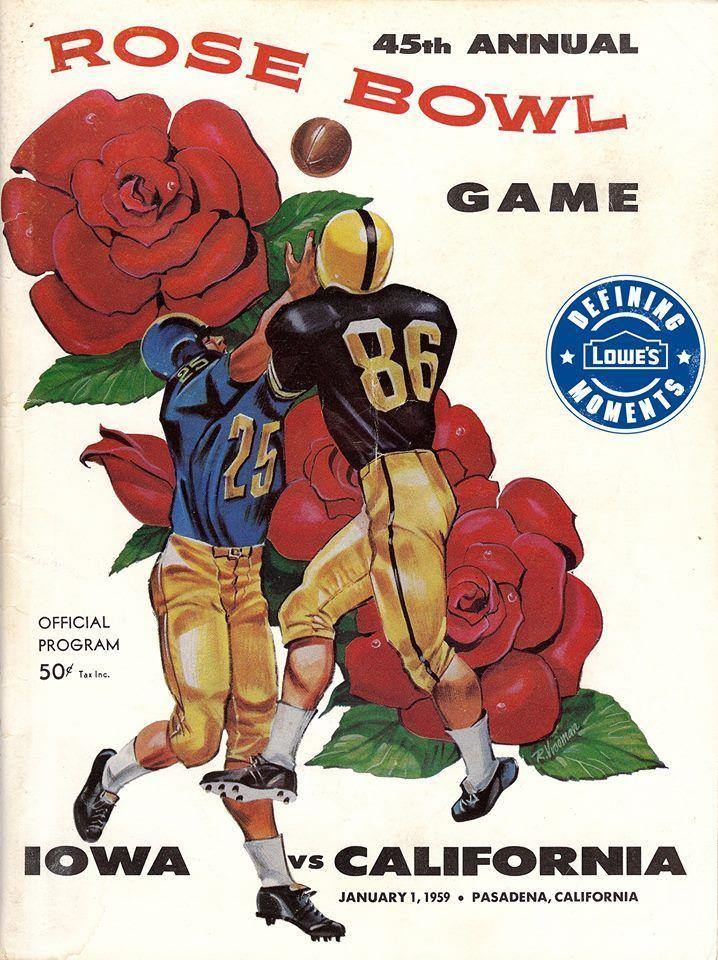 PASADENA, Calif. — Bob Jeter rushed for 194 yards and Willie Fleming scored a pair of touchdowns as Iowa established Rose Bowl records with 516 total yards and 429 rushing yards. Quarterback Randy Duncan completed 5-of-7 passes for 50 yards for the Hawkeyes.
1982 Rose Bowl: Washington 28, Iowa 0
PASADENA, Calif. — The Hawkeyes ended their first winning season in 20 years in frustrating fashion. Washington freshman Jacques Robinson rushed for 142 yards and two touchdowns in a game which saw the Hawkeyes turn the ball over five times. The Huskies took a 13-0 halftime lead after Iowa failed to convert on a 4th-and-7 Pete Gales pass late in the second quarter and Washington countered with a score with :20 left in the half.
1982 Peach Bowl
ATLANTA — Chuck Long completed 14-of-17 passes in the first half and threw for 304 yards in the game as the Hawkeyes broke open a 21-7 halftime lead. Dave Moritz caught eight first-half passes for 168 yards and Ronnie Harmon caught a pair of touchdown passes.
1983 Gator Bowl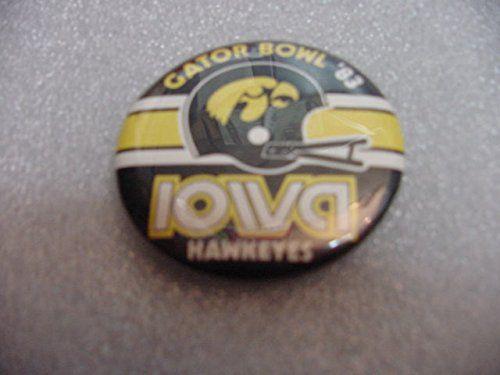 JACKSONVILLE, Fla. — In a game played in a 13-degree wind chill, Doug Drew recovered a fumbled punt attempt in the end zone late in the second quarter to give the Gators a 14-3 halftime lead. Chuck Long was intercepted four times. Owen Gill led Iowa with 83 rushing yards, four fewer than Florida's Neal Anderson.
1984 Freedom Bowl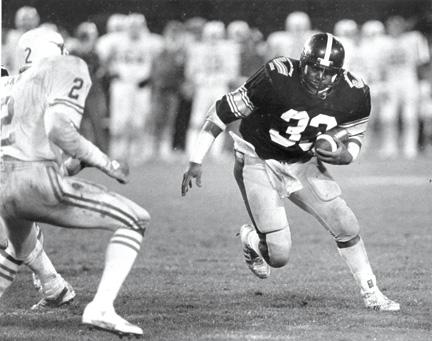 ANAHEIM, Calif. — Chuck Long enjoyed one of his best games as a Hawkeye, completing 29-of-39 passes for 461 yards and six touchdowns in a game played in a steady rain. Iowa, which led 24-17 at halftime, broke the game open with 31 unanswered points in the third quarter. Robert Smith and Bill Happel totaled 115 and 104 receiving yards, respectively.
1986 Rose Bowl: UCLA 45, Iowa 28
PASADENA, Calif. — Eric Ball came off the bench to rush for 227 yards and score four times for the Bruins, reaching the end zone on runs of 30, 42, six and 32 yards. Chuck Long completed 29-of-37 passes for 319 yards for the Hawkeyes, but Ronnie Harmon lost four fumbles in addition to catching a career-high 11 passes for 102 yards.
1986 Holiday Bowl
Iowa 39, San Diego State 38
SAN DIEGO — Rob Houghtlin kicked a 41-yard field goal as time expired to finish off a late-game rally. Iowa scored 18 points in the final 8 minutes, 39 seconds to erase a 35-21 deficit. Mark Vlasic threw a pair of touchdown passes in the final quarter before a 49-yard kickoff return by Kevin Harmon helped set up the game-winning field goal.
1987 Holiday Bowl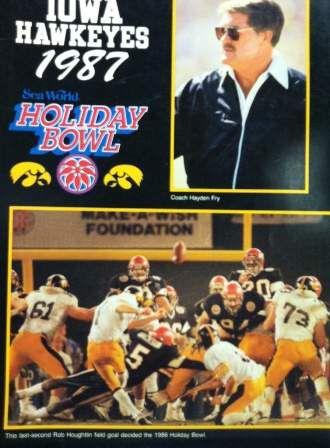 SAN DIEGO — Jay Hess recovered a punt blocked by Merton Hanks in the end zone and Anthony Wright returned an interception 33 yards for another score to position Iowa to win the game when David Hudson scored on a 1-yard run with in the fourth quarter of a game it trailed 19-7 at the half.
1988 Peach Bowl
North Carolina State 28, Iowa 23
ATLANTA — Quarterback Chuck Hartlieb threw for 428 yards, but also threw four interceptions among the Hawkeyes' seven turnovers in the game. Iowa fell behind 28-3 before scoring the game's final three touchdowns. West Branch's Marv Cook had 122 receiving yards and Deven Harberts caught two touchdown passes. The Wolfpack also turned the ball over seven times.
1991 Rose Bowl: Washington 46, Iowa 34
PASADENA, Calif. — Nick Bell topped 1,000 yards rushing for the season and Tony Stewart became Iowa's career rushing leader, among few bright spots in the Hawkeyes' third Rose Bowl loss in 10 years. The Huskies built a 33-7 halftime lead. Matt Rodgers and Bell each rushed for two scores for Iowa, while United Township's Jeff Skillett kicked a pair of extra points for Iowa.
1991 Holiday Bowl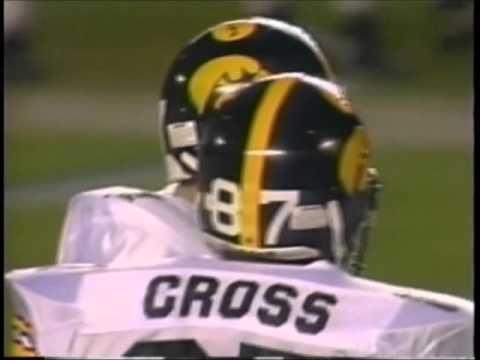 Iowa 13, Brigham Young 13
SAN DIEGO — Mike Saunders rushed for two first-half touchdowns, but 1990 Heisman Trophy winner Ty Detmer passed for 350 yards to help BYU rally from a 13-0 deficit. The Cougars moved the ball to the Iowa 18-yard line with 30 seconds remaining, but Carlos James intercepted a pass to force the only tie in Hawkeye bowl history.
1993 Alamo Bowl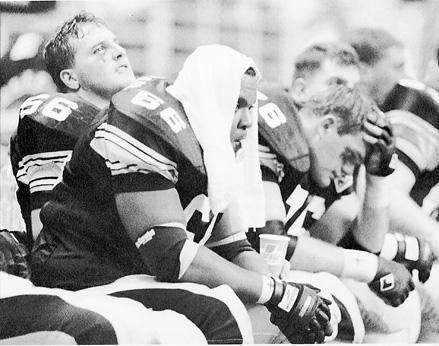 SAN ANTONIO — A 61-yard interception return by Jerrott Willard of a Paul Burmeister pass left the Hawkeyes in a 23-0 hole at halftime. Iowa's only points in Hayden Fry's first return to his home state as the Hawkeyes' coach came on a 42-yard field goal in the third quarter by Brion Hurley.
1995 Sun Bowl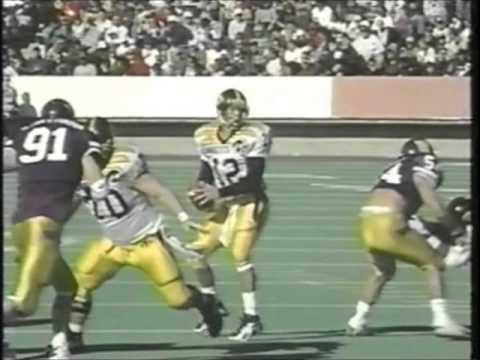 EL PASO, Texas — Sedrick Shaw rushed for 135 yards and Bettendorf's Tavian Banks gained 122 as the Hawkeyes built a 21-0 lead against the Pac-10 co-champions and never looked back. Matt Sherman completed 11-of-24 passes in the win and the Hawkeyes defense, led by eight tackles by Vernon Rollins, forced three fumbles and four sacks.
1996 Alamo Bowl
SAN ANTONIO — Matt Hughes, Vernon Rollins and Jared DeVries led an Iowa defense which limited Doak Walker Award winner and 2,000-yard rusher Byron Hanspard to 64 yards rushing. Sedrick Shaw rushed for 113 yards  and Tim Dwight caught six passes for 105 yards as the Hawkeyes built a 17-0 halftime lead.
1997 Sun Bowl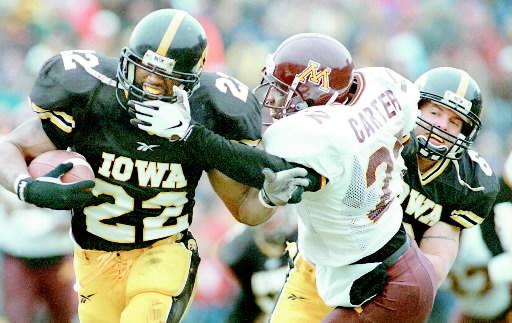 EL PASO, Texas — Bettendorf's Tavian Banks entered the game as the nation's fourth-rated rusher but was limited to 52 yards on 14 carries as Iowa fell behind 10-0 by the half against an Arizona State which rushed for 268 of its 377 yards. Raj Clark and Matt Hughes had 12 tackles for Iowa, one more than recorded by the Hawkeyes' Ed Gibson of Davenport Assumption.
2001 Alamo Bowl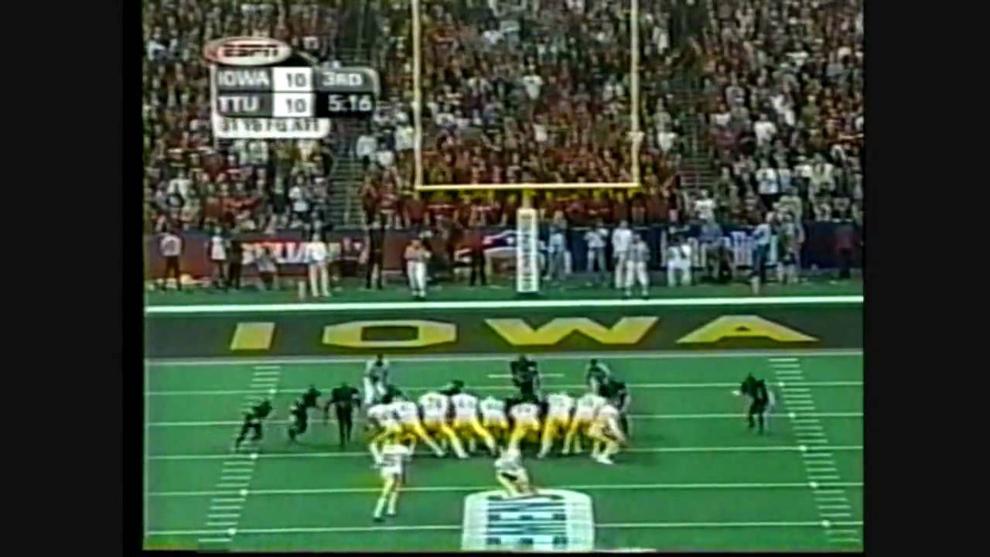 SAN ANTONIO — Nate Kaeding kicked a 47-yard field goal with 44 seconds remaining to give Kirk Ferentz his first bowl win as Iowa's head coach. The field goal was the fourth of the day for Kaeding. Aaron Greving rushed for 115 yards in place of injured starter Ladell Betts and Kyle McCann completed 19-of-26 passes in the win.
2003 Orange Bowl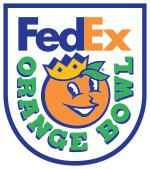 Southern California 38, Iowa 17
MIAMI — C.J. Jones opened the game by returning the opening kickoff 100 yards for a score, but USC answered with a four-play, 79-yard drive and never looked back in a game which was tied 10-10 at the half. Heisman Trophy-winning quarterback Carson Palmer passed for 303 yards, while Brad Banks connected on 15-of-36 passes for Iowa. Bob Sanders led the Iowa defense with 13 tackles.
2004 Outback Bowl
TAMPA, Fla. — Chris Leak threw a 70-yard touchdown pass to give the Gators an early lead, but Fred Russell rushed for 150 yards and Nathan Chandler threw for 170 as the Hawkeyes scored 27 unanswered points to earn the win. Sean Considine had nine tackles to lead an Iowa defense which held Florida to 57 rushing yards in Iowa's first January bowl win since 1959.
2005 Capital One Bowl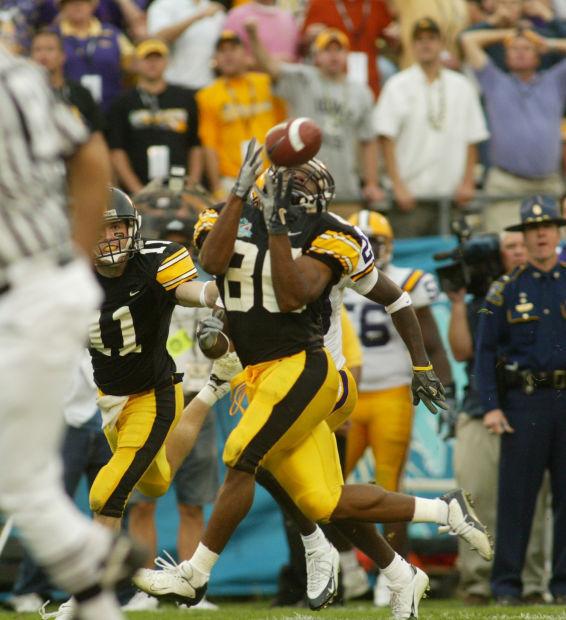 Iowa 30, Louisiana State 25
ORLANDO — Fifth-year senior Warren Holloway caught a 56-yard touchdown pass from Drew Tate as time expired as the Hawkeyes stunned LSU. Tate completed 20-of-32 passes for 287 yards, including 10 which were caught by Ed Hinkel. Davenport North's Marques Simmons scored on a 4-yard run with 12:48 left in the game before the Tigers' Skyler Green caught a pair of touchdown passes to give LSU a lead that didn't last. Abdul Hodge and Chad Greenway led Iowa with 15 and nine tackles, respectively.
2006 Outback Bowl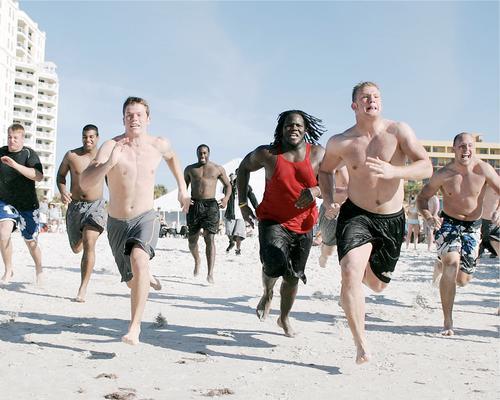 TAMPA, Fla. — Iowa staged a furious fourth-quarter comeback, including a pair of Drew Tate-to-Ed Hinkel touchdown passes and a 45-yard Kyle Schlicher field goal, but it wasn't enough for the Hawkeyes to overcome the 31-7 lead the Gators had built. Abdul Hodge led Iowa with 19 tackles, but Chris Leak completed 25-of-40 passes for 278 yards for the Gators.
2006 Alamo Bowl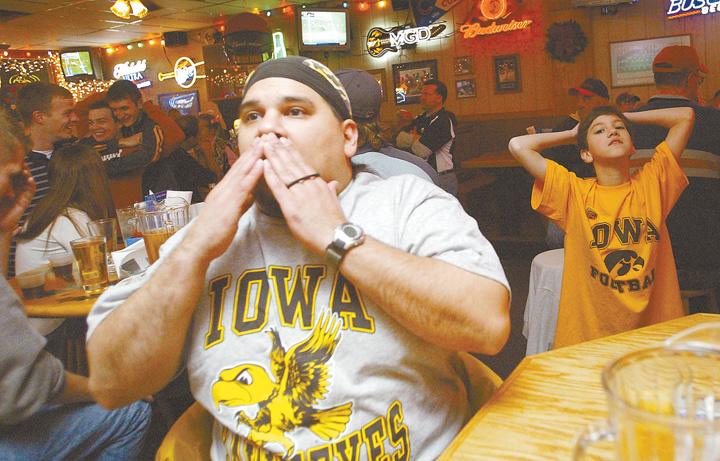 SAN ANTONIO — Albert Young scored on a 1-yard run and Andy Brodell caught a 63-yard touchdown pass from Drew Tate in the opening quarter, but Iowa couldn't make a 14-3 lead stick. The Longhorns scored 20 straight points, opening a 20-14 lead on a 72-yard touchdown pass by Colt MCoy, who completed 26-of-40 passes for 308 yards and two scores.
2009 Outback Bowl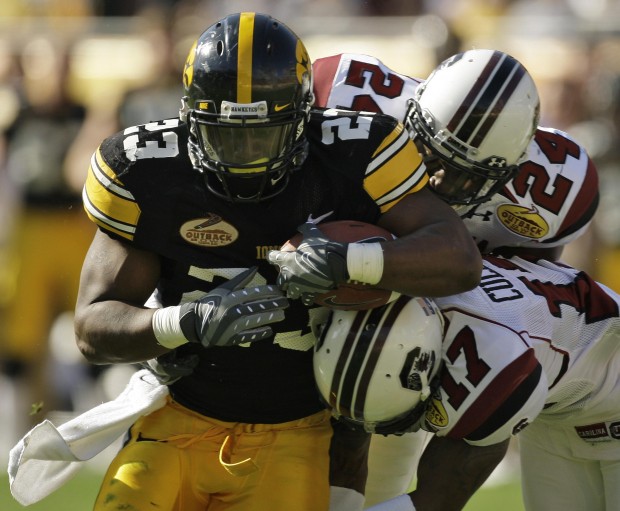 Iowa 31, South Carolina 10
TAMPA, Fla. — Shonn Greene rushed for 121 yards and three touchdowns and Ricky Stanzi completed 13-of-19 passes as Iowa scored the game's first 31 points. Tyler Sash intercepted a pair of passes, Bradley Fletcher grabbed a third and A.J. Edds recovered a pair of fumbles as the Hawkeyes limited South Carolina to 43 rushing yards.
2010 FedEx Orange Bowl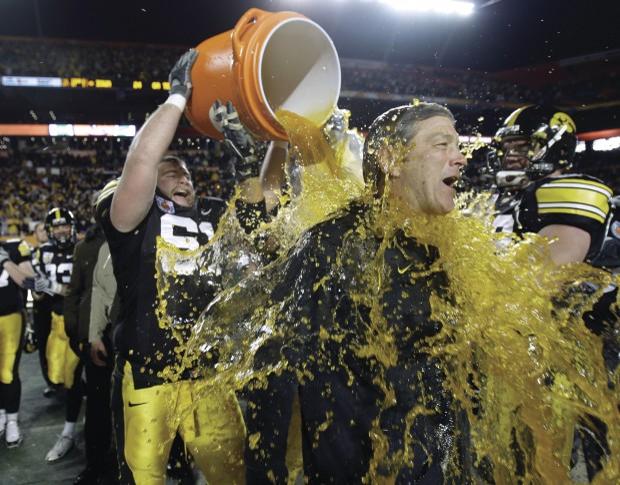 MIAMI — The Hawkeyes limited Georgia Tech to 155 yards of offense as part of a defensive effort which included a game-high 10 tackles by Bettendorf's Pat Angerer. Ricky Stanzi completed 17-of-29 passes for 231 yards and Iowa piled up 403 total yards of offense, including 113 rushing yards by Brandon Wegher, who iced the win with a 32-yard touchdown run in the fourth quarter.
2010 Insight Bowl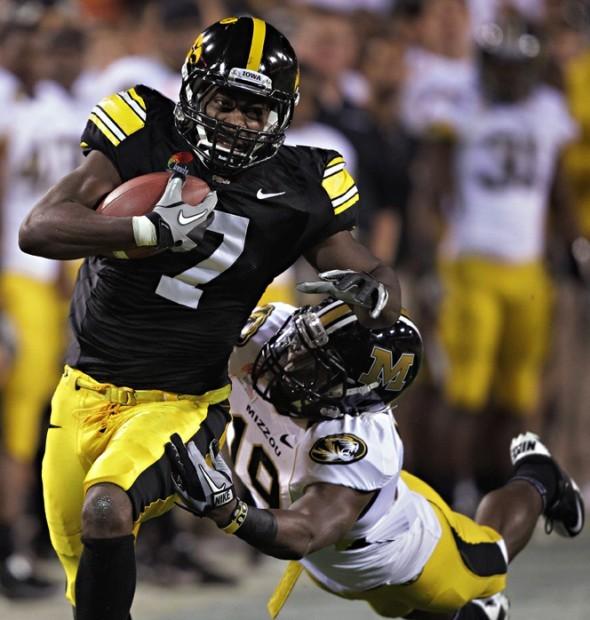 TEMPE, Ariz. — Freshman Marcus Coker rushed for 219 yards and two touchdowns, but Micah Hyde scored the game-deciding points when he returned an interception 72 yards for a score with 5 minutes, 32 seconds remaining. Bettendorf's Colin Sandeman led the Hawkeyes with four receptions, part of an 11-of-21 passing day by Ricky Stanzi.
2011 Insight Bowl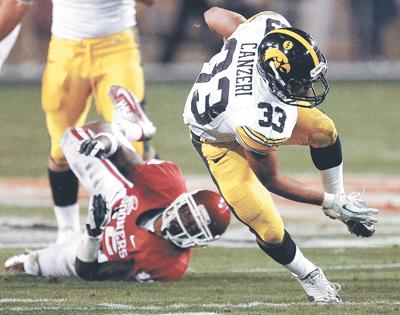 TEMPE, Ariz. — Blake Bell rushed for three scores and Landry Jones threw for a fourth in a game which saw the Sooners build a 21-0 lead through three quarters. Iowa's defense limited the Oklahoma offense, ranked fourth in the nation, to a season-low 275 yards. James Vandenberg completed 23-of-44 passes for 216 yards and Jordan Canzeri led Iowa with 58 rushing yards.
2014 Outback Bowl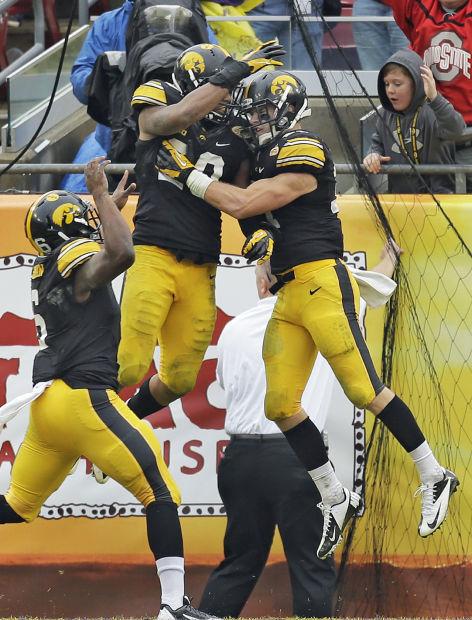 TAMPA, Fla. — Jeremy Hill left Iowa with too tall of a mountain to climb Wednesday at the Outback Bowl. The Louisiana State sophomore rushed for 216 yards and two touchdowns to lead the Tigers to a 21-14 victory over the Hawkeyes at rain-soaked Raymond James Stadium.
2015 TaxSlayer Bowl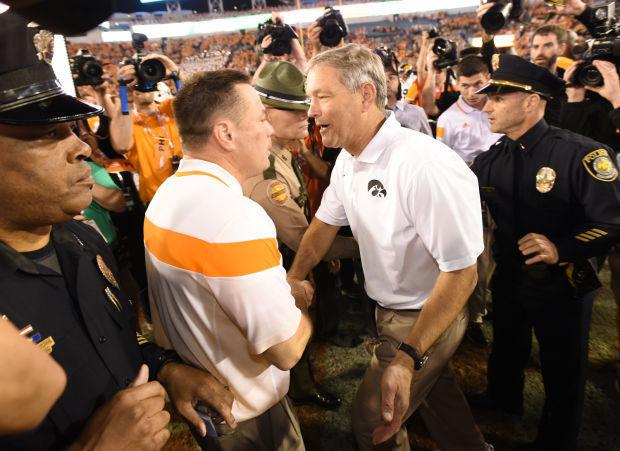 JACKSONVILLE, Fla. — After a 45-28 loss to Tennessee, Iowa quarterbacks Jake Rudock and C.J. Beathard were not made available to discuss their performance in the TaxSlayer Bowl on Friday. They were silenced after the Volunteers spoke loudly with their actions, dominating Iowa nearly every way imaginable as they picked apart the Hawkeyes' hopes of salvaging something out of the end of a 7-6 season that finished with three consecutive losses.
2016 Rose Bowl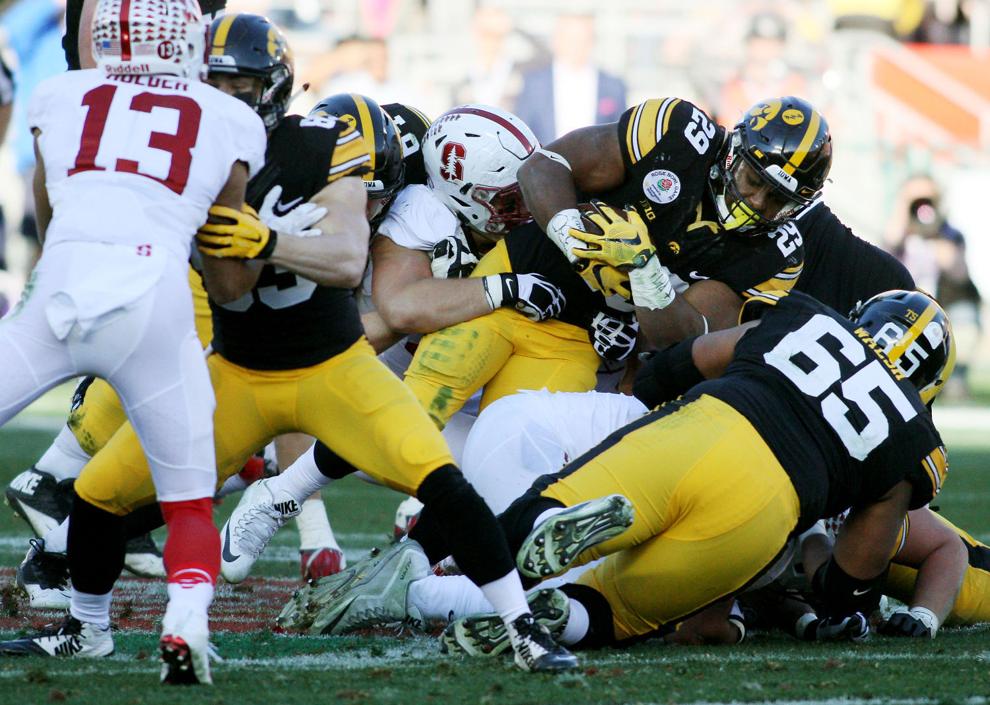 Christian McCaffrey refused to let Iowa script a Hollywood ending to a storybook season Friday.
The Heisman Trophy runner-up who did it all throughout the season for Stanford did it all again in the Rose Bowl, grabbing a 75-yard touchdown pass on the game's first play from scrimmage, rushing for 172 yards and returning a punt 63 yards for a score to lead the Cardinal to a 45-16 victory over the Hawkeyes.
McCaffrey did most of his work before the sun set behind the San Gabriel Mountain range that brackets the historic stadium, helping the Pac-12 champions to a 35-0 halftime lead and frustrating Iowa nearly every time he touched the ball.
2017 Pinstripe Bowl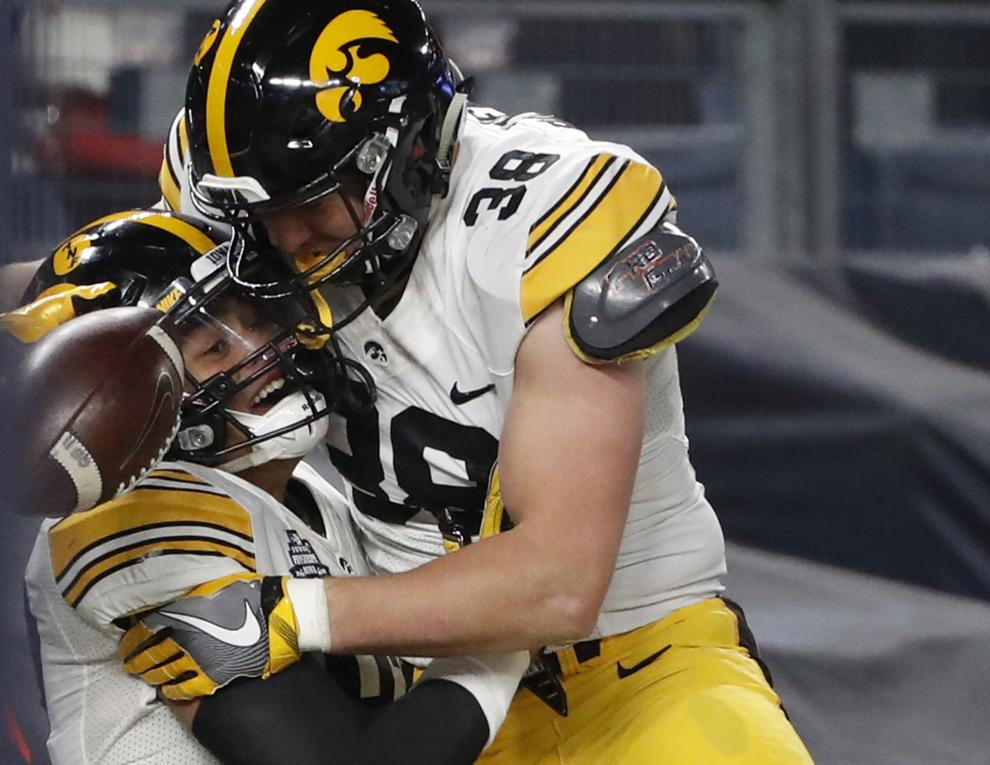 2017 Pinstripe Bowl: Iowa 17, Boston College
In 60 minutes of football in the Pinstripe Bowl on Wednesday at frigid Yankee Stadium, Iowa surprised, frustrated, stunned and won.
Mostly, the Hawkeyes simply persevered to end a string of five consecutive bowl losses, outscoring Boston College 17-3 in the second half to rally for a 27-20 victory.
Drake Kulick, a senior fullback from Muscatine, scored the game-deciding touchdown on his second carry of the season, plowing his way into the end zone on a 1-yard run with 3 minutes, 9 seconds remaining to break the 20-20 tie the Eagles had forged five minutes earlier.
"We stuck to plan, believed in ourselves and kept working," Kulick said. "Brian (Ferentz, the Iowa offensive coordinator) called my number, and I was like, 'OK, let's get this done.' It's a heck of a last carry for me, a heck of a memory."
In a game played in 23-degree weather with a wind chill hovering around 12, the Hawkeyes managed to cram an entire season of football into 60 minutes in front of a crowd of 37,667.
"In a lot of ways, this game was reflective of our season," said coach Kirk Ferentz, who earned his 143rd victory at Iowa to tie Hayden Fry as the program's all-time wins leader.
"We've had some ups and downs this year, some turbulence along the way, that type of thing but the guys pushed through it and that is certainly what happened today."
In many respects, Iowa beat Boston College at its own game.
The Hawkeyes, playing turnover-free football, took the ball away from the Eagles three times on a turf slickened by the frigid conditions.
"The turnover battle has been our weapon all season," Boston College tight end Tom Sweeney said. "It's been our difference maker, but they took that away from us."
The Hawkeyes set that tone early.
Jake Gervase, a junior safety from Davenport Assumption, intercepted Eagles quarterback Darius Wade on the third snap of the game and returned the ball 29 yards to the Boston College 6-yard line.
Iowa settled for the first of two field goals by Miguel Recinos on the ensuing possession, but the tone had been set.
"We talked a lot about takeaways and how in a game like this they could be big," Gervase said. "We knew it was going to be a physical, hard-hitting game, and we felt like there could be a few chances there to help us out."
The lead changed hands five times before Kulick reached the end zone, a score that followed a fumble recovery by Parker Hesse that came on an Anthony Nelson sack of Wade with 4:22 to play.
Akrum Wadley, named the game's most valuable player, followed with a 27-yard carry that set up a 17-yard pass to Nate Wieting to the 1-yard line to set up Kulick's second score of the season.
The Hawkeyes didn't give Boston College a chance to answer.
Josh Jackson ended the Eagles' next drive with his school record-tying eighth interception of the season. His pick at the Boston College 44-yard line with 1:18 remaining positioned Iowa to earn its first bowl win since a 2010 victory over Missouri.
"We wanted to send the seniors on this team out with a win," Jackson said, adding that his own future with the Hawkeyes following a record-setting junior year will be determined at a later date. "That was the motivation from the start, whatever it took to get it done and get that eighth win."
Finishing the season with an 8-5 record proved to be a bit of a challenge.
Boston College running back A.J. Dillon gained 126 of his 157 rushing yards in the first half, carrying 18 times to send the Eagles (7-6) on their way to a 17-10 advantage by halftime.
The Hawkeyes struggled to gain much traction offensively at all through two quarters despite taking a 10-7 lead in the opening minutes of the second quarter when Stanley hit Noah Fant with an 8-yard touchdown pass.
As Boston College piled up 281 yards in the first half, Iowa mustered just 56.
A 39-yard touchdown catch by Sweeney and a 30-yard field goal by Colton Lichtenberg pushed the Eagles to a lead that didn't last as Iowa's defense held Boston College to one first down in the third quarter.
"I don't think any of our adjustments were major. I thought we just came out and played tough, gritty football in the second half," Ferentz said. "Starting up front, the intensity seemed to move up a notch after halftime."
Wadley, who ran for 88 of the 101 yards Iowa managed on the ground, scored the only points of the third quarter on a 5-yard carry that Stanley helped set up with a 32-yard pass to Nick Easley on a third-and-seven play.
The Hawkeyes had been 0-for-5 on third down conversions up to that point and didn't convert on another until Wadley caught a 17-yard pass on a third-and-eight play that helped set up a 38-yard field goal by Recinos to give Iowa a 20-17 edge with 11:32 to play.
"We held them to 200 yards of offense, but they hit us with a couple of big plays that came back to haunt us," Boston College coach Steve Addazio said. "In a game as close as this, that can make all the difference and it did."
2017 Outback Bowl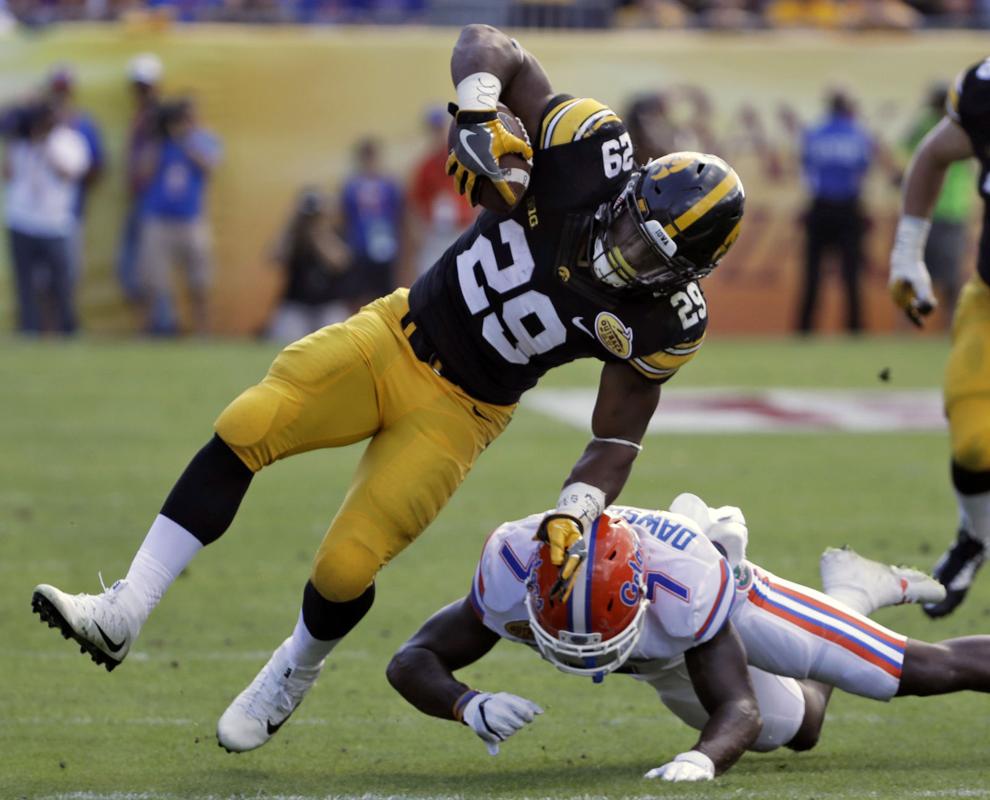 TAMPA, Fla. — Two defining moments six minutes apart led to one frustrating finish for the Iowa football team.
One was on offense, the other on defense, and both sent 20th-rated Florida on its way to a humbling 30-3 victory over the 21st-ranked Hawkeyes in the Outback Bowl.
Iowa and Florida were locked in a 3-3 defensive struggle midway through the second quarter before the Hawkeyes put together their first sustained drive of the game. A six-yard pick-up by C.J. Beathard from the Florida seven-yard line left Iowa with a fourth-and-goal situation inside the one.
The handoff went to LeShun Daniels, but the Gators' Marcell Harris blew through a missed block and dropped the Hawkeye senior for a two-yard loss.
Things got even tougher for the Hawkeyes six minutes later after the two teams traded punts, a 51-yarder by the Gators' Johnny Townsend followed a 53-yard effort from Ron Coluzzi which left Florida on its 15-yard line with 2 minutes, 2 seconds remaining in the first half.
Mark Thompson didn't keep the Gators there for long, catching a screen pass from Austin Appleby and eluding tackle attempts by five Hawkeyes on his way to an 85-yard touchdown run.
The longest pass play in Outback Bowl history left Iowa in a 10-3 halftime hole.
 Keith Duncan added to the Hawkeyes' frustration in the third quarter when Iowa took the kickoff and moved 62 yards on 13 plays before the true freshman missed a kick for just the second time this season, shanking a field goal try from 30 yards with 7:35 left in the quarter.
Florida answered with a 12-play, 80-yard march of its own that ended with a six-yard Appleby-to-DeAndre Goolsby touchdown pass with :48 to play in the third.
Four snaps later, Iowa's chances were all but over when Chauncey Gardner returned the first of three interceptions thrown by Beathard in the fourth quarter 58 yards for a touchdown which left the Hawkeyes in a 24-3 hole.
Gardner, named the game's most valuable player, and Daniel McMillian picked off Beathard on Iowa's next two possessions as well and Florida's Eddy Pineiro followed with his second and third field goals of the game.
2019: Outback Bowl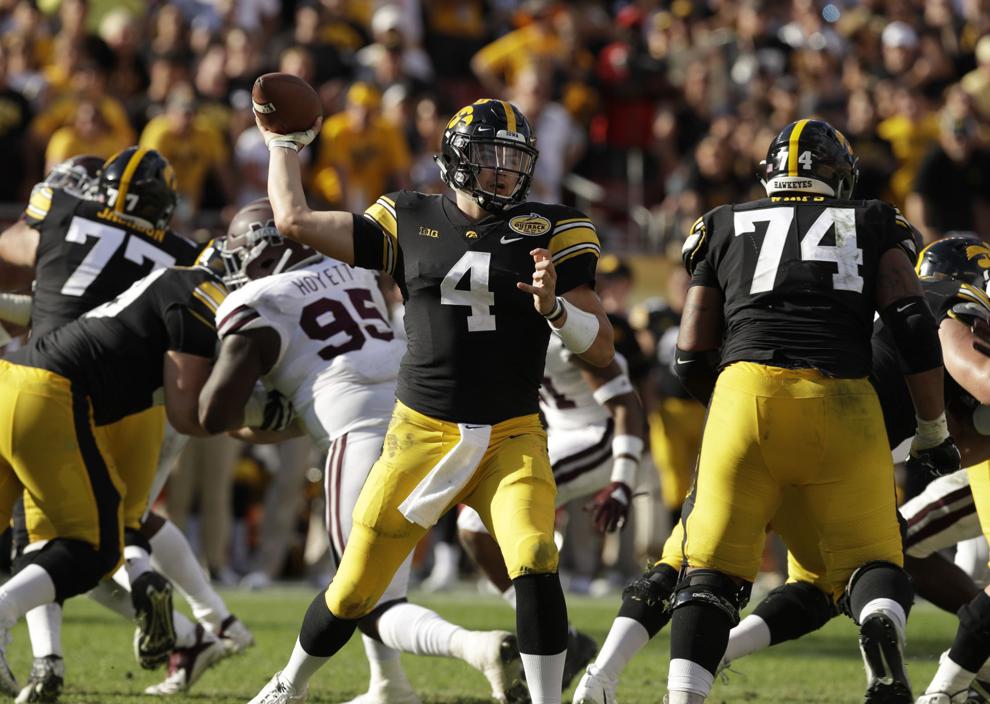 Iowa 27, Mississippi State 22
TAMPA, Fla.  — Safety Jake Gervase made an interception in the end zone to help preserve a late lead, and ball-hawking Iowa Hawkeyes beat No. 18 Mississippi State in the Outback Bowl 27-22 Tuesday.
Gervase also batted down an errant fourth-down pass to end the Bulldogs' final drive at the Iowa 32 with 25 seconds left. Two earlier Mississippi State threats in the fourth quarter led to only three points.
The Hawkeyes totaled just 199 yards, with 75 coming on a touchdown pass from Nathan Stanley to Nick Easley, but they converted three takeaways into 17 points.
Stanley threw for 214 yards and three scores. The Hawkeyes won despite netting minus 15 yards rushing, and their three running backs totaled 4 yards in 15 carries.
Iowa (9-4) earned its biggest postseason victory since an Orange Bowl win over Georgia Tech to cap the 2009 season. Mississippi State (8-5) lost to a team outside the top 15 for the first time.
Trailing 24-19, the Bulldogs had a first down at the Iowa 1 early in the fourth quarter, but three quarterback draws lost 2 yards and they settled for a field goal.
They were again on the verge of taking the lead with nine minutes left, but receiver Stephen Guidry bobbled a pass in the end zone, and Gervase snatched it away. The Hawkeyes then drove 50 yards for a field goal to go up 27-22.
The Hawkeyes scored two touchdowns in 97 seconds for a 17-6 lead. The Bulldogs rallied with two touchdowns in 18 seconds to go up 19-17, with quarterback Nick Fitzgerald giving them the advantage on a nifty 33-yard touchdown run — his 100th career score rushing or passing.
But on their next possession, Fitzgerald's tipped pass was intercepted by defensive lineman Chauncey Golston. Stanley then scrambled to convert a fourth and 1, and on the next play he hit Easley to put Iowa ahead to stay, 24-19.
The Hawkeyes won because they kept the game close early despite a slow start. They trailed only 6-0 after one quarter even though they had minus 8 yards and a 12-yard punt.
Mississippi State tried some trickery in the first quarter by throwing down the middle to quarterback Keytaon Thompson, but he dropped a potential touchdown pass and the Bulldogs settled for a field goal.
The Bulldogs had 90 yards in penalties while Iowa had none. Targeting and unsportsmanlike conduct penalties on Mississippi State jump-started the Hawkeyes' offense and led to a field goal for their first score. A 51-yard completion for the Bulldogs was negated by a holding penalty.
The Bulldogs, who allowed only 12 touchdowns in the regular season, gave up two in quick succession in the second quarter.
First Easley slipped several yards behind the secondary to catch Stanley's long throw in stride. The touchdown pass was the 50th of Stanley's career — and his longest. It was the longest play allowed by the Bulldogs this season.
Two snaps later, A.J. Epenesa's strip sack of Fitzgerald gave the Hawkeyes the ball at the 13, and they scored on Ihmir Smith-Marsette's touchdown catch for a 17-6 lead. The fumble lost was Fitzgerald's first in 511 carries.
Iowa will likely finish in the Top 25 for only the second time in the past nine seasons. Coach Kirk Ferentz concluded his 20th season at Iowa and improved to 152-101, including 8-8 in bowl games.
2020: Holiday Bowl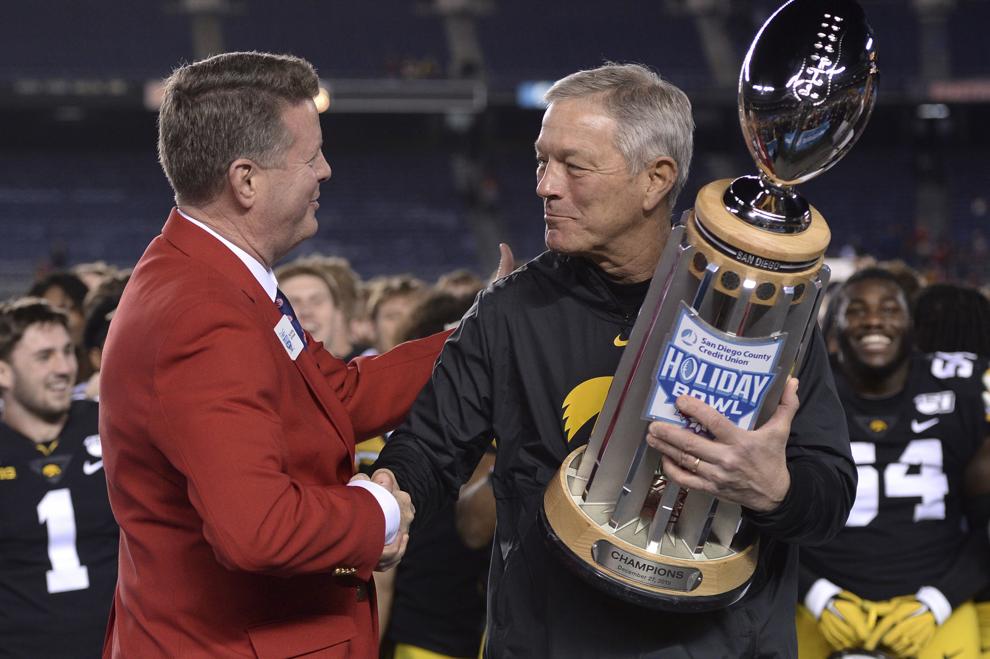 No. 19 Iowa 49, No. 22 USC 24
SAN DIEGO — Iowa flipped the script to finish a 10-win season in style Friday night.
After building its 2019 season resume on the work of its defense, the 19th-ranked Hawkeyes scored on their first five possessions and rolled to a 49-24 victory over 22nd-ranked Southern Cal in the Holiday Bowl.
The Trojans had no answer for the precision passing of Hawkeye senior quarterback Nate Stanley, who guided Iowa to a bowl victory for the third straight season by hitting 15 of his first 17 passes and orchestrating a clock-chewing offense which kept the ball out of the hands of the potent USC offense.
"We needed to play a complete game and we did it,'' Stanley said. "From start to finish, everybody put everything they had into it, offense, defense, special teams. It was the total 60-minute game we've been working toward.''
Iowa celebrated by doing the Hokey Pokey in the locker room as a tribute to former coach Hayden Fry.
"It seemed appropriate, given how much he meant to the program,'' said Iowa defensive end A.J. Epenesa, named the game's defensive most valuable player.
The win allowed the Hawkeyes to reach the 10-win plateau for the ninth time in program history and it came in a game which saw Iowa collect a season-high number of points and score the second-most points Iowa has ever scored in a bowl.
"Ten wins, that's not easy to do,'' Iowa coach Kirk Ferentz said. "Really proud of the guys, what they were able to accomplish. We told them going out there to give it everything they had.''
Ihmir Smith-Marsette, selected as the game's most valuable player on offense, scored three times in the second quarter to send Iowa into halftime with a 28-17 lead.
He scored on a 6-yard run, a 98-yard kickoff and a 12-yard pass play give the Hawkeyes a cushion that that the Trojans couldn't catch.
The most dynamic play of the three by Smith-Marsette pushed Iowa in front 21-14.