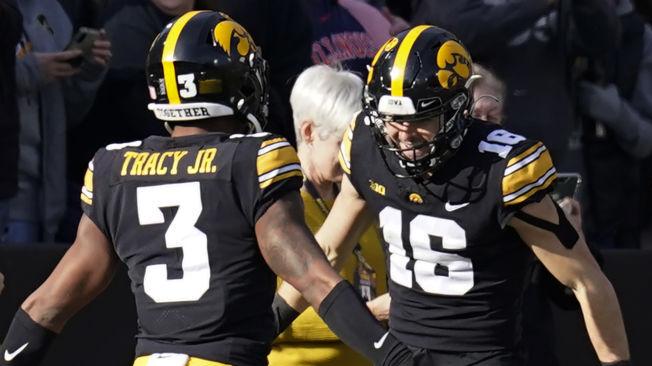 Dane Belton rooting for a run back, Charlie Jones thinking about the future, Caleb Shudak appreciating the moment and more are a part of today's Hawkeye 10@10.
Delivered each weekday at 10 a.m. during game week at hawkmania.com, the Hawkeye 10@10 provides your daily dose of Iowa football news and notes.
Here is today's Hawkeye 10@10:
1. Before returning a kickoff 100 yards for a touchdown, Charlie Jones was among 16 Hawkeyes who went through Senior Day ceremonies prior to Saturday's game.
He has another year of eligibility remaining if he wants to use, but won't figure all that out until after Iowa's season ends.
"I'm having a blast, having a lot of fun,'' Jones said. "I think this team and this group is really special, so I think I have a lot of thinking to do. I'm in no rush to leave. I love this team. I love the opportunity I have. So, if coming back is what I've got to do, I'm all for it.''
2. Defensive back Dane Belton was among Hawkeyes who didn't mind seeing Jack Campbell return an interception 32 yards for a touchdown for Iowa's final points in the 33-23 win over Illinois.
"It's a great feeling, seeing other brothers succeed on the field,'' Belton said. "When he got that pick, I was just hoping he didn't go down. Because the coaches say, 'Get down, get down,' but he stayed up.''
The touchdown was the first scored by the Iowa defense since Campbell scored on a fumble return in Iowa's win over Iowa State.
3. Iowa's sixth-year senior kicker Caleb Shudak had a memorable final game at Kinnick Stadium. Shudak converted on four field goal tries, a difference maker in a 10-point win over the Hawkeyes.
Shudak hit from 48, 51, 29 and 30 yards as the Iowa offense reached the end zone just once against Illinois.
"I'd say the offense would like to score more touchdowns, but I'm not going to complain,'' Shudak said. "Especially when we get the win.''
Shudak complemented the work of snapper Luke Elkin and holder Ryan Gersonde in addition to rest of Iowa's field goal unit for helping make it all work.
4. There are only a couple of changes on the Iowa depth chart for Friday's 12:30 p.m. game against Nebraska.
Spencer Petras returns to the two-deep at quarterback, listed as the back-up to Alex Padilla as he continues to make progress from a shoulder injury.
The only other change is at left cornerback where Jermari Harris is listed as the starter and true freshman Cooper DeJean is the back up at a position where Matt Hankins is expected to miss a second straight game because of an injury.
5. When Iowa quarterback Alex Padilla completed just six passes in Saturday's win over Illinois, it was a rarity.
It marked the fewest passes completed by the Hawkeyes in a game since Oct. 27, 2007, when Jake Christensen completed 5-of-15 passes for 53 yards in a 34-27 overtime victory over Michigan State at Kinnick Stadium.
Albert Young was the Hawkeyes' workhorse that day, rushing for 179 yards on 34 carries and two scores.
James Cleveland led Iowa with two receptions in that game. Paul Chaney Jr., Brandon Myers and Bettendorf's Colin Sandeman also caught passes that day.
Padilla finished 6-of-17 for 83 yards against the Illini, connecting with four receivers.
6. At 3-8 heading into Friday's Heroes Game match-up with Iowa, this hasn't been the season Nebraska or coach Scott Frost anticipated.
Frost doesn't believe that the Cornhuskers have lost their will to win.
"One thing I can say about this team is that we aren't going to stop fighting,'' Frost said. "This team won't stop fighting Friday. I can guarantee that. We are playing a really good team that has a lot better record than we do, but we are going to give ourselves every opportunity we can to try and win the game.''
7. Illinois' Isaiah Gay was named Monday as the Big Ten defensive player of the week for his performance against Iowa.
The senior linebacker from Nashville, N.C., recorded a career-high 10 tackles, including 5.5 tackles for a loss and one sack in the Fighting Illini's loss at Kinnick Stadium.
His tackles-for-a-loss total is the third-most ever in a single game for an Illinois player and matches Wisconsin's Leo Chenal for the most tackles for a loss in a game by a Big Ten defender this season.
Ohio State quarterback C.J. Stroud was named as both the Big Ten offensive player and freshman of the week.
Stroud completed 32-of-35 passes for 432 yards and a career-high six touchdowns in the Buckeyes' 56-7 win over Michigan State.
All six of Stroud's touchdown passes came in the first half as Ohio State opened a 49-0 halftime lead.
Penn State's Jordan Stout was named the Big Ten special teams player of the week.
Stout averaged 42.9 yards on eight punts, downing six inside the 20, in a 28-0 win over Rutgers.
8. Despite losing six games by seven points or less, Nebraska offensive lineman Turner Corcoran expects the Cornhuskers to be ready for Friday's match-up with Iowa.
"I think the team is in good spirits right now. We are still playing for one another,'' Corcoran said. "With all of the (in-season offensive staff) coaching changes, I feel like (last week's Wisconsin) game could have gone of two ways. We could have gotten beaten pretty badly because we wouldn't have been playing together, but I thought we played well together as a team. It really showed the character of everyone on this team.''
9. A pair of future Iowa players claimed state championships last weekend, highlighting the work of Hawkeye 2022 recruiting class commitments at the prep level.
Aaron Graves had 1.5 tackles, one pass break-up and one quarterback hurry for Southeast Valley in its 30-13 win over West Lyon in the Iowa Class 2A state championship game.
Offensive lineman Jack Dotzler was a starter for Waunakee, which won the Wisconsin Division 2 state championship with a 33-21 win over Homestead.
A third commitment playing the Wisconsin Division 1 state title game, tight end Addison Ostrenga, caught four passes for 40 yards for Sun Prairie in a 38-17 loss to Franklin.
In another postseason game, quarterback Carson May topped 3,000 passing yards for the season for Jones (Okla.) when he completed 21-of-38 passes for 216 yards and two touchdowns in a postseason loss to Washington.
10. One notable streak ended Saturday for Iowa in its win over Illinois.
Because of what appeared to be a lower body injury, Matt Hankins was not in the Hawkeye lineup for the first time in 38 games.
His 37-game streak of starts at cornerback was the most by any player currently in the Iowa program.
Coach Kirk Ferentz said it is unlikely that Hankins would be available to return to action this week at Nebraska.